Animal News (Except Bigcats)
The droughts are over & floods are here... Kaziranga has been engulfed by the annual monsoon deluge.
---
Kaziranga park turns into watery grave - Assam police to keep an eye out for poachers
Ritupallab Saikia
*This image is copyright of its original author
A rescued hog deer near Methoni tea estate on Tuesday. Picture credit: Bhaskar Choudhury/IFAW-WTI
Golaghat, July 11:
Seventy per cent of Kaziranga National Park, a World Heritage Site, is under water
following incessant rain over the last few days, forcing
animals to cross National Highway 37 to seek refuge in the hills of Karbi-
Anglong
. The
 park is 200km east of Guwahati

.
A

park official today said additional police are being deployed to protect the animals from falling prey to poachers

.
Thirty Assam police personnel reached Kaziranga today and more will join in a day or two. They will patrol NH-37 that runs through the park and keep a strict vigil on speeding vehicles.
"Seventy per cent of Kaziranga National Park and around 120 camps are under water," park director Satyendra Singh said, adding that the situation is critical.
Last year the park authorities faced one of the worst floods in recent times and 107 animals were rescued. The rescue efforts were led by the Centre for Wildlife Rehabilitation and Conservation (CWRC), a joint venture of the International Fund for Animal Welfare-Wildlife Trust of India (IFAW-WTI) and the Assam forest department.
A statement issued by CWRC, the jointly-run wildlife care facility of the Assam forest department, IFAW and WTI today said it had rescued nine hog deer in the flood-hit park.
The CWRC has released three of them back to the wild. Two seriously injured deer died during treatment and one is under care at CWRC. Three deer were found dead by the rescue team.
One hog deer was found taking refuge in a house near a tea garden market and rescued after tranquillisation.
"In a bid to avoid such mishaps, we, in collaboration with the Bokakhat and Kaliabor administrations, have been issuing entry cards to vehicles plying on the 28km stretch from Amguri to Haldibari. We are slapping a fine of Rs 5,000 if any vehicle crosses the fixed speed limit of 40km per hour. The speed of vehicles is being controlled between Bokakhat and Jakhalabandha. The Bokakhat and Kaliabor administrations have imposed Section 144 CrPC from Burapahar to Latabari area of the park," the divisional forest officer of the park, Rohini Ballav Saikia, told 

The Telegraph 

today.
"Till date, we have fined 12 vehicles for violating the speed limit and drones are also being used in Bagori and Kohora ranges of the park to monitor movement of animals," Saikia said.
The National Green Tribunal in May had passed an order saying that any vehicle found overspeeding inside the park will have to pay a fine of Rs 5,000 under the Motor Vehicles Act.
Agriculture minister Atul Bora and forest minister Pramila Rani Brahma visited the relief and forest camps yesterday at Kaziranga and took stock of the situation. They reiterated that there is a need for more highlands inside the park.
"The park authorities have failed to complete construction of 33 highlands before the monsoon and as a result wild animals are suffering the flood fury. Wild animals would have been in a better position had the highlands been constructed before time," Raju Phukon, organising secretary of the All Assam Students' Union, said.
In the wild, expect the unexpected, as we humans haven't really much clue of what to expect.
India's elephant population stable & expanding: Census
Jayashree Nandi
| 

TNN

 | 

Updated

:

Aug

13

,

2017

,

04

:

16

AM

IST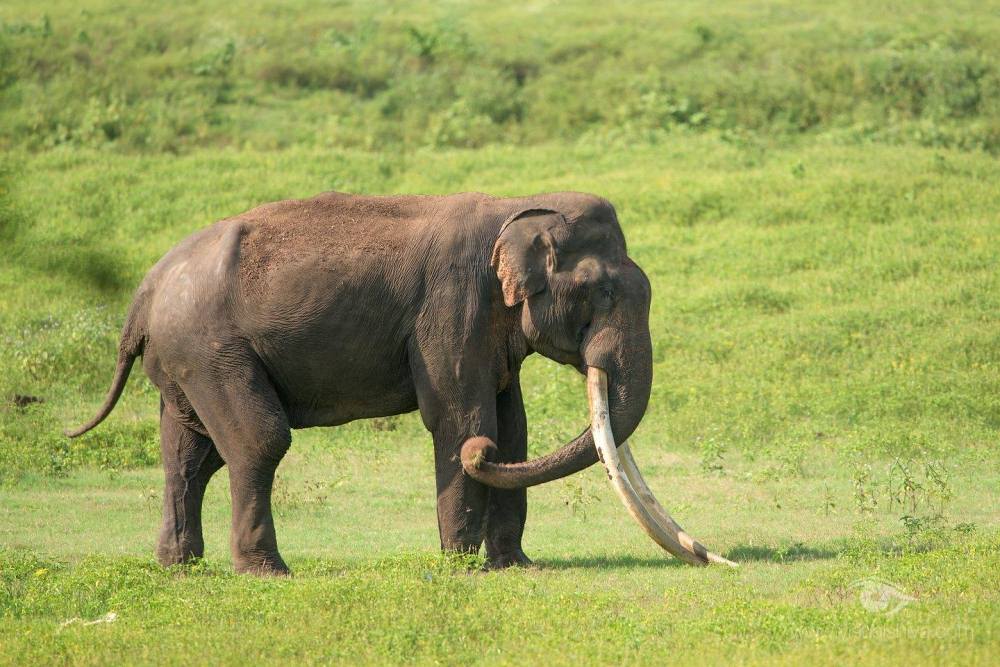 *This image is copyright of its original author
NEW DELHI: An elephant census released by the Union ministry of environment, forests and climate change on Saturday revealed an expansion in elephant areas, even while the jumbo population remained "stable" at 27,000,

of which 150 roam the forests of Bhutan, Nepal, Bangladesh & Myanmar as well.
The report 'Synchronised elephant population estimation India 2017', released on World Elephant Day, estimates that the exact population of jumbos in the country is 27312, with Karnataka reporting the highest population at 6049, followed by Assam at 5719.

Though there has been a staistical decline in overall elephant population from 29391-30711 in 2012, but it is only due to a difference in the counting method, as there

 was much double-counting as the jumbos moved from one state to another.

"We have a healthy elephant population in India. There is no question of a decline. In fact, there may have been a slight increase," said elephant expert and head of 
Asian Nature Conservation Foundation
 (ANCF) R

Sukumar

.
The elephant census is also showing an interesting but worrying trend. Many states that never reported any elephant population in previous census have reported elephants, which indicates a gradual expansion in elephant area.
Experts termed the "expansion" trend as worrying because it could lead to an increase in human-animal conflicts. Jumbos have been reported for the first time in

Manipur, Mizoram, Bihar, Madhya Pradesh, Haryana, Himachal Pradesh

and even on some

new islands of Andaman & Nicobars

, indicating disturbance in the wild animals' original areas or climate change impacts like temperature and precipitation modification.
"This expansion has been happening gradually over 30 years. It is worrying because it will be difficult to manage. The real challenge is that elephants are moving to other forest areas, which could increase the potential for conflicts with humans," Sukaumar said, adding that the last mass translocation was reported from Tamil Nadu in 1983, following a major drought. Herds of elephant had moved to Andhra Pradesh, where the jumbo population had been absent for over two centuries.
In the wild, expect the unexpected, as we humans haven't really much clue of what to expect.
381 new species discovered in the Amazon

From Phys.org, August 31, 2017
Credit: Zig Koch / WWF
*This image is copyright of its original author
A new WWF and Mamirauá Institute for Sustainable Development report, released on 30 August, reveals that a new animal or plant species is discovered in the Amazon every 2 days, the fastest rate to be observed this century. The findings come as huge parts of the forest are increasingly under threat, sparking further concern over the irreversible - and potentially catastrophic - consequences unsustainable policy and decision-making could have.
New Species of Vertebrates and Plants in the Amazon 2014-2015, details 381 new species that were discovered over 24 months, including 216 plants, 93 fish, 32 amphibians, 20 mammals (2 of which are fossils), 19 reptiles and 1 bird.
The latest 2014-2015 survey indicates the highest rate of discovery yet, with a species identified every 1.9 days. The average number of new species found in the Amazon in WWF's 1999-2009 report was 111 a year, or one new species every three days, while the 2010-2013 report revealed that at least 441 were discovered, which works out at a rate of one new species every 3.3 days.
A great enigma
Ricardo Mello, coordinator of WWF-Brazil Amazon Programme, says that life within this biome is still a great enigma: "We're in 2017, verifying the existence of new species and even though resources are scarce, we are seeing an immense variety and richness of biodiversity. This is a signal that we still have much to learn about the Amazon".
Mello also states that the new findings should compel decision-makers, both public and private, to think about the irreversible impacts caused by large-scale projects such as roads and hydroelectric dams in the Amazon.
"This biodiversity needs to be known and protected. Studies indicate that the greatest economic potential of a region such as the Amazon is the inclusion of biodiversity in the technological solutions of a new development model, including development of cures for diseases, relying on new species for food purposes, such as superfoods. "
Credit: Zig Koch / WWF
*This image is copyright of its original author
The report comes the week after Brazil's government passed a decree allowing mining in the National Reserve of Copper and Associates (Renca), a huge protected area the size of Switzerland which encompasses nine protected areas. Opening protected areas of the forest up for deforestation and mining, could be disastrous for wildlife and local cultures and indigenous communities. While the decree has since been revised to clarify that mining will not be allowed in conservation or indigenous areas within the former reserve, following national and global outcry, challenges persist for the world's largest tropical forest.
Informing conservation strategies
For João Valsecchi do Amaral, technical and scientific director at the Mamirauá Institute for Sustainable Development, the new knowledge brought by this report will help to identify areas or species that are reeling under pressures, to monitor this biodiversity and establish new strategies of conservation.
"For the conservation of species, it is necessary to know what they are, how many there are and their distribution. These are key details to ensure that ecological and evolutionary processes are understood and maintained to ensure the species survival," he explained.
Protected areas
The creation of protected areas is among the strategies cited in the report to lessen the negative impact of the development that the Amazon is and will continue to be subject to.
The description of new species and the dissemination of scientific results can help raise public awareness and understanding on the importance of the Amazon and the need for greater and more comprehensive knowledge of its biodiversity. They can also form the basis for strategies related to the establishment of protected areas and public conservation policies.
Freshwater fish, Amazon River. Credit: Michel Roggo / WWF
*This image is copyright of its original author
Due to its vast size, variety of species and diversity of habitats, the gaps in scientific knowledge about the Amazon are still enormous. The majority of species recordings are based on observations and collections made along the main rivers, near big cities and in the few protected areas most frequently studied. As a result, new studies on the Amazon's biodiversity, particularly those conducted in the forest's most remote areas, continue to reveal large numbers of species that are as yet unknown to science – and humanity.
New species discovered
As well as recording the new species of vertebrates and plants discovered in the Amazon between January 2014 and December 2015, the report also includes an update on species identified in a previous 2010- 2013 report.
The report, which consolidates the findings from a number of different researchers, highlights some of the most fascinating finds, including:
A new species of pink river dolphin (Inia Araguaiaensis) - Estimated to have a population of around 1,000 individuals, the species is under threat from the construction of hydroelectric dams, and industrial, agricultural and cattle ranching activities. Pink river dolphins are an important part of the local culture around the Amazon, with a number of myths and legends around them.
Fire-tailed titi monkey (Plecturocebus miltoni) – This striking monkey from the southern Amazon owes its name to its long bright orange tail. The species is under threat from deforestation.
A bird that pays tribute to the Brazilian rubber tapper (Zimmerius chicomendesi) – Discovered after its unknown call attracted attention, this bird's name - Chico's Tyrannulet - is a tribute to the rubber tapper and environmentalist Francisco Alves Mendes Filho. Better-known as Chico Mendes, he was a leader of the rubber tapping communities, and played a key role in opening the world's eyes to the problems faced by the Amazon.
A bird named after former US President Barack Obama and found in a huge area between Brazil, Peru, and Ecuador (Nystalus obamai);
Another bird named after the famous anthropologist and explorer Marechal Cândido Rondon, found in the South of Amazonas (Hypocnemis rondoni);
A stingray which has "honeycombs" on its surface, registered in Rondônia, in the region of Alto Madeira (Potamotrygon limai);
A bird found at the south of Amazonas, in the Sucunduri region, where WWF-Brazil maintains conservation projects (Tolmomyias sucunduri).

The Amazon contains nearly a third of the earth's remaining tropical rainforests and, despite covering only around 1 per cent of the planet's surface, it is estimated to be home to 10 per cent of the earth's known species. Globally, it is estimated that 80 per cent of species are yet to be identified.
The current rate of human-related extinction of species is between 1,000 and 10,000 times that of the natural rate of extinction. Knowing the total number of species in the region provides a baseline to monitor current and future biodiversity losses. The discovery of new species is important for environmental and natural resource management, and can guide the establishment of protected areas to safeguard wildlife and the communities that depend on these resources.
"Man still bears in his bodily frame the indelible stamp of his lowly origin."
C. Darwin
It's not a news but something worthwhile mentioning, Camera trap installed in Chitwan reveals a presence of wolf along with dhole and a striped hyena!!! These three animals finding niche in similar overlapping eco-system is simply remarkable.
*This image is copyright of its original author
*This image is copyright of its original author
Pennsylvania hunters kill 659 black bears on first day

LANCASTERONLINE | Staff Nov 20, 2017
Pennsylvania is home to some extraordinarily large black bears.
HAL KORBER / PENNSYLVANIA GAME COMMISSION
*This image is copyright of its original author
The first day of Pennsylvania's statewide bear season resulted in a harvest of 659 black bears, according to preliminary totals released Monday by the Pennsylvania Game Commission.
Archery-bear and other early-bear season harvest data are not included in this preliminary harvest for the statewide four-day bear season, which runs from Nov. 18 to Nov. 22.
Bears have been harvested in 49 counties during the statewide season so far.
The top 10 bears processed at check stations by Monday were either estimated or confirmed to have live weights of 535 pounds or more.
The largest of those bears – a male estimated at 700 pounds – was taken in Oil Creek Township, Venango County, by Chad A. Wagner, of Titusville, Pa. He took it with a rifle at about 8 a.m. on Nov. 18, the season's opening day.
Other large bears taken in the season's opening day – all taken with a rifle – include:
648-pound male taken in Dreher Township, Wayne County, by Joseph D. Simon, of Newfoundland, Pa.
609-pound male taken in Abbott Township, Potter County, by Michael R. Neimeyer, of Spring City, Pa.
595-pound male taken in St. Marys Township, Elk County, by Stephanie A. Siford, of North East, Pa.
595-pound male taken in Charleston Township, Tioga County, by Zachery L. Martin, of Wellsboro, Pa.
586-pound male taken in Oil Creek Township, Crawford County, by Brian K. Baker, Titusville, Pa.
576-pound male taken in Homer Township, Potter County, by Kirby R. Kornhaus, of Jonestown, Pa.
561-pound male taken in Ross Township, Luzerne County, by Richard B. Kollar, of Shickshinny, Pa.
536-pound male taken in Dean Township, Cambria County, by Matthew J. Lidwell, of Dysart, Pa.
535-pound male taken in Blooming Grove Township, Pike County, by Bradley S. Delikat, of Telford, Pa.
The 2017 first-day preliminary harvest is a decrease compared to 1,297 bears taken during the 2016 opener. Hunters in 2015 harvested 1,508 bears on the opening day.
The overall 2016 bear harvest was 3,529, the fifth largest is state history. In 2015, hunters took a total of 3,745 bears – the fifth-largest harvest all time. The largest harvest – 4,350 bears – happened in 2011, when preliminary first-day totals numbered 1,936.
Other previous first-day statewide bear harvest totals were 1,623 in 2014; 1,320 in 2013; 1,751 in 2010; 1,897 in 2009; 1,725 in 2008; 1,005 in 2007; 1,461 in 2007; and 1,461 in 2006.
The preliminary first-day bear harvest by Wildlife Management Unit was as follows: WMU 1A, 1 (9 in 2016); WMU 1B, 11 (24); WMU 2C, 18 (90); WMU 2D, 32 (37); WMU 2E, 5 (27); WMU 2F, 65 (145); WMU 2G, 129 (303); WMU 2H, 31 (45); WMU 3A, 43 (7); WMU 3B, 74 (95); WMU 3C, 44 (39); WMU 3D, 101 (105); WMU 4A, 29 (83); WMU 4B, 14 (51); WMU 4C, 20 (44); WMU 4D, 26 (102); WMU 4E, 14 (25); and WMU 5A, 2 (1).
The top bear-hunting county in the state on the first day of the season was Tioga County, with 58. It was followed by Pike County with 55.
Opening-day harvests by county and region are:
Northwest (90): Warren, 22 (41); Clarion, 17 (19); Venango, 16 (35); Jefferson, 14 (29); Forest, 12 (38); Crawford, 7 (8); Butler, 2 (5);.
Southwest (23): Somerset, 8 (40); Fayette, 6 (21); Armstrong, 4 (6); Cambria, 4 (10); and Indiana, 1 (10).
Northcentral (263): Tioga, 58 (76); Lycoming, 47 (106); Clinton, 41 (97); Potter, 31 (65); Elk, 28 (43); Cameron, 20 (43); McKean, 16 (39); Clearfield, 12 (46); Centre, 5 (34); and Union, 5 (9).
Southcentral (57): Huntingdon, 16 (37); Bedford, 12 (42); Fulton, 9 (25); Mifflin, 5 (14); Franklin, 4 (10); Juniata, 3 (22); Perry, 3 (17); Adams, 2 (0); Cumberland, 2 (3); and Blair, 1 (15).
Northeast (211): Pike, 55 (34); Wayne, 32 (27); Sullivan, 24 (19); Monroe, 18 (27); Luzerne, 15 (37); Wyoming, 15 (8); Lackawanna, 14 (16); Susquehanna, 13 (20); Bradford, 10 (28); Carbon, 9 (12); Columbia, 4 (12); Montour, 1 (0); and Northumberland, 1 (1).
Southeast (15): Dauphin, 9 (16); Berks, 3 (1); Schuylkill, 2 (12); and Northampton, 1 (1).
"Man still bears in his bodily frame the indelible stamp of his lowly origin."
C. Darwin
Users browsing this thread:
1 Guest(s)