---
Animal News (Except Bigcats) - Apollo - 05-18-2014

Post all Animals (except Bigcats) related News articles and Information.


---
RE: Animal News (Except Bigcats) - Apollo - 05-18-2014



The first time ever: 6 captive-bred gharial released after satellite-tagging




Six captive-bred gharials have satellite-tagged for the first time and released in the river Gandak near Valmiki Tiger Reserve in Bihar to protect the critically-endangered reptiles from extinction.

"This is just the beginning; we look forward to expand this project if current restocking is successful. We will also research if we can restock gharials in other rivers of Bihar as well," Basheer Ahmad Khan, state Principal Chief Conservator of Forests, said about the reptiles released last week.

Under a joint initiative by the Bihar forest department and Wildlife Trust of India (WTI), the gharials, five females and a male, were bred in captivity at the Sanjay Gandhi Biological Park in Patna. Tagging with satellite transmitters would help monitor the health and movement of the fish-eating reptiles which could grow up to six meters in length and weigh up to 160 kg.

Since the 1940s, there was a drastic decline in the gharial population, dropping 96 per cent from 5,000-10,000 individuals to less than 200 in the 1970s. It was estimated that there were less than 200 mature gharials in India now and less than 35 in Nepal, and presumably extinct in Pakistan, Bangladesh and Bhutan.

To enrich the natural population, a restocking project was initiated by the forest department following discussions at a State Wildlife Board meeting in 2012, chaired by Chief Minister Nitish Kumar. Samir Kumar Sinha, WTI's regional head in Bihar, said gharials were seen only in the river Gandak and at some stretches of the river Ganga. The gharial was listed as a 'Critically Endangered' species in the IUCN Red List and under 'Schedule I' of Indian Wildlife (Protection) Act.

 
http://ibnlive.in.com/news/the-first-time-ever-6-captivebred-gharial-released-after-satellitetagging/467548-3-232.html


---
RE: Animal News (Except Bigcats) - Apollo - 05-18-2014



Indian Bustard, Lesser Florican feared extinct around Nashik region, seven bird species 'highly endangered'






The Great Indian Bustard (Ardeotis nigriceps) and the Lesser Florican (Sypheotides indicus), birds once found in abundance in the region, are feared to be extinct, while seven other avian species have been marked as "highly endangered".





These two species are grassland birds and declining grassland habitat could be the root cause of their possible extinction, said experts. In 2012, locals from Ozar (20km from Nashik city) and Pimpalgaon (30km from Nashik) said that they had spotted a GIB or two, but neither the forest department nor bird-watchers could confirm such sightings.





"The Great Indian Bustard was last spotted in 2007, while the Lesser Florican was last seen in 2010. Seven more species are now highly endangered, thanks to lack of habitat," said Bishwaroop Raha, wildlife warden and founder-president of Nature Conservation Society of Nashik (NCSN).





In June 2013, as per guidelines for the preparation of a State Action Plan for Bustards' Recovery Programme by the central ministry of environment and forests, the district forest department had submitted a proposal of reserving land for breeding of the bustards, near Vani.





Raha said that as per the records of bird-watchers from the NCSN, from 1995 to 1997, there were 11 GIBs near Ozar, which had been the habitat of these birds in the district.





"In 1999, there were 10 GIBs, in 2002 there were seven, five in 2004, three in 2005 and one in 2007. The Lesser Florican has become extinct in Nashik as well. There were two of these birds in 1998 and 2001 and one was spotted in December 2010. After that we have not seen a single Lesser Florican," said Raha, who has maintained an extensive record of all the birds in Nashik district.





"We have to save the forests and the grasslands. The other highly endangered birds are Stone Curlew, Yellow Wattled Lapwing, Indian Courser, partridges (grey and painted), quails and larks. Unless specific biodiversity zones are declared with the help of the forest department and NGOs working in this field, the birds cannot be saved. These birds lay eggs on the grass and have to select a safe breeding place. April-June is the breeding season for grassland birds and they also need food and water. So, they select places near agricultural land plots, but there is also the threat of stray dogs, cats, mongoose and other animals to the eggs. Food is aplenty in farms and these birds are friends of farmers, since they feed upon insects on the crop," said Raha.





As per the data, the sighting of the Indian Courser has declined by 90 per cent in the last few years. "Two to three years back, five or six coursers could be spotted once in a month. Now, these are spotted only once a year. They have to save their eggs from dogs, cats, mongoose and man. They are also losing their habitat. Two years back, we saw five to six pairs of stone curlew once a year, but we haven't spotted any after that. We used to see 14 pairs of yellow lapwings every year till a few years back, but now we see only one or two pairs a year," said Raha.





Raha said that due to biodiversity conservation in Borgad, Painted Partridges are returning, since these birds prefer grasslands on slightly hilly areas. "There are 15-20 of them in Borgad now. Grassland birds eat locusts and other insects that are detrimental to crops. So these are good for ecology. The forest department should provide them security," said Raha.





Quails are very shy birds and NCSN members used to spot four to five of these every day five years back. Of late, the presence of these birds been on a rise in Borgad: 10-12 birds have been spotted.





"Two years back, we used to see 8-10 Indian coursers per year but now we have not noticed any. Once in a month, 10-15 larks could be seen to be few years back, but these are very sensitive birds and are declining due to the use of pesticides. No Partridge or jungle fowl has been seen in Harsul, which was their habitat, due to noose traps laid by people to catch them. Vultures had also been declining due to the use of dyclopam, but now, these are being conserved with the help of vulture 'restaurants'. The caves of Anjaneri also have 70 long-billed vultures and 60 white-backed ones have been seen in the vulture restaurant of Harsul. There were 100 long-billed vultures in Chandwad 10 years back, but not any now. Some have been spotted in Ranshej of late," said Raha.





Arvind Patil, chief conservator of forests (territorial), Nashik, said, "For the conservation of the GIB, we have sent a proposal to the principal chief conservator of forests in Nagpur and they have forwarded it to the government of India, but we have not received any reply yet. This year, we are expecting to get the approval. We will follow this up once the elections get over."





On World Earth Day, the social forestry department will be distributing saplings outside the Indira Nagar jogging track and the Golf Club Ground. The conservator of the wildlife department SB Shelke said that they will be discussing various schemes in Nagpur on Tuesday.


 

http://timesofindia.indiatimes.com/home/environment/flora-fauna/Indian-Bustard-Lesser-Florican-feared-extinct-around-Nashik-region-seven-bird-species-highly-endangered/articleshow/34066628.cms


---
RE: Animal News (Except Bigcats) - Apollo - 05-18-2014

 

Kenya to use drones to save elephants, rhinos




*This image is copyright of its original author
The country has lost over 435 elephants and around 400 rhinos to poachers since 2012, driven by demand for illegal wildlife products in Asia and elsewhere.
In a bid to monitor and stop poaching of elephants and rhinos in all its 52 national parks and reserves, Kenya's wildlife authorities have decided to deploy drones, the 

Guardian

 reported on Friday.
The government move follows a successful pilot project in major protected wildlife area, that saw drones reduce poaching by up to 96 per cent.
The country has lost over 435 elephants and around 400 rhinos to poachers since 2012, driven by demand for illegal wildlife products in Asia and elsewhere. Poachers have killed 18 rhinos and 51 elephants in the four months of 2014 so far.
"Use of drones has shown that we can prevent poaching and arrest many poachers in their tracks," Paul Udoto, spokesperson for the Kenya Wildlife Service (KWS), said.
"The pilot project has been a success and we are working with many partners, including the Kenya police, the National Intelligence Service, and a lot of international partners such as Interpol, and Ugandan and Tanzanian governments."
http://www.thehindu.com/sci-tech/energy-and-environment/kenya-to-use-drones-to-save-elephants-rhinos/article5948291.ece
---
RE: Animal News (Except Bigcats) - Apollo - 05-19-2014



Bushmeat trade: Deputy ranger, 4 guards suspended in Chhattisgarh





 Five persons including a deputy forest ranger and four guards were suspended for negligence in nabbing poachers involved in illegal bushmeat trade of monkeys at Rajnandgaon's Devvadvi forest area. 





The illegal trade had come to light 15 days ago with shocking images of hundreds of slaughtered monkeys at Devvadvi region very close to the forest checkpost. Groups of people, locals claim, who had allegedly killed the monkeys, cut them and dried the pieces, packed their meat after processing and then finally transported it to other states, had been seen refuging in the area for more than a fortnight. 





The action was taken after media reports few days ago. Times Of India had prominently reported the matter on April 11 following which the principal chief conservator of forests (PCCF), Ramprakash ordered formation of teams and sent them to Rajnandgaon. Wildlife activists had accused forest officials of being involved while locals claimed that as the news started spreading, officials had chased away the poachers smelling trouble after taking money from them. 





Locals have however demanded that accused officials should also be booked for supporting such a heinous crime of killing of monkeys. Admitting severe negligence on part of forest officials deployed at the zone, department issued suspension orders with immediate effect. He said that additional teams were set up to track poachers and investigations were on. 





Those suspended include deputy forest ranger, Radheshyam Nayak and guards Govardhan Netam, Harendra Thakur, Nagewar Mankar and KL Soni. Divisional forest officer, Arun Prasad said the suspension was done on basis of initial investigation and there may be more suspensions on grounds of negligence following further investigations. 





Residents told TOI that the poachers belonged to Bandesar region in Bastar and had been committing the crime every summer season for the last few years. 





Bushmeat trade of jackal, mongoose and foxes although illegal, is still flourishing in many parts of the country. Few years ago, poachers and nomadic tribe from Andhra Pradesh used to visit south Bastar to kill snakes. Monkey's processed meat and brain is exported to Africa, Japan, Korea, Taiwan, China and other countries through agencies. 





Monkeys are protected under schedule 2 of Wildlife Protection Act 1972 updated to 1991.




http://timesofindia.indiatimes.com/city/raipur/Bushmeat-trade-Deputy-ranger-4-guards-suspended-in-Chhattisgarh/articleshow/34259635.cms


---
RE: Animal News (Except Bigcats) - Apollo - 05-19-2014



Hunting the Tokay Gecko



Bogus claims that it can cure HIV/AIDS and cancer have placed the tokay gecko under threat.

Check the link below for the ful story
http://thediplomat.com/2014/04/hunting-the-tokay-gecko/
 


---
RE: Animal News (Except Bigcats) - Apollo - 05-19-2014



Over 20,000 hatchlings make it to the sea





Volunteers from Student Sea Turtle Conservation Network (SSTCN) and forest department staff have found and relocated more than 350 turtle nests this season, which is 100 more than the last nesting season.





The number of nests found along the Chennai coast, between Neelankarai in the south and Napier's Bridge in the north, has been on the higher side for the last two years. This year, 332 nests were found up from 285 last year. In 2012, 215 nests were found.





While SSTCN volunteers found 94 nests between Neelankarai and Urur Kuppam, those working with the forest department found and relocated 85 in the same stretch. On the other side of Adyar river, between Srinivasapuram and Napier's Bridge, volunteers found and relocated 153 nests.





This has translated into more than 20,000 hatchlings being safely released in the sea. "We will expand this activity across the state in the coming years," said an official from the department.





After being involved in turtle conservation in the late 1980s, the government has got involved in conserving Olive Ridleys — Schedule 1 endangered species under the Wildlife Protection Act — again.





About 10 to 12 nests are left in each of the hatcheries. "The hatching rate has been better this year as we found most of the nests in January and February. The later the nests are found, the lower the hatching rate due to the heat in April and May," said Akila Balu, SSTCN coordinator.





The forest department deployed eight staff to patrol the beach, twice every night. "We have released close to 6,500 hatchlings in the first year of operation," said David Raj, range officer. "Each of the 85 nests had between 120 and 155 eggs."





The volunteers and staff walk along the beach looking for tracks that turtles leave behind while coming ashore to lay eggs. The eggs are relocated from the beach — where the nests can be destroyed by dogs or poachers — and relocated to a hatchery. Hatchlings come out 45 to 60 days after nesting.



http://timesofindia.indiatimes.com/home/environment/flora-fauna/Over-20000-hatchlings-make-it-to-the-sea/articleshow/34306998.cms


---
RE: Animal News (Except Bigcats) - Apollo - 05-20-2014



A bear family visits this temple during 'aarti' everyday



A temple that lies not very far from Mahasamund district is visited by a bear family every evening during 'aarti'.Chandi temple in Ghunchapali area, is approximately 4 kms away from Baghbahra area of Mahasamund district. During the 'aarti' in the evening, the  most loyal devotees of this temple, a family of bears, visit the place everyday.

According to a report in Bhaskar, they offer 'parikrama' along with the devotees and are then given 'prasad' by the villagers."They come here because they get food. We ask the devotees to exercise caution as they are wild animals and can get violent," said Ashutosh Mishra, DFO, Mahasamund.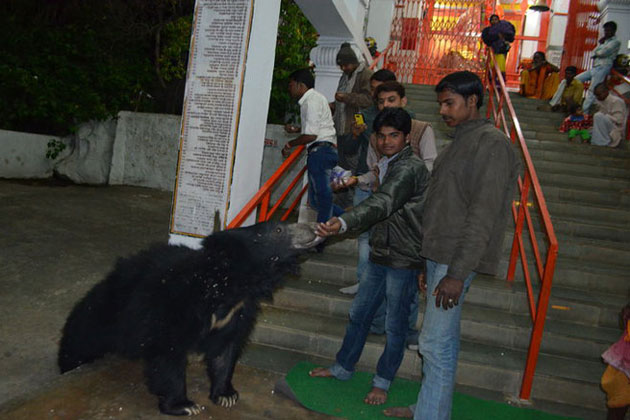 *This image is copyright of its original author



 According to experts, this unusual love being shared by humans and wild animals in the open here started when the bear family came here a few months ago and were offered food.

Gradually, they started visiting the place everyday and in the process, developed a warm relationship with the villagers."But there is no guarantee that they won't attack if they get angry.

Till now, there has been no incident of any attack on villagers," they said.

 

http://www.news18.com/news/chhattisgarh/a-bear-family-visits-this-temple-during-aarti-everyday-481303.html
---
RE: Animal News (Except Bigcats) - Apollo - 05-21-2014



Man caught with 450 star back tortoises at Trivandrum International Airport





Emigration officials at Trivandrum International Airport (TIA) on Monday intercepted an air passenger hailing from Tamil Nadu trying to smuggle 450 star back tortoises - estimated to fetch $500 in the illegal market - into Bangkok via Malaysia and Colombo.





The carrier, Abdul Rahman, from Ramanathapuram, managed to pass undetected with the tortoises as they were hidden in his check-in baggage bound for Sri Lankan Airways, but was caught as he fumbled about his final destination while going through emigration check.





"The man had a visa for Malaysia but insisted that he was travelling to Bangkok which set off alarm bells as Bangkok has visa on entry. The immigration official took him aside and flagged him down to the customs officials. At the customs holding area the man seemed jittery. He had nothing on his person but something didn't quite add up. When we asked the airline to bring his bag, which was already on its way to the airplane, we noticed that the entire bag was full of star back tortoise hatchlings," said a customs official.





The baggage screeners missed the tortoises as the X-ray machine cannot detect movement. The machine only takes a snapshot of the bag which is then scrutinized by the screeners. The airline officials said they mistook the small-sized tortoises for mangoes.





The customs then informed the Paruthippally forest range office as the passenger will be charged under the wildlife Act Section 39 -3A (wild animal, etc. to be government property, so no person shall, without the previous permission in writing of the chief wildlife warden or the authorized officer, acquire or keep in his possession, custody, or control such government property).





The star back tortoise is on the least concern list of the International Union for Conservation of Nature's threatened species red list; however the threat to the amphibian is on the rise due to illegal trade as the tortoise is one of the four celestial animals, or guardians said to bring prosperity according to feng shui.





Luckily the species are mostly land-dwelling creatures and require very little maintenance as they are found in arid areas. The tortoises and the smuggler will be produced before a judicial first class magistrate after interrogation, said a wildlife official. "The tortoises appear to be between four and six months old, and can survive without food and water for at least a week. The wildlife vet will take a closer look at them before setting them free at Chinnar wildlife sanctuary, which is the nearest spot known for the presence of star back tortoises. From initial inspection, it appears that the tortoises were not poached but grown in a hatchery for the specific purpose of illegal trade as they are of the same weight, height, etc.," said the official.




http://timesofindia.indiatimes.com/home/environment/flora-fauna/Man-caught-with-450-star-back-tortoises-at-Trivandrum-International-Airport/articleshow/34372779.cms


---
RE: Animal News (Except Bigcats) - Apollo - 05-21-2014

 

Two arrested, police recover 11 kg ivory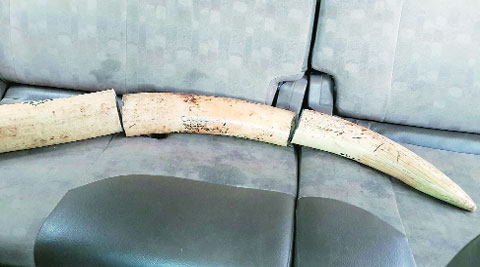 *This image is copyright of its original author
Police on Saturday arrested two persons on charges of smuggling an ivory tusk. Police said four pieces of ivory weighing 11.19 kg were recovered from them.
Police said on Saturday, they had received information about two persons who were supposed to visit the Red Fort area to sell pieces of ivory tusk.

Police shared this information with the Wildlife department after which they laid a trap at the Parade Ground Corner in Subhash Marg.
"Around 3.30 pm, our informer pointed to a man, later identified as Jaspal Singh. He had a jute bag which had a single piece of ivory tusk. His associate was waiting in a car with three more pieces of ivory. We went to the car and nabbed his accomplice, Mahender Kumar, from whom we recovered three pieces of ivory. Both of them could not produce any licence regarding the ivory. A case has been registered and investigation is on," a senior police officer said.
Police said during questioning, the two told police that they had got the tusks from a transporter who claimed he had procured it from Assam.
The duo said they were trying to sell the ivory to foreigners at Red Fort.
http://indianexpress.com/article/cities/delhi/two-arrested-police-recover-11-kg-ivory/
---
RE: Animal News (Except Bigcats) - Apollo - 05-22-2014



Nilgiri Tahrs found 'migrating'




*This image is copyright of its original author
Herds of the endangered species sighted at five blocks besides Rajamala
Herds of the Nilgiri Tahrs 

(Hemitragus Hylocrius)

 have been sighted at four blocks besides Rajamala in the Eravikulam National Park (ENP), its natural habitat.
The enhanced presence of the endangered species was detected in a census held between April 24 and 28.
A senior ENP official told 

The Hindu 

that this was for the first time that a Nilgiri Tahr census was conducted at Meesapulimada, Kadavari, Kambakallu, Gudallarkudy, and Chokramudy in the ENP and Mangapara in the Chinnar Wildlife Sanctuary.
Except at Kadavari, the presence of the ungulate was accounted for at the other five blocks in the census.
The official said the final evaluation of the total number of newborns had not been done. The park, which has the largest wild tahr population, was closed for two months from February in view of the breeding season.
As per the 2013 census, the count of the Nilgiri Tahr in the ENP stood at 871. However, its population, after an intensive protection programme was launched at its natural habitat at Rajamala a decade back, had remained stagnant with minor increases in some breeding seasons.
C.P. Soman, Rajamala range officer, said intervention in the ungulate habitat was almost nil though predation by carnivores could be a factor for its stagnant population.
He said the census finding was a sign of positive growth of the tahr population at Rajamala. The ENP consists of 97 sq km of high altitude grasslands. The tahrs avoid 'shola forests' though they sometime forage along the periphery.
Mr. Soman said whether the migration of the Nilgir Tahrs to the five blocks was due to changes in its natural habitat or favourable conditions outside needed a study. There would also be natural reasons such as weather changes affecting the habitat, leading to migration to areas outside.
http://www.thehindu.com/news/national/kerala/nilgiri-tahrs-found-migrating/article5979899.ece
---
RE: Animal News (Except Bigcats) - Apollo - 05-22-2014



Geotagged Wildlife Photos Help Poachers Kill Endangered Animals







*This image is copyright of its original author



Read the full report in the link below
http://petapixel.com/2014/05/05/geotagged-wildlife-photos-help-poachers-kill-endangered-animals/


---
RE: Animal News (Except Bigcats) - Apollo - 05-23-2014



Tourists Breaking Rules, Tadoba





This image shows two tourists on foot in the Kolsa zone of Tadoba-Andhari Tiger Reserve (TATR), in Maharashtra. This happened during the afternoon safari on 10th Apr 2012. Forest authorities should take stringent action against both the tourists as well as accompanying the forest guide who allowed it. Private vehicles should also be banned inside the national park.





by Prabhanjan Behera




*This image is copyright of its original author
---
RE: Animal News (Except Bigcats) - sanjay - 05-24-2014

These people should be punished.


---
RE: Animal News (Except Bigcats) - Apollo - 05-24-2014


(05-24-2014, 09:45 AM)

'sanjay' Wrote: These people should be punished.

 

Exactly.
Atleast they should be fined heavily.




 


---