Making a difference.
Bus-conductor who planted 3Lakh trees in 25 years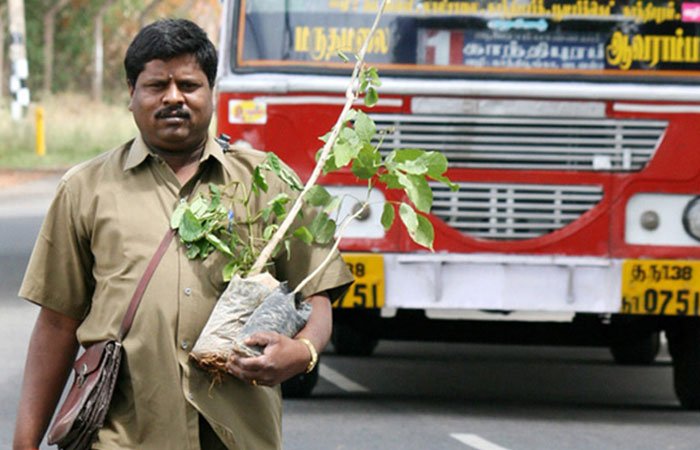 *This image is copyright of its original author
Talking environment has almost become fashionable these days. But not often you meet someone like Marimuthu Yoganathan who works tirelessly to save our environment than he speaks. It all started when Yoganathan, a young boy, stood stubborn protesting the Timber mafias in the Nilgiris.

Marimuthu Yoganathan is popularly known as "The Tree man of India" & was born in Coimbatore, Tamil Nadu, India in 1969. He is currently working as a bus conductor on S-26, Tamil Nadu State Transport Corporation & runs on the Marudamalai-Gandhipuram route in Coimbatore.

In the last 25 years, he has planted more than 3,00,000 trees across 32 districts of Tamil Nadu.

Yoganathan was born in a poor family in Mayavaram, Thanjavur district. He lost his father when he was just one and a half years old. His mother moved to Nilgiris district to work in the tea gardens, and he stayed with his elder sister's family to continue his studies.
He started campaigning against the cutting of trees in Nilgiris in the early 80's and after that, he never looked back. 
Quote:I started planting trees when I was in Class eight. Yoganathan studied at a government school in Coimbatore where he has planted several trees.
I stopped my studies after Class 12 but continued to be involved in environmental activities as part of Tamil Nadu Green Movement.

By trekking the expanse of a state as large as TamilNadu, Yoganathan has visited every district; visited more than 3800 schools and colleges, have met lakhs of students for one cause; to create awareness on the importance of trees.


Quote:

On my weekly off ,Monday, I plant trees in all educational institutions like schools, colleges and universities.





I would say in my case at least 50 per cent of the saplings I planted have grown into trees.

More than 30 years later, he has the same passion for environmental conservation, but holding a government job as bus conductor, he has chosen the softer option of tree planting to express his love for nature.
*This image is copyright of its original author
On June 5, World Environment Day, he says, around 5,000 schools in the state responded to his appeal to take an oath to protect the environment and plant at least one sapling in their campus.
Quote:

I wrote letters to about 18,000 schools appealing them to take a pledge to avoid non-eco friendly products and plant saplings.
He avidly gobbled up information on flora and fauna, which he now shares with the children he meets in schools. 
These days he carries a LCD projector that he purchased for Rs 37,000 from a PF loan to schools for his environmental awareness programmes, where he shares interesting facts of nature with the children.

He says, tending the saplings is a greater challenge than planting them.

When he asks a child to plant a sapling, he names the plant after the child. Suppose Ramu plants a pungai (Indian beech) sapling, hr would name it Ramu pungai and ask the boy to treat the sapling as his sibling and give it water daily...
Quote:

I ask the children to collect grass and lay it around the plant. I explain to them that it is grass mulching. Similarly, I ask them to bring dry leaves and put it around the plant. I tell them it is leaf mulching.
In his 17 years of service as bus conductor he has been transferred 40 times, because of his frequent absence from work.

At Yoganathan's home in Coimbatore the awards he has received from various organisations find a pride of place.

After he received

Earth Matters' Eco Warrior award

from then Vice President of India, Hamid Ansari, in 2008, life has become better for him, with officials taking a more lenient view on him since.




*This image is copyright of its original author


Later on, Government of Tamil Nadu has conferred on him the tiltle 

Suttru Suzhal Sevai Veerar Award

.
He's also recieved CNN-IBN's 

Real Heroes Award

in 2011, &

Periyar Award

in 2015.

These were among the 14 awards that Yoganathan has received so far for his pet-project '

UyirVaza Oru Mararn

'. Under the initiative the students have been taught to plant one tree sapling on their birth day.

Over these indefatigably working years, Yoganathan has met, interacted with many people like Former President Dr. Abdul Kalam, Organic farming expert and a green crusader G. Nammalvar etc. 

At home, wife Valarmathi, a housewife, daughters Monisha, 24, who works as a cashier in a bank, and Sathyapriya, 18, studying B Com second year, have always been supportive, he says.

Yoganathan stands with a principle "

To live, plant a tree

".
"Everything not saved will be lost."


That man is
really
making a difference.
"We are all programmed by modern society into narcissism and pessimism, unlike our earlier relatives."
@
Saiya
, this happens a lot when people do big, inspiring things....they get insulted for following their passion and at the end many are jealous or supportive of the inspiring people, mostly at the end.
"We are all programmed by modern society into narcissism and pessimism, unlike our earlier relatives."
(01-16-2018, 01:42 AM)

Polar Wrote: @Saiya, this happens a lot when people do big, inspiring things....they get insulted for following their passion and at the end many are jealous or supportive of the inspiring people, mostly at the end.
Yup.. That's the rule.
*This image is copyright of its original author
"Everything not saved will be lost."


From the
WWF Blog
.
---
From hunting to honey:
a poacher's stor

y
REBECCA MAY
I have heard people talk of poachers who have changed their ways and who now work as rangers – well, back in September I met such a person. I was in Jilin Province in North East China, within the Amur-Heilong Ecoregion, where I met Mr Wu who told me his story.
Caught red-handed
Mr Wu works for a Forest Farm (a smaller unit under the Jilin Forest Bureau), and his main job was logging. However, he also poached deer.
Mr Wu, Huangnihe © Becci May WWF-UK
*This image is copyright of its original author
Around a year ago, the Director of Huangnihe Nature Reserve, Mr Li, a very passionate, caring and energetic man, found him in the forest carrying snares, and started a discussion with him. Mr Li could have turned him into the police, but instead they went back to Mr Wu's home, where his wife and daughter learnt of his poaching activity.
I spoke to Mr Wu about what happened that day and his feelings towards poaching now. He said "In the past, I was fined if I was caught poaching, and so I just went out to kill more deer so that I could pay back the fine. This system did not change my behaviour. I stopped poaching around a year ago, when Mr Li caught me carrying snares in the forest. I had a heart to heart conversation with Mr Li, who persuaded me not to poach anymore."
He explained how "morally it was wrong, and actually poaching comes with risks and it only gave me small money – Mr Li offered me an alternative – working for conservation. Now if I see a poacher, I try to persuade them not to poach, as Mr Li had persuaded me a year ago."
The key here was that Mr Wu had been offered an alternative, sustainable livelihood. Mr Li asked him if he would stop poaching and instead work on conservation activities, such as patrolling and monitoring, where Mr Wu's tracking skills could be helpful to conservation. Mr Wu agreed.
Bee-keeping cooperative
Mr Wu is also a member of the local bee-keeping cooperative, along with Mr Xu, also an ex-poacher, who showed me around the hives. This provides them with extra income, and WWF are working with them to help them improve the quality of their honey so that they can maximise this income. In the winter, they focus on patrolling and monitoring, and in the summer, they focus on honey.
Mr Xu, a member of the bee-keeping cooperative along with Mr Wu © Becci May WWF-UK
*This image is copyright of its original author
The logging ban – an opportunity?
The main work of the staff of the Forest Farm used to be logging, until a logging ban in Jilin's state forests was put in place last year. This was done mainly to assist the recovery of China's wood resources, and presents opportunities, as well as challenges, for conservation and the return of the tiger.
The pine nuts, acorns, walnuts and a good understorey will provide important food for deer and wild boar ('ungulates'), and so a healthy forest with Mongolian oak, Korean pine and other species is good habitat for these ungulates, which are important food sources for tigers. A healthy forest also supports local people's need, providing fuel wood and food (mushrooms, fruit) for example.
However, there are challenges – a logging ban in this province may put extra pressure on forests elsewhere – in Russia, over the border, for example. Also, some people will need to find other income if their main source of income was from logging, and they might think about poaching to earn extra income.
It is important that there are other livelihood options for the local people who have been affected by this logging ban. The Government are providing some support, and WWF is also helping by setting up a cooperative for pine nut harvesting and processing, and bee-keeping cooperative for honey production. If these models work, they could be used in other areas too, to provide a sustainable source of income for local people.
A better life and tigers are returning
Mr Wu explained: "I earned around USD 2,000 per year for hunting, but now I earn around USD 8,000 a year combining my conservation work with bee-keeping and forest frog management." He said he would not return to poaching, and was so pleased to see tigers returning to the area "In my childhood, I heard about tigers in the area, but I never saw one. Now we see the tiger here in Huangnihe. Last autumn I found a tiger footprint in the mud when out patrolling. I felt so happy. Tigers are returning, as the deer and wild board are increasing".
Tiger pugmark, Huangnihe © Becci May WWF-UK
*This image is copyright of its original author
Mr Wu and Mr Li led us along the valley within a Korean pine and broadleaf forest. They were so excited as they had seen a tiger pugmark there a few days ago and wanted to show us.
After walking for almost an hour, picking mushrooms on the way to cook for lunch, and snacking on mini Chinese kiwis that we found as we went, we finally found the pugmark in the mud – it looked pretty big to me, but may actually be a sub-adult male, as a male tiger pugmark can be over 10cm wide! In fact we kept walking and managed to track it for a while – the pugmarks were really clear.
I have seen camera images of tigers and a wonderful video of a tiger with cubs in China (see below), but I never thought I would see a tiger pugmark on my short visit – I was so pleased to see the evidence for myself that tigers really are returning to China
"Everything not saved will be lost."


I joined Wildfact on this day last year, so here's a special one.
---
10 Ways to Volunteer as a Tiger Warrior in India
How to pitch in for the big cats, and not just on social media.
*This image is copyright of its original author
I've listed some great volunteer opportunities that you can apply to, where you will not only help bring about change, but also learn on the job about the tiger and its habitat, the ecology and local communities, and consequently, about the conservation not just of a single species but of an ecosystem. These organisations do serious wildlife work, so applications will be vetted thoroughly. 
Be prepared to work on what they need, not on what you'd like to do for them. So while you might have expected to go into forests and be part of rescue missions during your time as a volunteer, the crucial need of the hour could actually be sitting at a desk in an office, entering wildlife data into a computer. And that contribution is just as relevant. Offer your skill sets... & make a difference.
Centre for Wildlife Studies (CWS)
A non-profit charitable trust based out of Bengaluru, CWS has one of the most comprehensive volunteer programmes in the country. It practices science-based conservation, with special emphasis on ecology and conservation of the tiger and other large mammals. It aims to conduct and facilitate long-term wildlife research, study and conservation. You can apply for a volunteer programme at any point through the year; work—and opportunities—peak between mid-April and May. For more details, visit 
cwsindia.org
, or write to: interns.wcsindia@gmail.com
*This image is copyright of its original author
Wildlife Trust of India (WTI)
WTI is dedicated to the conservation of nature and the protection of wildlife and its habitat. WTI works with more than one species and is not restricted to tiger conservation. The organisation is involved in projects all over the country and is consistently expanding operations to reach remote areas and include more causes into its fold. The team works with communities and the government to bring about change through awareness programmes and training modules, and is focused on the fight against wildlife crime. For more details, visit 
wti.org.in
 or write to hrms@wti.org.in.
Last Wilderness Foundation (LWF)
LWF aims to assist in tiger conservation through education and awareness. The team works with forest departments and tribal communities that live on the peripheries of forests to bring about localised change. In urban areas, LWF's work includes education through schools, children's programmes and awareness campaigns. As a volunteer, be prepared to be immersed in the experience, be it working in the office or out in the field, preparing modules and educating children in forested communities about conservation. For more details, visit
thelastwilderness.org
 or write to conservation@thelastwilderness.org.
Wildlife Conservation Trust (WCT)
WCT operates across the country in its aim to help protect India's biodiversity and threatened wildernesses. The team adopts a multi-pronged approach that involves these pillars: protection, training, livelihood, education, health and research. Work would include, but not be restricted to, working with forest departments, non-government organisations and individuals. WCT takes on volunteers for a minimum of a fortnight and interns for at least two months. For more details, visit
 wildlifeconservationtrust.org 
or write to admin@wildlifeconservationtrust.org.
WWF India
One of the most well-known names in conservation, WWF has been operating in many countries around the world, for over 40 years. In India, the organisation works across states and governments, trying to bring about change through local initiatives. For more details, visit 
wwfindia.org
; or register as a volunteer 
here
.
Aaranyak
Aaranyak works to foster the conservation of biodiversity in northeast India through research, environmental education, capacity building and advocacy for legal and policy reform. Outreach—and working with local communities—forms an important part of their mission. The organisation's work is not restricted to tiger conservation; it is a larger conversation on biodiversity in that region. For more details, visit 
aaranyak.org
 or write to info@aaranyak.org.
Tiger Research and Conservation Trust (TRACT)
TRACT focuses on conservation in the Chandrapur region in the Maharashtra region of central India. This includes 625 sq km of the Tadoba Andhari Tiger Reserve. The team works on conflict issues, surveys, field-training workshops for forest departments and ground staff, and monitoring large carnivore populations. Previous experience working with wildlife in a similar field is essential and a minimum commitment of three months is preferred. For more details, visit 
tractindia.org
 or write to info@tractindia.org.
The Corbett Foundation (TCF)
Working towards a harmonious existence between humans and wildlife, TCF works in tiger reserves and critical tiger corridors in north, central and northeast India, and the Rann of Kutch. TCF uses a multi-faceted approach and hence, it is actively involved in conservation-oriented research, facilitating advocacy campaigns, spreading environmental awareness, providing primary healthcare and veterinary support to ecosystem-dependent communities and engaging in tribal welfare through sustainable development initiatives and vocational and livelihood training. For more details, visit 
corbettfoundation.org
 or write to info@corbettfoundation.org.
*This image is copyright of its original author
Green Guard Nature Organisation (GGNO)
GGNO is based in Assam, doing brilliant work with conservation, study and analysis, local communities and engaging in wildlife rescue and rehabilitation. It was featured in 
Sanctuary Asia
 as an organisation involved in rescuing wild animals from illegal wildlife trade; providing alternative livelihoods for poachers, snake charmers and other communities involved in exploiting wildlife; identifying and surveying biodiversity-rich areas; and creating awareness about conservation issues. For more details, write to Rituraj Phukan at rrajphukan@gmail.com.
Wildlife Conservation and Development Centre (WLCDC)
The Wildlife Conservation and Development Centre (WLCDC) is an Umred-based NGO that was founded in 2009 by Roheet Karoo, the Honorary Wildlife Warden, with the aim to facilitate the safeguarding of unprotected wildlife corridors and tiger habitats in the Tadoba landscape of Maharashtra. For more details, write to roheetwlcdc@gmail.com.
"Everything not saved will be lost."


Users browsing this thread:
2 Guest(s)