What caused the Pleistocene Mass Extinction?
Mammalian tolerance to humans is predicted by body mass: evidence from long‐term archives
Abstract:
Humans are implicated as a major driver of species extinctions from the Late Pleistocene to the present. However, our predictive understanding of human‐caused extinction remains poor due to the restricted temporal and spatial scales at which this process is typically assessed, and the risks of bias due to "extinction filters" resulting from a poor understanding of past species declines. We develop a novel continent‐wide data set containing country‐level last‐occurrence records for 31 European terrestrial mammals across the Holocene (c.11,500 yr BP to present), an epoch of relative climatic stability that captures major transitions in human demography. We analyze regional extirpations against a high‐resolution database of human population density (HPD) estimates to identify species‐specific tolerances to changing HPD through the Holocene. Mammalian thresholds to HPD scale strongly with body mass, with larger‐bodied mammals experiencing regional population losses at lower HPDs than smaller‐bodied mammals. Our analysis enables us to identify levels of tolerance to HPD for different species, and therefore has wide applicability for determining biotic vulnerability to human impacts. This ecological pattern is confirmed across wide spatiotemporal scales, providing insights into the dynamics of prehistoric extinctions and the modern biodiversity crisis, and emphasizing the role of long‐term archives in understanding human‐caused biodiversity loss.
An informative article outlining the many climactic shifts in Europe during the pleistocene, demonstrating the incoherence of the climate hypothesis. It also touches upon the less talked about extinctions 30,000 years earlier than the pleistocene-holocene transitional ones, the extinctions of the aninals that inhabited temperate climates further south. It's not touched upon as much in the general conversation regarding pleistocene extinctions but I found it very interesting. This is the first part of a soon to be 3 part series on this new website. 
Extinctions - the European theatre (part 1; climate)
Chart of NA Holocene fauna by Fiona Reid. Right: NA biodiversity during the Rancholabrean, the last period of the Pleistocene, ending 11kya.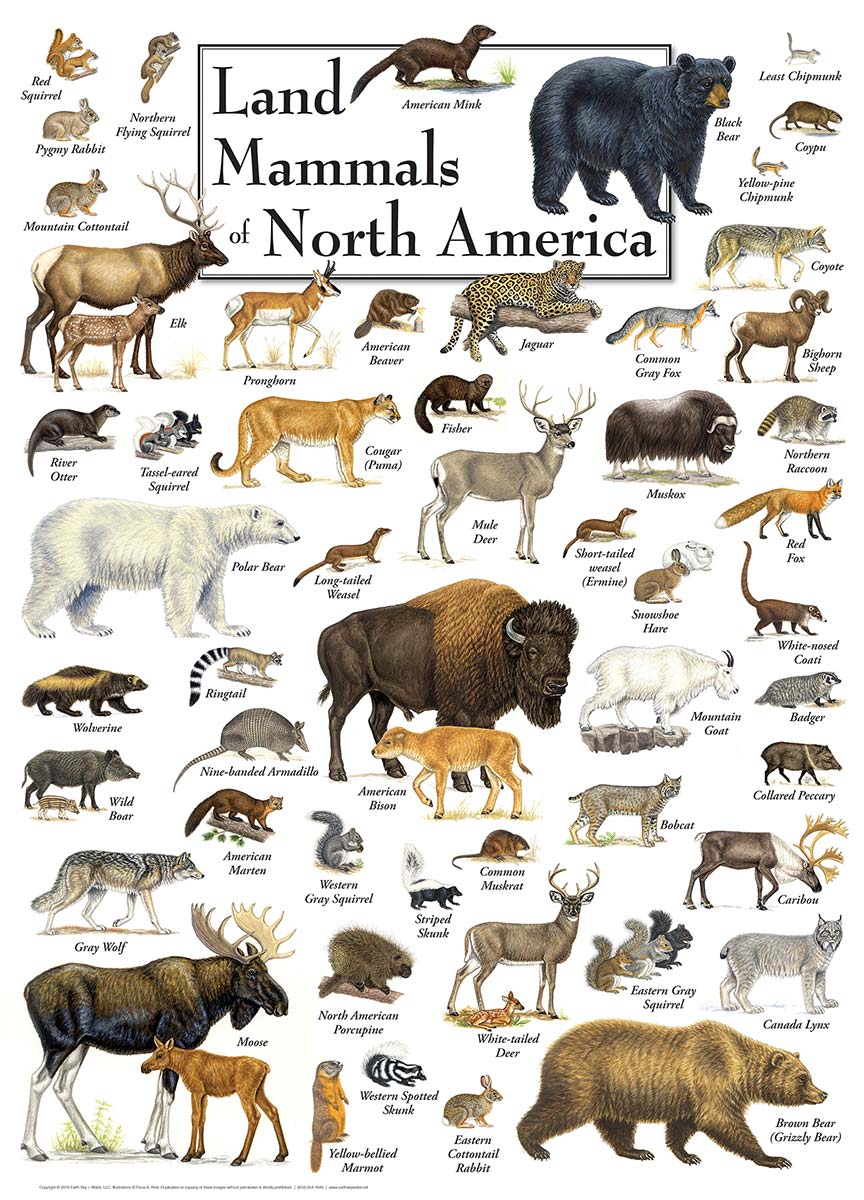 *This image is copyright of its original author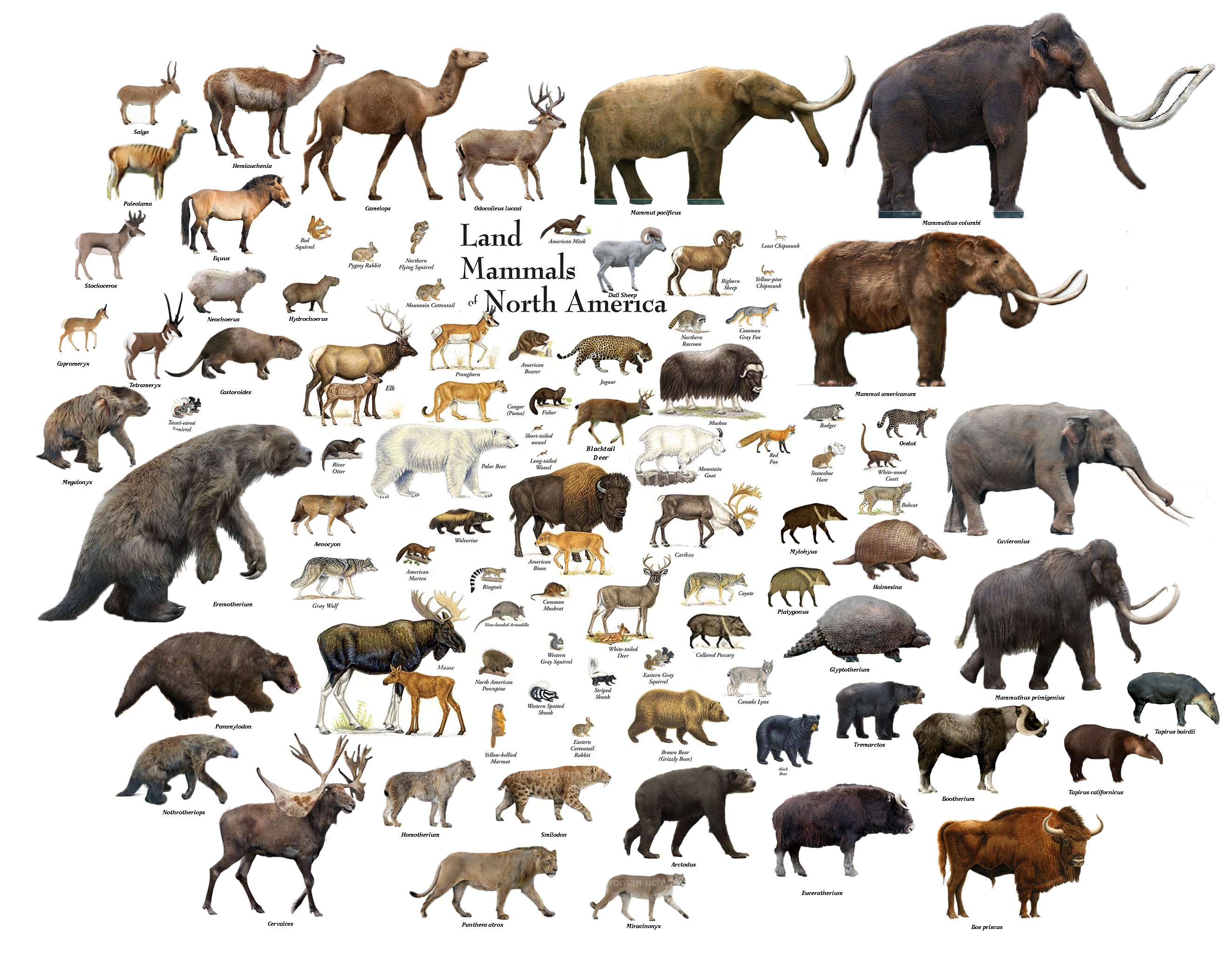 *This image is copyright of its original author
Megafaunal isotopes reveal role of increased moisture on rangeland during late Pleistocene extinctions
Abstract
The role of environmental change in the late Pleistocene megafaunal extinctions remains a key question, owing in part to uncertainty about landscape changes at continental scales. We investigated the influence of environmental changes on megaherbivores using bone collagen nitrogen isotopes (

n

 = 684, 63 new) as a proxy for moisture levels in the rangelands that sustained late Pleistocene grazers. An increase in landscape moisture in Europe, Siberia and the Americas during the Last Glacial–Interglacial Transition (LGIT; ~25–10 kyr 

BP

) directly affected megaherbivore ecology on four continents, and was associated with a key period of population decline and extinction. In all regions, the period of greatest moisture coincided with regional deglaciation and preceded the widespread formation of wetland environments. Moisture-driven environmental changes appear to have played an important part in the late Quaternary megafaunal extinctions through alteration of environments such as rangelands, which supported a large biomass of specialist grazers. On a continental scale, LGIT moisture changes manifested differently according to regional climate and geography, and the stable presence of grasslands surrounding the central forested belt of Africa during this period helps to explain why proportionally fewer African megafauna became extinct during the late Pleistocene.
Late Holocene spread of pastoralism coincides with endemic megafaunal extinction on Madagascar
Abstract
Recently expanded estimates for when humans arrived on Madagascar (up to approximately 10 000 years ago) highlight questions about the causes of the island's relatively late megafaunal extinctions (approximately 2000–500 years ago). Introduced domesticated animals could have contributed to extinctions, but the arrival times and past diets of exotic animals are poorly known. To conduct the first explicit test of the potential for competition between introduced livestock and extinct endemic megafauna in southern and western Madagascar, we generated new radiocarbon and stable carbon and nitrogen isotope data from the bone collagen of introduced ungulates (zebu cattle, ovicaprids and bushpigs, 

n

 = 66) and endemic megafauna (pygmy hippopotamuses, giant tortoises and elephant birds, 

n

 = 68), and combined these data with existing data from endemic megafauna (

n

 = 282, including giant lemurs). Radiocarbon dates confirm that introduced and endemic herbivores briefly overlapped chronologically in this region between 1000 and 800 calibrated years before present (cal BP). Moreover, stable isotope data suggest that goats, tortoises and hippos had broadly similar diets or exploited similar habitats. These data support the potential for both direct and indirect forms of competition between introduced and endemic herbivores. We argue that competition with introduced herbivores, mediated by opportunistic hunting by humans and exacerbated by environmental change, contributed to the late extinction of endemic megafauna on Madagascar.
Users browsing this thread:
1 Guest(s)