Tiger Reserves in India
This-Day-That-Year my fellow Indians (who I can remember) @sanjay @Sanju @Suhail @SANTU D G @SuSpicious @parvez @qstxyz @anand3690 @Charan Singh @vinodkumarn @ABHI1710 @shaileshsharadnaik @pateluday @Hello
47 years ago from today Project Tiger commenced on this day, 1st April of 1973. How far we have come! From a handful of 
tiger reserves a
s pilot project to 50 today & more than 10 waiting.
ENVIS website
updated their map & info collection. My tribute to the original 9 of India... 
Manas (Assam)


*This image is copyright of its original author

Palmau (Jharkhand, then part of Bihar)


*This image is copyright of its original author

Similipal (Orissa)


*This image is copyright of its original author

Corbett (Uttarakhand, then part of Uttar Pradesh)


*This image is copyright of its original author

Kanha (Madhya Pradesh )


*This image is copyright of its original author

Melghat (Maharashtra)


*This image is copyright of its original author

Bandipur (Karnataka)


*This image is copyright of its original author

Ranthambore (Rajasthan)


*This image is copyright of its original author

Sunderbans (West Bengal)


*This image is copyright of its original author



Everything not saved will be lost. - Nintendo 


There is a competition going around amongst the wildlife officials of the country to submit the stupidest and most idiotic proposals for management of man-animal conflicts.
Maharashtra has 310 tigers as per the 2018 census of which 160 live in Chandrapur district (also the area where tigress Avni was killed in 2018). The man-animal conflict is bad in this area as 24 people were killed in 2019 and 11 have been killed this year.
So, the Maharashtra Principal Chief Conservator of forest (wildlife), Nitin Kakodkar has come up with a solution. If you thought the Pilibhit tiger reserve's ideas were shocking, we have someone who can top that. This person wants to translocate 50 tigers into zoos and safari park.
"These tigers can be removed from there in a phased manner and put in other wildlife areas, rescue centres or tiger safaris. I have written to Nagpur's Gorewada Rescue Centre to augment its capacity to hold more tigers and I have also asked Chandrapur and Yavatmal Chief Conservators of Forest to explore the possibility of setting up tiger safaris," he added. "The man-tiger conflict is only going to grow further with Chandrapur having as many as 160 tigers. It can't hold such a big population without their coming in conflict with humans".
"The idea is to pick up non-problem tigers, which shouldn't be such a problem."
https://indianexpress.com/article/india/proposal-to-translocate-chandrapur-tigers-cannot-be-put-in-zoos-safaris-rescue-centres-say-experts-6401347/
PS: Who appoints these people to such posts!
15% cut in funds for tiger reserves across India
Shivani Azad | TOI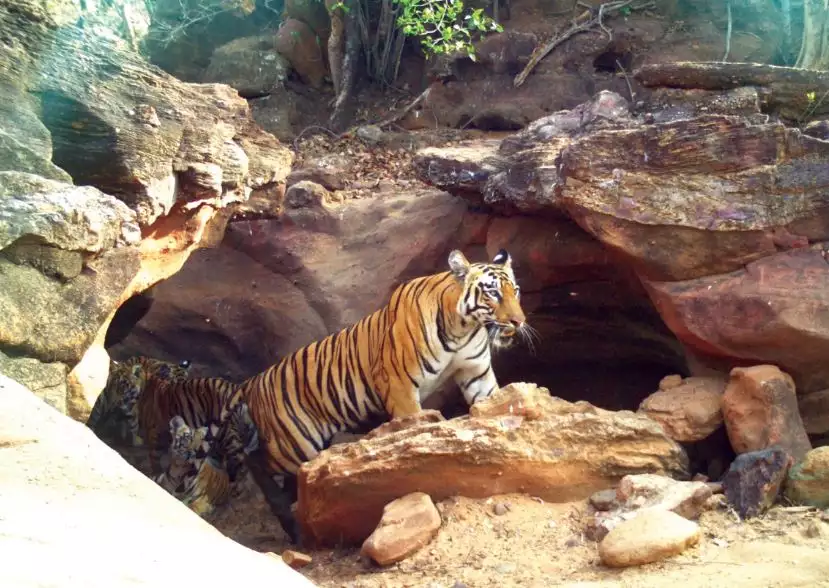 *This image is copyright of its original author
DEHRADUN: In what might come as a double whammy for tiger reserves across the country this year, the National Tiger Conservation Authority (NTCA) has decided to slash funds by 15% for each state, officials in the know said.
Already, the prime tiger tourism season from March to June 15 has fallen flat due to the lockdown. Park officials are worried that conservation efforts would suffer amid alert issued by the Wildlife Crime Control Bureau (WCCB).
In Uttarakhand, Corbett Tiger Reserve (CTR) earns about Rs 10.5 crore per annum and Rajaji Tiger Reserve (RTR) earns around Rs 54 lakh a year from tourism-related activities. Earnings have taken a dip because of the lockdown for the otherwise self-sustaining tiger reserves.
Uttarakhand was sanctioned around Rs 25 crore in the previous year by the NTCA, according to officials.
Directors of Tiger Reserves feel reduced funds will adversely affect infrastructure-related works in the protected areas.
With the monsoon season round the corner, important road construction work will suffer. Internal road connectivity inside reserves is essential during the rainy season for effective patrolling to check poaching and other anti-forest activities.
A source in the forest department said NTCA itself didn't get its full share of funds and, hence, it has no other option but to further cut funds for the states.
Incidentally, budget of NTCA has been reducing since the past four years. For 2016-17, its budget was Rs 348.74 crore; for 2017-18, it was Rs 345 crore; for 2018-19, it was Rs 323.44 crore.
In 2019-20, it was just Rs 280.66 crore. For 20-21, it has already indicated that the fund would be curtailed further. In 2019-20, NTCA had approved Rs 17 crore for CTR. For 2020-21, it has already indicated that the fund would be curtailed further.
In 2019-20, NTCA had approved Rs 17 crore for CTR. "The cost-cutting measure has been taken as the lockdown has hit various sectors. May be, NTCA is also trying to strike a balance by pruning the funds by up to 15% for all the reserves," said Rajiv Bhartari, chief wildlife warden of Uttarakhand forest department.

Any fund crunch will hit hardest the half of India's tigers that dwell in the forests outside protected reserves.
*This image is copyright of its original author
Besides, the prime minister's ambitious project to develop a rescue centre in Ramnagar at Corbett Tiger Reserve has also been hit. "The Covid-19 lockdown has affected all our projects. With NTCA's decision to cut costs, we will have to re-prioritize things as per the availability of funds," said Rahul, director of CTR.
Similarly, Rajaji Tiger Reserve, which had sent a proposal to NTCA for Rs 12 crore this year, might also get less. "We are hoping that our reserve will get at least the same amount that we had received the previous year, when Rs 10.13 was sanctioned," said Amit Verma, director of Rajaji Tiger Reserve.
Surprisingly, NTCA officials are in a 'denial' mode. NTCA deputy inspector general (DIG) Nishant Verma said, "I am not aware of any such move, and we are not reducing any funds. The Annual Plan of Operations (APOs) are getting approved like before."
Everything not saved will be lost. - Nintendo 


Rajaji Tiger Reserve has been split up by a railway track and this has caused an imbalance as apparently there is no movement between the eastern and western parts of the park. So, right now there are 32 resident tigers in Eastern Rajaji which is spread across 150 sq.km.
The western part of Rajaji is spread over much larger area at 570 sq.km but has only 2 tigers and there has been no breeding in over a decade.
With Corbett housing 260 tigers as per recent census, it is saturated and has probably reached it's carrying capacity. So, after a decade, the wildlife officials have decided to use their brain to conduct a translocation of tigers from Corbett to Rajaji.
5 tigers are to be translocated with 2 males preferably in the 3-4 year age group who are yet to establish territories and 3 tigresses with a similar age profile.
As you can see from Eastern Rajaji, it is an exceptional tiger habitat and the western part has a capability of accommodating  100 tigers if it is given the required attention.
https://www.newindianexpress.com/nation/2020/jun/27/tigers-to-be-translocated-from-uttarakhands-corbett-to-rajaji-in-bid-to-increase-their-population-2161913.html
*This image is copyright of its original author
Update: While the much larger & inviolate core area of Rajaji is finally about to get its tiger relocation, another new Tiger Reserve is to be cleared soon. 
---
The Shivalik Range of western Uttar Pradesh to become Tiger Reserve within the year, 4th one in the state.
Marked (3) in themap below, it is the western-most extent of Terai Arc tiger-landscape in India. 
*This image is copyright of its original author
Spread over 330 km², the forest is located in Saharanpur District on the Shivalik range just west of Rajaji National Park located across the interstate boundary into Uttarakhand. The Uttarakhand government's plan to translocate a few tigers in the nearby Motichur range of Rajaji National Park from other places in the hill state would strengthen the proposal to declare Shivalik forest as a tiger reserve due to its proximity, said VK Jain, Saharanpur division's chief conservator of forests.
*This image is copyright of its original author
Stretching west till the boundary of the
Kalesar wildlife sanctuary
in Haryana and the
Simbalbara National Park
in Himachal Pradesh,  this will eventually open up new avenues for the tigers to expand in the northwestern direction along forests of Himalayan foothills. "After the translocation of tigers in western Rajaji Park, these big cats could venture into the Shivalik forest in the next few years, turning it into a potential corridor for tigers," said Dr Vibhas Pandav, a scientist with the Wildlife Institute of India. 
Jain said direct sighting of tigers were reported in the forest till 2005 and many people claimed such sightings till 2008-09.
The forest department has carried out an intensive six-month trap camera survey in the forest with technical and other assistance from experts of Wildlife Institute of India (WII) and World Wide Fund for Nature (WWF). The survey counted a population of over 50 leopards, different herbivorous animals, civets, snakes and species of birds, which indicates it has a rich biodiversity to support the presence of tigers.
Divisional commissioner Sanjay Kumar said 400 families of Van Gujjars lived inside the forest and earned their livelihood by selling milk. Each family has its own herd of buffaloes. He said 40 families would be rehabilitated in 1st two months & the process would continue until all families were relocated and benefitted from government schemes.
Everything not saved will be lost. - Nintendo 


₹12cr funding allocated for tiger release in Buxa
We will bring in three tigers from Assam: Principal chief conservator of forests
Special Correspondent
*This image is copyright of its original author
The National Tiger Conservation Authority has sanctioned Rs 12 crore for reintroduction of royal Bengal tigers in the Buxa Tiger Reserve in Alipurduar district.
The Bengal forest department had decided to reintroduce the big cat that has not been sighted in the BTR for many years. Assam foresters had already agreed to send tigers to Buxa.
"The NTCA has granted ₹12 crore for reintroduction of tigers in the BTR. We have completed all necessary formalities with the government of Assam and initially, we will bring in three tigers," said Ravikant Sinha, principal chief conservator of forests, Bengal.
Buxa is the only tiger reserve in north Bengal though photos of the animal were repeatedly clicked in the Neora Valley National Park in Kalimpong. A tiger was killed near the Jaldapara National Park at Alipurduar in 2007.
Senior Bengal foresters had drawn up a plan to bring in tigers from Assam and release the same into Buxa. Residents of villages in the core areas of Buxa were shifted and the prey base was boosted by the release of herbivores.
Sinha said the forest department had initially planned to get six tigers from Assam. "But we want to know how the tigers behave after their release in the BTR. If everything goes fine, 3 more would be released in due course."
Over the course of past few decades, tigers had disappeared from West Bengal's Buxa Tiger Reserve, as foresters had claimed that the
habitat of the big cat has shrunk to a small area on the foothills adjoining Bhutan
.
Interference from human settlement along tea-plantations outside forests & cattle- grazing had made tigers to move camp northwards from their habitat, which once spread across Buxa forest in north Bengal.
State Wildlife Board member Biswajit Roychowdhury, who had participated in the last census, said they had found evidence of the presence of the big cats along Bhutan border but it was tough to say whether those tigers whose pug marks & scat we found in Buxa are residents or transitory ones coming from Bhutan.
Ecological preferences of large carnivores in remote, high-altitude protected areas: insights from Buxa Tiger Reserve, India (Cambridge.org)
Everything not saved will be lost. - Nintendo 


Users browsing this thread:
1 Guest(s)