Making a difference
Bus-conductor who planted 3Lakh trees in 25 years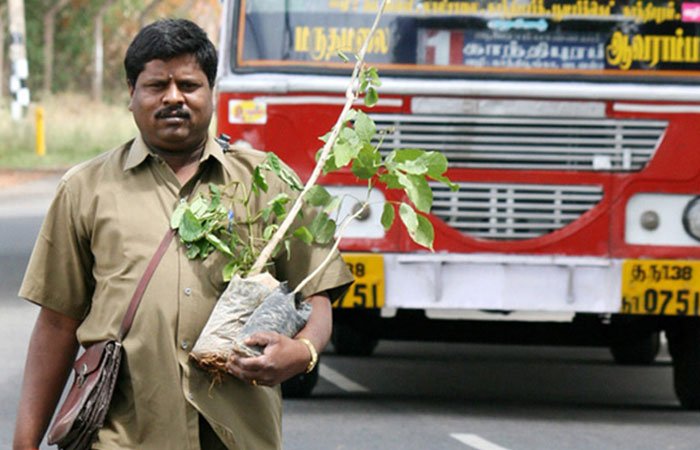 *This image is copyright of its original author
Talking environment has almost become fashionable these days. But not often you meet someone like Marimuthu Yoganathan who works tirelessly to save our environment than he speaks. It all started when Yoganathan, a young boy, stood stubborn protesting the Timber mafias in the Nilgiris.

Marimuthu Yoganathan is popularly known as "The Tree man of India" & was born in Coimbatore, Tamil Nadu, India in 1969. He is currently working as a bus conductor on S-26, Tamil Nadu State Transport Corporation & runs on the Marudamalai-Gandhipuram route in Coimbatore.

In the last 25 years, he has planted more than 3,00,000 trees across 32 districts of Tamil Nadu.

Yoganathan was born in a poor family in Mayavaram, Thanjavur district. He lost his father when he was just one and a half years old. His mother moved to Nilgiris district to work in the tea gardens, and he stayed with his elder sister's family to continue his studies.
He started campaigning against the cutting of trees in Nilgiris in the early 80's and after that, he never looked back. 
Quote:I started planting trees when I was in Class eight. Yoganathan studied at a government school in Coimbatore where he has planted several trees.
I stopped my studies after Class 12 but continued to be involved in environmental activities as part of Tamil Nadu Green Movement.

By trekking the expanse of a state as large as TamilNadu, Yoganathan has visited every district; visited more than 3800 schools and colleges, have met lakhs of students for one cause; to create awareness on the importance of trees.


Quote:

On my weekly off ,Monday, I plant trees in all educational institutions like schools, colleges and universities.





I would say in my case at least 50 per cent of the saplings I planted have grown into trees.

More than 30 years later, he has the same passion for environmental conservation, but holding a government job as bus conductor, he has chosen the softer option of tree planting to express his love for nature.
*This image is copyright of its original author
On June 5, World Environment Day, he says, around 5,000 schools in the state responded to his appeal to take an oath to protect the environment and plant at least one sapling in their campus.
Quote:

I wrote letters to about 18,000 schools appealing them to take a pledge to avoid non-eco friendly products and plant saplings.
He avidly gobbled up information on flora and fauna, which he now shares with the children he meets in schools. 
These days he carries a LCD projector that he purchased for Rs 37,000 from a PF loan to schools for his environmental awareness programmes, where he shares interesting facts of nature with the children.

He says, tending the saplings is a greater challenge than planting them.

When he asks a child to plant a sapling, he names the plant after the child. Suppose Ramu plants a pungai (Indian beech) sapling, hr would name it Ramu pungai and ask the boy to treat the sapling as his sibling and give it water daily...
Quote:

I ask the children to collect grass and lay it around the plant. I explain to them that it is grass mulching. Similarly, I ask them to bring dry leaves and put it around the plant. I tell them it is leaf mulching.
In his 17 years of service as bus conductor he has been transferred 40 times, because of his frequent absence from work.

At Yoganathan's home in Coimbatore the awards he has received from various organisations find a pride of place.

After he received

Earth Matters' Eco Warrior award

from then Vice President of India, Hamid Ansari, in 2008, life has become better for him, with officials taking a more lenient view on him since.




*This image is copyright of its original author


Later on, Government of Tamil Nadu has conferred on him the tiltle 

Suttru Suzhal Sevai Veerar Award

.
He's also recieved CNN-IBN's 

Real Heroes Award

in 2011, &

Periyar Award

in 2015.

These were among the 14 awards that Yoganathan has received so far for his pet-project '

UyirVaza Oru Mararn

'. Under the initiative the students have been taught to plant one tree sapling on their birth day.

Over these indefatigably working years, Yoganathan has met, interacted with many people like Former President Dr. Abdul Kalam, Organic farming expert and a green crusader G. Nammalvar etc. 

At home, wife Valarmathi, a housewife, daughters Monisha, 24, who works as a cashier in a bank, and Sathyapriya, 18, studying B Com second year, have always been supportive, he says.

Yoganathan stands with a principle "

To live, plant a tree

".
"Everything not saved will be lost."


Users browsing this thread:
1 Guest(s)