Chimpanzee (Pan sp.)
"When the
tiger
stalks the jungle like the lowering clouds of a thunderstorm, the
leopard
moves as silently as mist drifting on a dawn wind." -
Indian proverb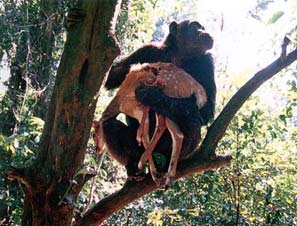 *This image is copyright of its original author
"When the
tiger
stalks the jungle like the lowering clouds of a thunderstorm, the
leopard
moves as silently as mist drifting on a dawn wind." -
Indian proverb
Chimps are not as superhumanly strong as we thought they were:
By Michael Le Page 
Chimpanzees do have stronger muscles than us – but they are not nearly as powerful as many people think.
"There's this idea out there that chimpanzees are superhuman strong," says Matthew O'Neill at the University of Arizona in Phoenix. Yet his team's experiments and computer models show that a chimpanzee muscle is only about a third stronger than a human one of the same size.
This result matches well with the few tests that have been done, which suggest that when it comes to pulling and jumping, chimps are about 1.5 times as strong as humans relative to their body mass. But because they are lighter than the average person, humans can actually outperform them in absolute terms, say O'Neill.
His findings suggest that other apes have similar muscle strength to chimpanzees. "Humans are the odd ones," he says.
O'Neill's team has been studying 
the evolution of upright walking
. To create an accurate computer model of how chimps walk, the researchers needed to find out whether their muscles really are exceptionally strong. So they removed small samples of leg muscle from three chimps under general anaesthetic and measured the strength of individual fibres.
The same procedure is used to study human muscles. Comparing the results with the many studies on those revealed that, contrary to the claims of several other studies, there is nothing special about chimp muscle. "Chimpanzee muscle is really no different than human muscle in terms of the force that individual fibres exert," says O'Neill.
Fast twitchers
So why, on a pound-for-pound basis, are chimps slightly stronger than humans? The team went on to look at the muscle of chimps that had died of natural causes, which revealed that two-thirds of their muscle consists of fast-twitch fibres, whereas more than half of human fibres are slow-twitch. 
Fast-twitch fibres are more powerful
, but use more energy and become fatigued faster.
Another factor, O'Neill found, is that chimps have longer fibres on average, which also enhances their strength.
This adds to the evidence that 
walking is considerably more energy-costly
for chimps than for people. The results fit neatly with the idea that early humans evolved to walk or run long distances. It seems that we sacrificed some strength for greater endurance.
An earlier study found that our 
jaw muscles are particularly weak
, which may have helped our brains grow larger.
Quite how the myth that chimps are incredibly strong came about is not clear, says O'Neill. But it may have been fuelled by a 1923 study that claimed one chimp could pull nine times its own body weight. Later studies suggested they could only pull two to four times their weight.
Journal reference:
http://www.pnas.org/content/114/28/7343
"When the
tiger
stalks the jungle like the lowering clouds of a thunderstorm, the
leopard
moves as silently as mist drifting on a dawn wind." -
Indian proverb
Chimps in Senegal found to fashion spears for hunting
*This image is copyright of its original author
Tool-assisted hunting by chimpanzee at Fongoli, Sénégal. Adult male chimpanzee uses modified tree branch with modified end to (a–c) stab into a cavity within a hollow tree branch that housed a Galago he ultimately captures as (d) his …more(Phys.org)—Members of a troop of chimpanzees living at a site called Fongoli in southeastern Senegal have been observed by scientists fashioning tree branches into spears and using them to hunt and kill bushbabies. The researchers, a combined team with members from the U.S. the U.K. and Germany have published their observations and findings in
Royal Society Open Science
.
In their seven year study of the
chimps
living at the site, the researchers spotted chimpanzees breaking off tree branches, tearing off smaller branches and leaves, removing the weak tips and sometimes gnawing on the ends to sharpen them. The spears (which were on average about 75 centimeters long) were then used to stab bushbabies sleeping in their nests in tree hollows. The poking, the team reports was not lethal, instead, it caused injuries to the bushbabies which was enough to allow the chimps to bite and kill them with relative ease.
Bushbabies are small primates with big eyes and sharp teeth, and serve as a primary protein source for the chimps living in that part of Africa, where other sources are rare. The researchers began their study in 2007, observing chimp behavior up until last year. During that time period they recorded 308 spear hunting events, which they noted, was more common for females than males—they accounted for 61 percent of the total. The researchers suggest this is likely the case because it is more difficult for females to chase down prey because they almost always have offspring clinging to their bodies. To date, the chimps are the only known animal to use a tool as a weapon to hunt a "large" animal, other than humans—chimps in other troops have been seen to use twigs as tools to help collect termites, but scientists do not count that as hunting.
The researchers also found that the troop at Fongoli was a much more cooperative collective than has been found in chimp troops in other parts of Africa—dominant males, for example, allow females and smaller males to keep and eat what they kill, rather than stealing it from them. That might help explain the development of tool use, which the team speculates, likely began with females. They also suggest the same might be said for early humans, who developed weapons use in a very similar environment.
"When the
tiger
stalks the jungle like the lowering clouds of a thunderstorm, the
leopard
moves as silently as mist drifting on a dawn wind." -
Indian proverb
"When the
tiger
stalks the jungle like the lowering clouds of a thunderstorm, the
leopard
moves as silently as mist drifting on a dawn wind." -
Indian proverb
empowersafrica
Tanzania's Rubondo Island is one the most beautiful island national parks in the world. It's a one-of-a-kind and virtually untouched destination where elephant roam wild, colorful birds and butterflies flit through the indigenous rainforest, and the waters teem with hippo, crocodile and the iconic Nile perch. Crucially, it's also home to the world's fastest growing population of chimpanzee.⁣
⁣
⁣
We've teamed up with MakeMake Films to bring more awareness to this incredible place and are sponsoring a documentary about the island's history and the story of the chimpanzee, from their arrival on the island to the present day. Above is a taster of what's to come….⁣
⁣
⁣
Now, film making isn't cheap! The crew are following wild chimpanzee through the forests of an extremely remote place and then of course there's all the editing and production that follows. If you would like to make a donation, please click on the link on our bio – every little helps and we would be so grateful! Alternatively, if you have any questions or would like to be involved in the project, please send us a message on Instagram or Facebook and we'll get back to you
"Imagination was given to man to compensate him for what he is not, and a sense of humor was provided to console him for what he is."
-Oscar Wilde

Users browsing this thread:
1 Guest(s)