Bigcats News
Shahdol: In another shocker for wildlife lovers and authorities, tiger population suffered yet another jolt as another big cat was found dead in Shahdol district of Madhya Pradesh under mysterious circumstances on Saturday.

This is sixth tiger mortality since January 2018 and whopping 61st demise since the year 2016 when the state had lost 30 tigers in calendar year.

Meanwhile, the fresh casualty was reported from village Devahara in Jaitahari block of Shahdol district, around 550 km from state capital Bhopal on Saturday morning at around 6am.

The carcass, presumably belonging to an adult tiger aged around five years, lied dead in the agriculture land belonging to a local farmer in village Devahara, around 8km from block headquarters this morning. A local resident spotted the dead big cat and intimated the forest department.

On this, Range Officer accompanied by his staff reached the spot.

However, senior officers and veterinary expert took several hours to reach the place and start an investigation. In between a huge crowd gathered on the spot and started clicking selfies tampering vital pieces of evidence of its death in the process.

Sources in forest department claimed that the big cat is aged around five years and suffered mild electric shock. The skull also carried an injury mark and the big cat was bleeding from nose which suggested that it could have been assaulted by a heavy object.

"The exact cause would be ascertained once the autopsy is performed on Sunday," an officer from the forest department said adding the feline perhaps belonged to nearby Sanjay Dubri Tiger Reserve and was trapped in cameras recently.

The Shahdol-Umaria region was in limelight in the second half of last year after it reported four big cat deaths including a cub.

After the state reported presence of 308 striped cats in 2014, efforts were intensified for putting MP back on number one spot in terms of tiger population. However, the mortalities reported in the state suggest otherwise.

In the year 2016, the state reported the death of 30 tigers, highest in India, and in 2017; the state lost 25 big cats again clinching the dubious topmost spot among states in tiger mortalities. With the state already reporting half a dozen deaths in January, the toll has reached 61 since 2016.

Among other reasons – electrocution by illegally powered farm fences and poaching of big cats for vital organs used in witchcraft have emerged as prominent causes that are killing tigers in MP.

"The situation is alarming but the complacency of state forest department and NTCA is baffling and painful at the same time," said one of the former Madhya Pradesh Chief Wildlife Wardens adding the department seems to have turned a blind eye towards all these deaths.


"
Terrible news coming in from Kanha !
1 cub of Dhawajhandi female (T-27) was found dead today by the patrolling team. While one cub was found alive with the mother, whereabouts of the other 2 cubs remain unknown. Jamun Tola Male (T-24) is suspected to be the culprit. Further details awaited.
"
"Imagination was given to man to compensate him for what he is not, and a sense of humor was provided to console him for what he is."
-Oscar Wilde

It's official: Odisha to get 6 tigers from MP
Updated: Feb 10, 2018, 05:35 AM IST
Madhya Pradesh responds to Odisha's SOS call asking for surplus tigers.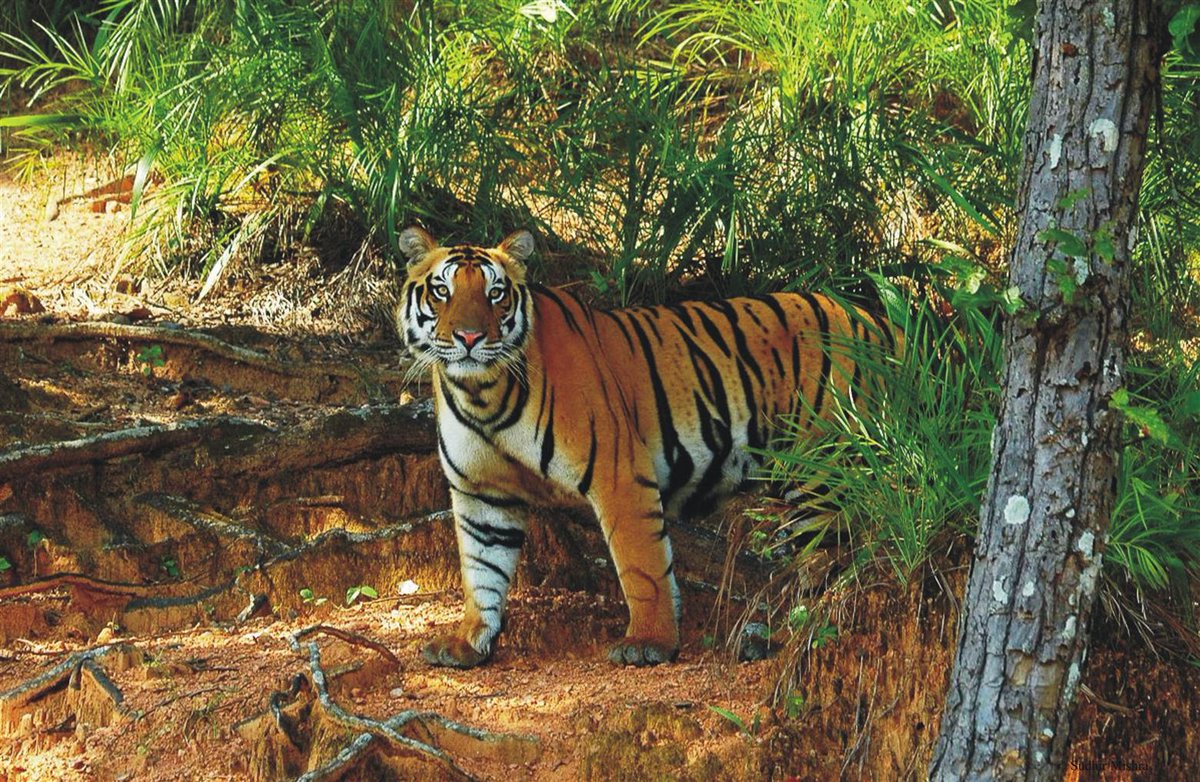 *This image is copyright of its original author
On Friday, the Madhya Pradesh government granted an in-principle approval to translocate three pairs of tigers from the state to the Satkosia tiger reserve.
In August last year, Odisha government had planned to launch an ambitious project by releasing adult Royal Bengal Tigers in low tiger density forests to enhance the number of big cats. "We are planning to release a pair of tigers at the Satkosia tiger reserve in Angul district on a pilot basis. If the scheme is successful, the government may undertake similar efforts in other forests," Principal Chief Conservator of Forest (Wildlife) Sandeep Tripathy had said.
According to the 2016 tiger census, Odisha has only 40 Royal Bengal Tigers — 13 males, 24 females and three cubs. Satkosia has been chosen on a pilot basis as food would not be a major problem for the big there due to the presence of a large number of animals of different species there.
The 965 sq-km Satkosia Tiger Reserve in Odisha presently has only two old tigers — a male and a female, both over the age of 13, at Satkosia forest division at present. Once they were dead there would no tiger left in the tiger reserve. That's why Wildlife Institute of India (WII) had chalked out a long term plan for the Reserve.
Earlier, Odisha government had also written to other states with overpopulated tiger reserves for a few of the big cats.
There is a standard operating procedure to guide the process of relocation by the National Tiger Conservation Authority (NTCA). "Basically, it tells us from which landscape you can pick up tigers. In Satkosia, the habitat is there, the prey is there but there are insufficient tigers. This SOP tells us that we can pick up tigers from Kanha National Park, for instance, which have a similar genetic type," said Vaibhav C Mathur from the NTCA.
Mahanadi river in Satkosia Gorge that gives the reserve its name.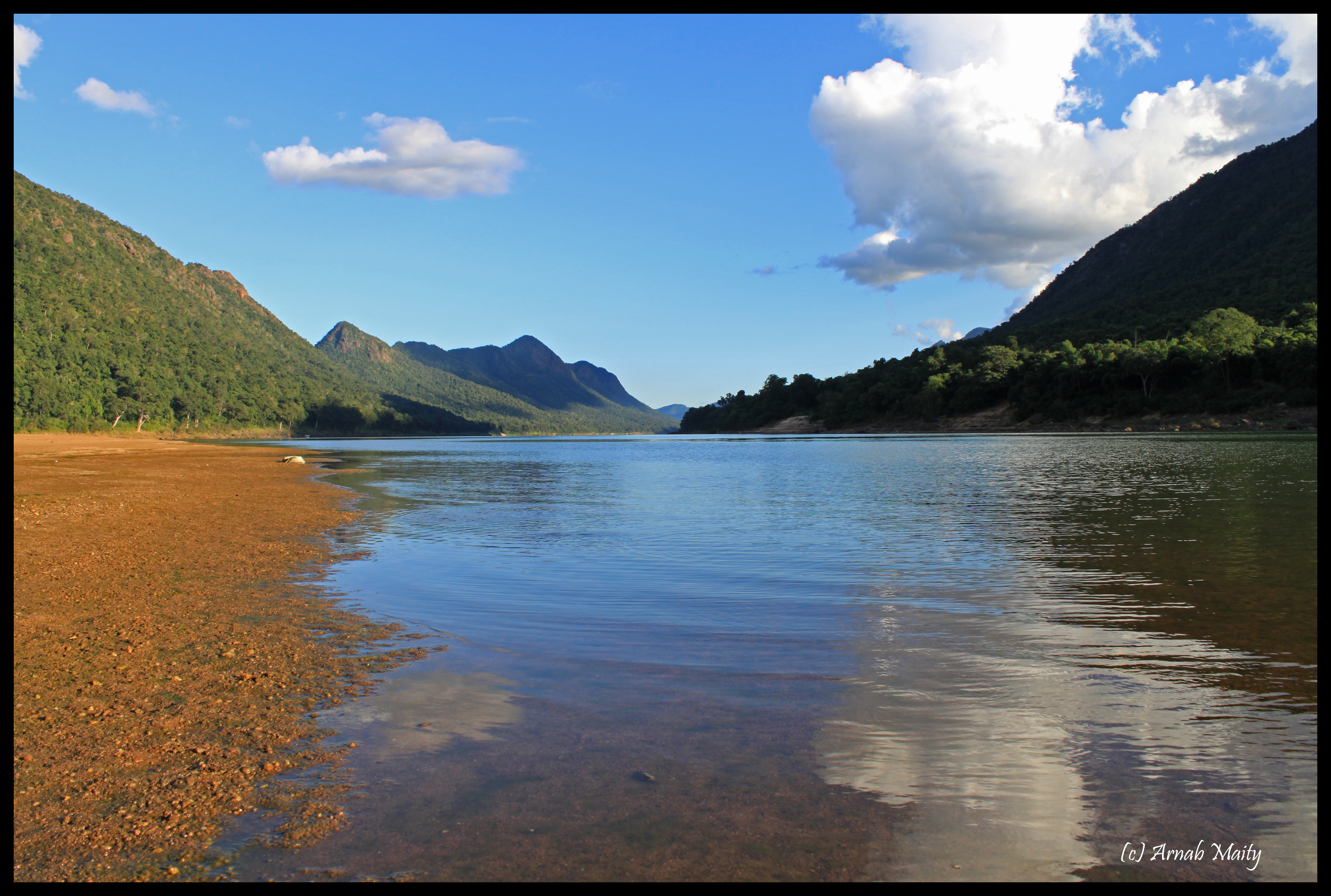 *This image is copyright of its original author
"The Chief Wildlife Warden of Madhya Pradesh has agreed to relocate a pair from MP to Satkosia. There were plans to relocate tigers from Tadoba National Park in Maharashtra earlier, but the Tigers in Bandhavgarh were closest in terms of genetic type," Wildlife Institute of India scientist Y V Jhala was quoted.
During a genetic analysis of existing tigers WII found that the
genetic make-up of the tigers in Satkosia was similar to that of Madhya Pradesh tigers as compared to genetic make-up of tigers of even other parts of Odisha
, hence the plan to translocate MP's tigers to Odisha.
Though the decision is yet to be taken as to from which part of the state the tigers will be relocated to Odisha, as per the forest department officials most probably the tigers would be shifted from
Bandhavgarh
,
Kanha
and
Pench
.
"The first pair of tigers - a male and a female - is expected to be relocated in March or April. Odisha's chief wildlife warden is expected to visit Madhya Pradesh in the first week of March.We will meet with NTCA and Odisha officials in the first week of March to finalise if the tigers will be sourced from Kanha or Bandhavgarh. We will also visit Satkosia to assess the situation," said Jitendra Agrawal, Principal Chief Conservator of Forest, Wildlife, MP government.
"Only such tigers will be sent which are not overage and are mainly two to two-and-a-half-year old. We will select such tigers for translocation which are looking for their own territories having been separated from or discarded by their mothers and are in a conflict area", said a department official.
Once the first pair is settled well over there then there would be the process to shift the next pair, said the PCCF.
This will be first inter-state translocation of tigers in the country once it takes place, said forest department officials.
In the wild, expect the unexpected, as we humans haven't really much clue of what to expect.
Suspected poacher eaten by lions, leaving only his head.
"A suspected poacher has been killed and eaten by a pride of lions in South Africa, leaving police with just his head to identify him. The remains were found at the weekend in the bush at a private game park near Hoedspruit in the northern province of Limpopo, where animals have been poached in increasing numbers over recent years. "It seems the victim was poaching in the game park when he was attacked and killed by lions. They ate his body, nearly all of it, and just left his head and some remains," Limpopo police spokesman Moatshe Ngoepe told AFP. A loaded hunting rifle was found near the body on Saturday morning. Police are trying to establish the victim's identity. Lion bones and other body parts are increasingly sought-after in South East Asia, where they are sometimes used as a substitute for tiger bones. Last year, several lions were found poisoned near a farm in the same province with their heads and paws cut off. "KARMA"
Poisoning animals in retaliation is not the way. Government helps with lost livestock costs. The loss of 6 lions and almost 100 vultures, as possibly other carnivores is horrible. 
*This image is copyright of its original author
The lioness has rejoined her cub, and all is right in the jungle.
Its very sad news @
TheLioness
, here is full detail
Mass poisoning incident in the Wildlife Management Area (WMA) just outside Ruaha National Park
We are deeply saddened to report a mass poisoning incident in the Wildlife Management Area (WMA) just outside Ruaha National Park. We received a 'mortality alert' from one of our collared lions, and the team responded rapidly. When they arrived at the site, they found a devastating scene – six lions (the collared adult female, three sub-adult females and two sub-adult males) had been killed, apparently from poison as they were all found close to a scavenged cattle carcass. This event had additional tragic consequences, with dozens of critically endangered vultures found dead or badly affected. RCP worked closely with colleagues from
Wildlife Conservation Society Tanzania Program
, the Parks authorities and other local agencies, and they eventually found 74 dead vultures as well as the six lions. Thanks to the skills of the WCS team, four other sick vultures were able to be taken to the Park for treatment. Sadly, one died shortly after arrival but the others are currently doing well.
The authorities are investigating this incident, but it appears as if someone poisoned a carcass after lions attacked cattle. Alarmingly, poisoning is a common response to conflict, and this highlights how vital it is to do all we can to prevent carnivore attacks on stock, and reduce chances of retaliatory killings. Cattle are extremely important to local people, and carnivores can cause major economic and cultural hardship when they attack stock – and, when people don't benefit from lions, it is unsurprising that they resort to killing them. Thanks to support from many partners, we have made great progress in reducing such attacks, for example by predator-proofing enclosures and engaging communities, but there is much more to be done across the landscape, and protecting grazing livestock is particularly challenging. It is also vital to secure the Wildlife Management Areas and – probably most important of all – make sure that local people receive real benefits from wildlife, so they eventually see them as more of an asset alive than dead.
This kind of event is truly devastating, but it does highlight the value of our collaring programme – without alerts from the collars, we are very unlikely to find out about such incidents, especially when they occur in remote areas. It also highlights the importance of close collaboration on the ground with partners such as
Wildlife Conservation Society
,
Ruaha National Park
,
Tanzania National Parks
and others, as the rapid and coordinated response meant that at least some animals could be found alive and treated.
Although this incident occurred in the WMA and not on the village land where we do most of our work, it is an extremely distressing reminder of the impact that conflict can have on wildlife. It reinforces how crucial it is to continue and expand our conflict mitigation work across the landscape. Although it is hard to measure, we are certain that by protecting livestock, providing local benefits and engaging communities, we have prevented many similar incidents occurring on village land over the past few years. The challenge now is to redouble those efforts, including collaring more lions, to learn the true scale of conflict-related mortality around Ruaha, and work as hard as possible to reduce it. This has affected the whole team, who work tirelessly day and night to prevent carnivore killings, but we thank everyone who supports us, as together we know we can reduce these terrible impacts in the future.
Images
*This image is copyright of its original author
Dozens of critically endangered vultures found dead or badly affected.
*This image is copyright of its original author
Six lions were got killed due to this incident
"There is pleasure in the pathless woods, there is rapture in the lonely shore, there is society where none intrudes, by the deep sea, and music in its roar; I love not Man the less, but Nature more"
--Lord Byron
"When the
tiger
stalks the jungle like the lowering clouds of a thunderstorm, the
leopard
moves as silently as mist drifting on a dawn wind." -
Indian proverb
Users browsing this thread:
1 Guest(s)