Reintroduction of Wolves and Lynx into Britain
Hi, I am currently in my final year of university at Harper Adams and for my dissertation I am investigating the perceptions of rewilding lynx and wolves in the UK, something which is currently very topical!
I would be grateful if you could spare a few minutes to answer my survey (link below). It is only open for a few more days so any answers are greatly appreciated.
Many thanks
https://harper-adams.onlinesurveys.ac.uk/perceptions-of-uk-top-predators-rewilding-final
Some good news for the rewilding Britain movement. This is just the first step though, because they require predators. 
Scotland's beaver population doubles to 1,000 in three years
The number of beavers in Scotland has more than doubled in the last three years, new figures reveal.
Natural environment agency NatureScot says there are now about 1,000 of the animals.
Legislation was introduced in 2019 to make beavers a protected species, meaning it is illegal to kill or disturb them.
The 

new population survey 

also found beavers are living in a wider range of areas across Scotland.
The beavers were spotted in 251 territories including Tayside, Stirling, Forfar and Crianlarich.
NatureScot says that they are likely to expand into Loch Lomond in the future.
The animals were reintroduced in Scotland in 2009 and are valued for their impact on ecosystems and abilities as "natural engineers".
However, those which disturb or destroy farmland can be removed under licence.
NatureScot said that in 2020 a total of 31 beavers were trapped and moved to reintroduction projects in England. A further 115 were killed.
The agency's director of sustainable growth, Robbie Kernahan, said: "Wildlife is declining in Scotland so this extensive survey is great news for nature.
"Beavers play a vital role in creating and restoring wetlands where other species can thrive, reducing downstream flooding and improving water quality."
A previous survey in 2017 identified 114 active territories with an estimated 433 beavers.
This increased to an estimated population of about 954 in the survey for the 2020 Beaver Management Report held last winter.
It gathered information on the locations of beaver territories, as well as assessing the health and spread of the population.
'Ecosystem engineers'
Researchers searched on foot and by canoe across, finding 13,204 confirmed signs of beavers such as burrows, dams, lodges and crop feeding.
Dr Roisin Campbell-Palmer, the report's lead author, said beavers provided "important biodiversity benefits" although some impacts were challenging alongside land-use practices.
She added: "This survey will hopefully provide valuable information to land managers and policy makers seeking to maximise the benefits and minimise the conflicts associated with the return of beavers to our rivers."
NFU Scotland President Martin Kennedy said a management framework to help beaver populations, while limiting damage to agricultural land, had been "developed successfully".
He added: "Farmers remain committed to playing their part in managing the species.
"However, it is vitally important that where mitigation measures are not working, and significant agricultural damage continues to occur, that licenced lethal control remains as a last resort."
Scottish Greens environment spokesman, Mark Ruskell MSP, said the population growth did not "excuse the killing or exporting" more than a tenth of the population last year.
He added: "Much more can be done to manage and resolve cases where conflict arises, especially through relocating animals to areas where they can thrive, creating eco-tourism opportunities and helping restore wetlands."
More good british rewilding news
Golden eagle numbers surge in southern Scotland
A project to boost golden eagle numbers in southern Scotland has seen eight more chicks successfully moved to the area from the Highlands.
It brings the total number relocated since the scheme started to 12 - nearly doubling the local population.
The South of Scotland Golden Eagle Project 

brought in the first young birds to the Moffat Hills in 2018.
Project manager Cat Barlow said the latest arrivals were a big boost after delays due to the coronavirus pandemic.
"Covid-19 affected so many of our plans last year, so it is absolutely amazing now to see these eight youngsters settling into the south and soaring majestically above the Moffat Hills," she said.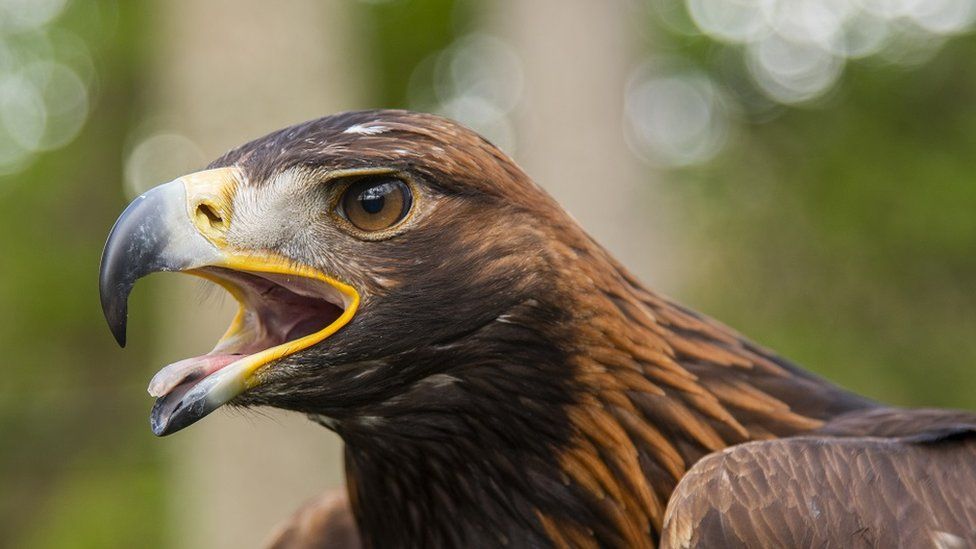 *This image is copyright of its original author

IMAGE SOURCE,PHIL WILKINSON
image captionThe first birds in the project were brought to the region in 2018
The first chicks arrived in August 2018 as part of the £1.3m scheme to increase numbers of the bird in the south of Scotland.
It was estimated at the time that there were fewer than five breeding pairs in the region.
The project suffered a setback in 2019 

when one bird attacked and killed another.

 and plans to bring in more chicks had to be put on hold last year.
The scheme has now revealed it recently brought eight more young birds to the area.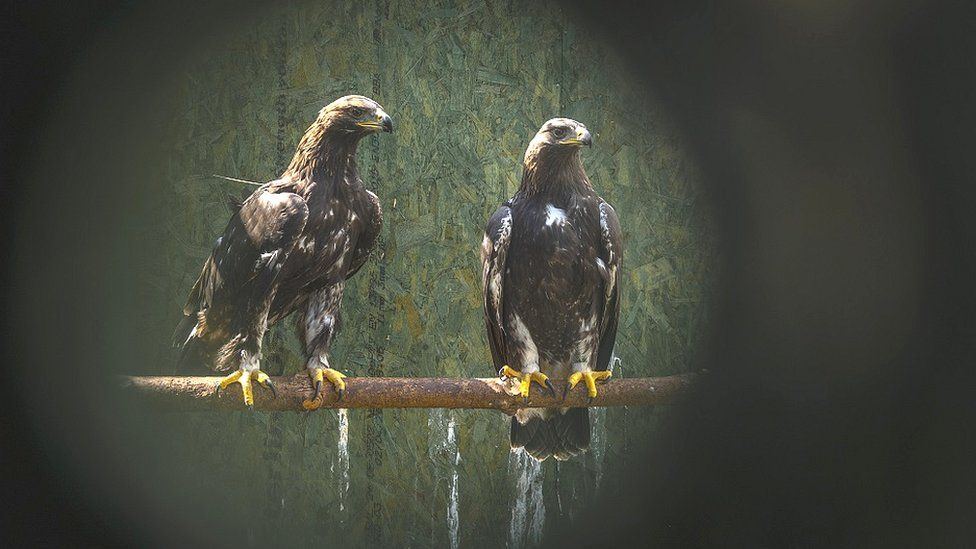 *This image is copyright of its original author

IMAGE SOURCE,PHIL WILKINSON


image captionA festival celebrating the bird is to be held in Moffat in September
WildLand Ltd donated one of the project's newest arrivals from its landholding within the Cairngorms Connect partnership area.
Director of conservation Thomas MacDonell said it was "absolutely delighted" to donate a chick to the "important work".
"The project took great care in selecting the chick for translocation and making sure she was fit for her journey south," he said.
"We, along with many others, will follow her onward journey with great interest.
"We hope she settles quickly into her new home."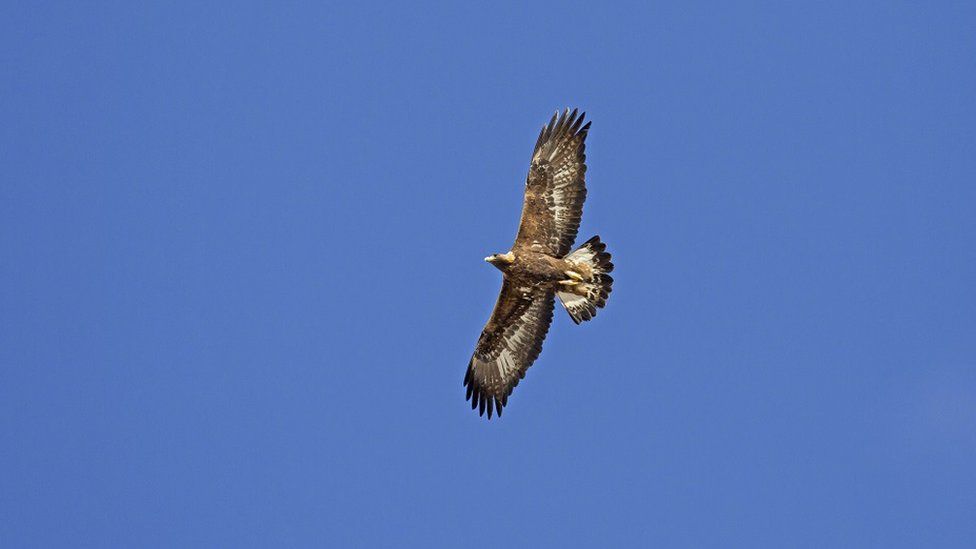 *This image is copyright of its original author

IMAGE SOURCE,GETTY IMAGES


image captionThe bird has become a more common sight in the skies over southern Scotland in recent years
NatureScot chief executive Francesca Osowska said the project was a "vital part" of efforts to reverse biodiversity loss and combat the climate emergency.
"With wildlife declining across the globe, it is fantastic to hear that the project has translocated so many eagle chicks this year," she said.
"Golden eagles are an exciting part of Scotland's wildlife, and we're passionate about returning them to places where they used to thrive."
The news comes ahead of the UK's first Golden Eagle Festival in Moffat.
It runs from 19 to 26 September in the Dumfries and Galloway town.
Users browsing this thread:
1 Guest(s)