Grouper fish (Epinephelinae)
12-01-2019, 09:06 PM
( This post was last modified: 12-01-2019, 11:52 PM by BorneanTiger )
Groupers are fish of any of a number of genera in the subfamily
Epinephelinæ
of the family 
Serranidæ
, in the order
Perciformes
. Not all serranids are called 'groupers'; the family also includes the sea basses. The common name 'grouper' is usually given to fish in one of two large genera:
Epinephelus
and
Mycteroperca
. In addition, the species classified in the small genera
Anyperidon
,
Cromileptes
,
Dermatolepis
,
Gracila
,
Saloptia
, and
Triso
 are also called 'groupers'. Fish in the genus
Plectropomus
 are referred to as 'coralgroupers'. These genera are all classified in the subfamily
Epiphelinæ
. However, some of the hamlets (genus
Alphestes
), the hinds (genus
Cephalopholis
), the yellow-edged lyretails (genus
Variola
) and some other small genera (
Gonioplectrus
,
Niphon
,
Paranthias
) are also in this subfamily, and occasional species in other serranid genera have common names involving the word "grouper". Nonetheless, the word "grouper" on its own is usually taken as meaning the subfamily
Epinephelinæ
: 
https://books.google.com/books?id=cE_IQgAACAAJ&dq
Unusual sighting of grouper eating a shark:
Australians in Queensland have been eating a kind of grouper fish known as the 'rockrod', which wasn't scientifically named until recently. The new scientific name for the rockrod is 
Epinephelus fuscomarginatus.
 It inhabits reefs at depths of up to 220 m (721.79 feet), and is found in the central portion of the Great Barrier Reef. The type specimens were found in the Capricorn Channel near Swain Reefs National Park, Queensland: 
https://www.independent.co.uk/news/scien...84371.html
, 
https://biotaxa.org/Zootaxa/article/view...a.4674.3.2
Credit: 
Queensland Museum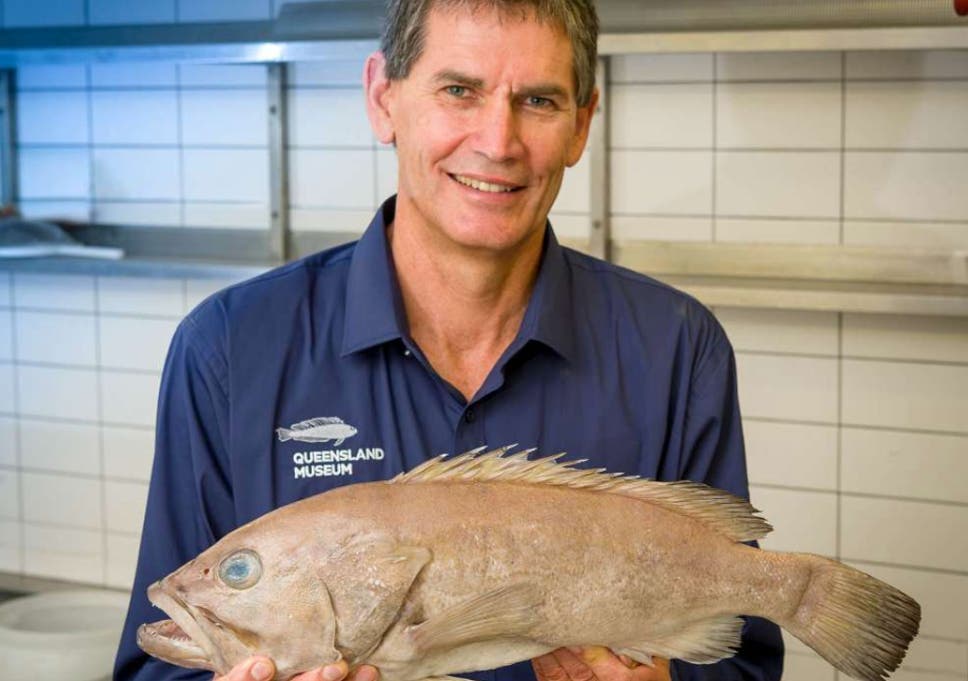 *This image is copyright of its original author
12-01-2019, 11:21 PM
( This post was last modified: 12-01-2019, 11:55 PM by BorneanTiger )
In my area, the GCC, the Brown spotted reef cod (
Epinephelus chlorostigma
), which besides at least 2 similar-looking or related species is locally known as 'Hamour' or 'Hammour' (and locally managed under the scientific name 
Epinephelus coioides
), is popular: 
https://www.timeoutabudhabi.com/restaura...ng-hammour
, 
https://www.thenational.ae/uae/environme...t-1.100390
,
https://gulfnews.com/uae/education/three...-1.1637759
,
https://www.aramcoexpats.com/articles/wi...-stand-up/
Daisy Carrington
*This image is copyright of its original author
Credit:
New York University

, Abu Dhabi
*This image is copyright of its original author
Credit:
Gulf News
*This image is copyright of its original author
Users browsing this thread:
1 Guest(s)