giant otter - Pteronura brasiliensis
Giant otter - Pteronura brasiliensis
*This image is copyright of its original author
*This image is copyright of its original author
*This image is copyright of its original author
*This image is copyright of its original author
The giant otter or giant river otter (Pteronura brasiliensis) is a South American carnivorous mammal. It is the longest member of the Mustelidae, or weasel family, a globally successful group of predators, the giant otter It has the greatest body length of any species in the mustelid family, although the sea otter may be heavier. Males are between 1.5 and 1.7 m (4.9 and 5.6 ft) in length from head to tail and females between 1 and 1.5 m (3.3 and 4.9 ft). Weight 21 to 34 kg. Defence against intruding animals appears to be cooperative: while adult males typically lead in aggressive encounters, cases of alpha females guarding groups have been reported. One fight was directly observed in the Brazilian Pantanal in which three animals violently engaged a single individual near a range boundary.In another instance in Brazil, a carcass was found with clear indications of violent assault by other otters, including bites to the snout and genitals, an attack pattern similar to that exhibited by captive animals.The giant otter is an apex predator, and its population status reflects the overall health of riverine ecosystems. It feeds mainly on fish, including cichlids, characins (such as piranha), and catfish. One full-year study of giant otter scats in Amazonian Brazil found fish present in all fecal samples. Fish from the order Perciformes, particularly cichlids, were seen in 97% of scats, and Characiformes, such as characins, in 86%. Credits to Cesar Barrio-Amoros, Javier Mesa and Alan Highton.
Giant otters are known as River wolves, when they are in groups like they normally do they can confront and beat all predators they face in South America Jaguars, Caimans and Anacondas, they are great hunters that control the numbers of Piranhas.
Credit to @pantanaloficial
*This image is copyright of its original author
Like I said before, Otters are formidable...
They killed a caiman coz it could be threat to their cubs.
River Otter vs Snapping Turtle. Mesmarized with these otter's abilities and strength. He just killed him!!!
Imagine these in Southwestern China's ever green forests and wetlands or rivers. It's terrible...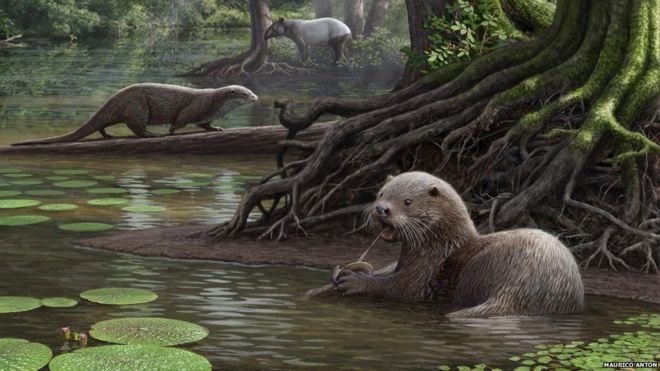 *This image is copyright of its original author
The otter lived in a swamp surrounded by evergreen forest
Siamogale melilutra
,
it weighed more than 50kg and was the size of a wolf.
When Need turns to Greed, our Extinction happens.

Users browsing this thread:
1 Guest(s)