Cannibalism In Rhesus Macaque
Rhesus Macaques are cannibalism ? This question Arises When An Indian Photographer Saw This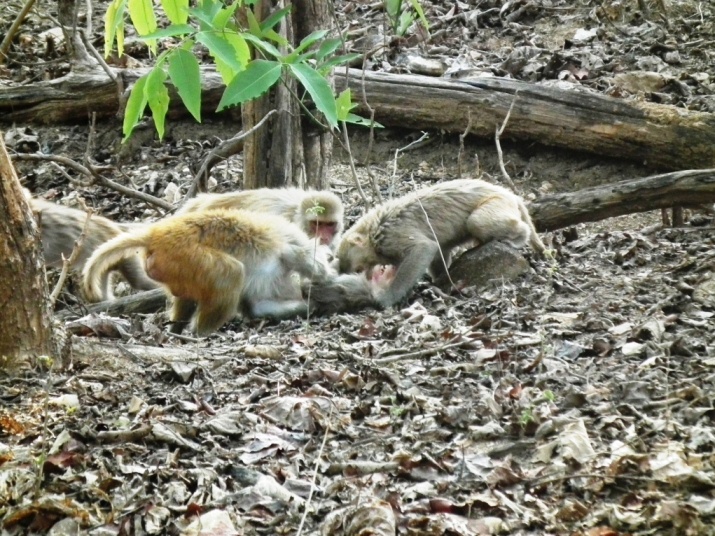 *This image is copyright of its original author
Image Courtesy: Indianaturewatch, Photographer: Lele Gaurav
According to him:
Quote:

Throughout a safari at Pench a week ago, I saw something i thought uncommon. In a group war between adversary rhesus macaque aggregates the triumphant gathering appeared to have held a harmed macaque hostage. On first look without binoculars we thought the macaques are ripping apart the dead macaque. Do they rip apart ? At the same time on more intensive look we perceived that the macaque wasn't dead. It appeared to be superbly depleted or bluffing dead. At whatever point it used to get up and make a run the alpha male and his cronies would seize him and begin gnawing. This happened for around 10-15 mins for around 200 meters. A few macaques appeared to be outright curious in the harmed fellow though others appeared to be exceptionally rough. Indeed a few langurs around were intrigued and keeping a watch on macaques. What was behind this apparently merciless conduct ? The macaques weren't expecting to murder or consume the harmed individual simply appeared to continue harming him. He must have succumbed to his damages in a matter of seconds
Most apes or Monkeys will eat rival members in troup fights. Canabilism is seen in many animals, so its definitely more common than not.
Chimps are notorious for this, they are also shown "sharing pieces of the carcas" of rival chimps.
Here is a graffic video of a Chimp from the same clan as its own attackers
Users browsing this thread:
1 Guest(s)