Tiger Predation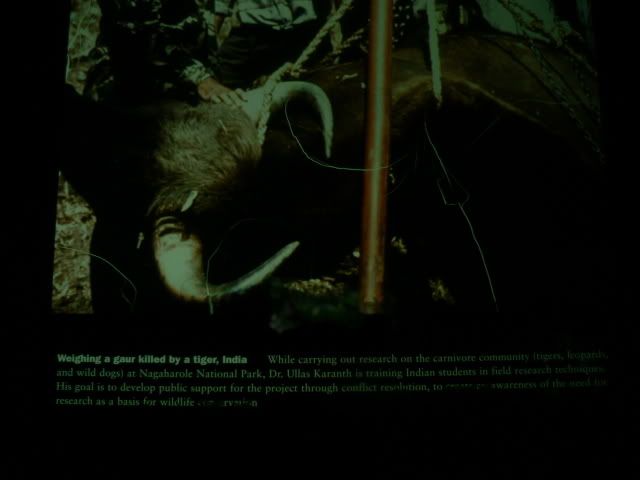 *This image is copyright of its original author
Tiger predatory behaviour,ecology and conservation.
John Seidensticker and Charles McDougal.1993.
"Karanth (1988) reported heavy prédation on solitary adult gaur in Nagarahole National Park in southern India." 
Wild Cats of the World.
Mel Sunquist, Fiona Sunquist.2002.
"In Nagarahole National Park, the average weight of eighty-three tiger kills was 401 kilograms. This sample included several gaur weighing 1000 kg"
Behavioural correlates of predation by tiger,leopard and dhole in Nagarhole,India.
Ullas Karanth,Mel Sunquist.2000.
"...88% of the 33 gaur kills(including all adults), resulted from thoat bites"
The Wild Cat Book.
Mel Sunquist, Fiona Sunquist.2014.
"Tigers can single-handedly kill animals four or five times their own - a 500 pound male tiger can kill a 2000-pound bull gaur"
A View from Machan:How Science Can Save the Fragile Predator
.

Ullas Karanth.

2007.
"....tigers routinely kill adult gaur five times their own weight"
Mammals of South Asia.
A J T Johnsingh, Nima Manjrekar.2013.
"The biggest prey killed by tigers are adult bull gaur weighing over a tonne,five times their own size."
Wild Cats:Status Survey and Conservation Action Plan.
Kristian Nowell and Peter Jackson.1996.
"...U.Karanth (pers.comm.) states that in India's Nagarhole National Park,gaur are the main prey,including bulls weighting up to 1000 kg"
ECOLOGY AND CONSERVATION OF THE BENGAL TIGER 
IN THE SUNDARBANS MANGROVE FOREST OF BANGLADESH.
A dissertation submitted to the University of Cambridge in partial fulfilment of the conditions of application for the degree of Doctor of Philosophy.

Mohammad Monirul 
Hasan Khan.2004.
"...Karanth and Sunquist (1992) state that in India's Nagarhole NP, gaurs (Bos frontalis) are the main prey, including bulls weighing up to 1,000 kg."
Prey preferences of the tiger Panthera tigris.
Matt W Hayward, W Jedrzejewski, B  Jedrzejewska.2012.
"They are capable of capturing and killed large prey,including adult male gaur Bos gaur"
Wild Cats of the World.
Luke Hunter.2015.
"They are capable of killing adult Gaur and Asiatic Water Buffalo exceeding 1000kg... "
Users browsing this thread:
4 Guest(s)