PLEA FOR HELP!
Its about post
#1,345
in Bigcat news.
---
Back in 2010, the India government came up with plan to reintroduce cheetahs to India from Africa. The environment ministry had cleared the $56-million project which involved moving African cheetahs from Namibia.
IIn 2013, India's Supreme Court had halted that plan to "reintroduce" cheetahs to the country by shipping animals over from Africa after experts said the idea was "totally misconceived".
The court-appointed adviser P.S.Narasimha said: "Studies show that African cheetahs and Asian cheetahs are completely different, both genetically and also in their characteristics."
The apex court had noted that no detailed study had been conducted before introducing a 'foreign' species to India & adding that the International Union for Conservation of Nature (IUCN) clearly warned against the introduction of
alien
species.
The then President of India, Smt. Pratibha Patil with a foreign cheetah
.
*This image is copyright of its original author
Today, the Hon. Supreme Court of India has agreed to reconsider its 2013 order.
A plea by the National Tiger Conservation Authority (NTCA) is up for hearing. They've cited historical accounts stating that Cheetah was not an alien species, but locally extinct and that bringing it back would help conservation of grasslands like tiger conservation did to the forests.
However, Asiatic cheetah separated from its African relative somewhere between 32,000 and 67,000 years ago & the ones they are trying to "reintroduce" are entirely different animals from the ones that once sprinted through India's plains! 
Owing to the critical situation Asiatic cheetahs of Iran are in, bringing
Saharan
or
Sudan
cheetahs would've made most sense... 
But they have their eyes on South-African/Namibian ones, when we could if we would, choose a subspecies genetically closer to the Asiatic ones!
As per the official site of IUCN Redlist: 
"The review by Krausman and Morales (2005) included Cheetahs from the northern Sahara in venaticus. The type locality of
A. j. venaticus
 is unknown. At a November 2006 meeting of the
North African Region Cheetah Action Group (NARCAG)
, Belbachir (2007) recommended genetic studies to clarify whether the Cheetahs of Algeria (which probably has the largest Saharan Cheetah population) should be classified as
A. j. hecki
or
A. j. venaticus
." (
Source
)
Much of their range is facing political turmoil & India can promise them a better future...
A tiny population of rewilded NorthEast African cheetahs are living in Sir BaniYas island for repopulating project in UAE that as seen tremendous success in its baby steps. One of their females had even had a litter of four, while cheetahs are difficult to breed even in captivity!
They are part of a breeding project in
Djibouti Cheetah Refuge
, & an EEP in European zoos.
The female Sudan Cheetah "Safiya" with her cubs in Sir Bani Yas island.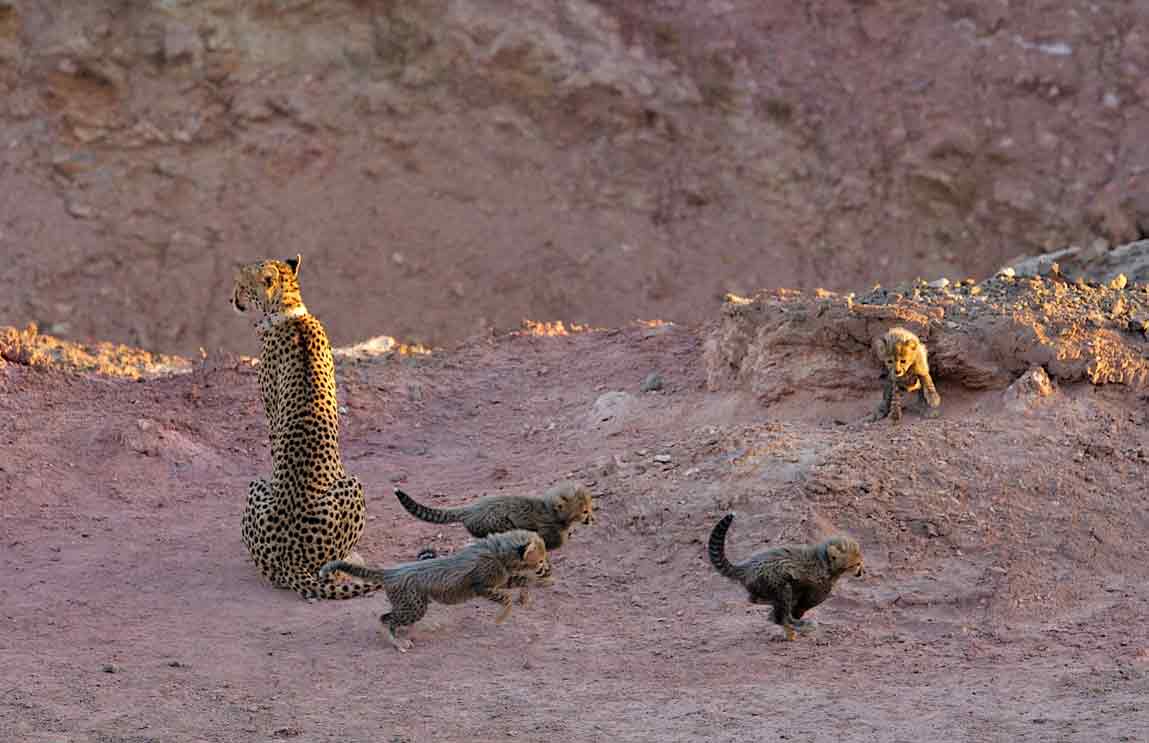 *This image is copyright of its original author
Neither countries have complicated relationship with India. With some will & coordination, India could get her hands on first & second best options for reintroducing cheetahs in India, instead of bringing them from what's literally the farthest point of the world with cheetahs...
---
@
sanjay
@
peter
If i start a petition on
Change.org
with the above text & paste a link to it here, could it be arranged to display that on the yellow notice bar so that all visitors can see it? 
It might not work... But won't hurt to give it a shot.
If it
does
draw their attention towards the above prospect, it could be the greatest accomplishment of
Wildfact
.
"Everything not saved will be lost."


(04-14-2018, 07:23 PM)

Rishi Wrote: If i start a petition on Change.org with the above text & paste a link to it here, could it be arranged to display that on the yellow notice bar so that all visitors can see it? 
With pleasure Rishi... this is very noble cause and WildFact will feel proud to be part of it..
Though this is really hard to achieve but as you said its better to give it a try.
Users browsing this thread:
1 Guest(s)