ON THE EDGE OF EXTINCTION - C - THE JAGUAR (Panthera onca)
Beautiful Pantanal Jaguar
Credit to Steve Winter
*This image is copyright of its original author
03-16-2020, 07:26 AM
( This post was last modified: 03-16-2020, 07:53 AM by Dark Jaguar )
Instituto Onça Pintada
Rogério cerrado male and his datas and journey mapped over the wilderness of Cerrado.
Leandro-
''Good Morning! Checking today the data of the male jaguar Rogério, recently captured here in the Região das Nascentes do Rio Araguaia (region of the headwaters of the Araguaia River). Excellent Sunday to all.''
*This image is copyright of its original author
*This image is copyright of its original author
Population Genetics of Jaguars (Panthera onca) in the Brazilian Pantanal: Molecular Evidence for Demographic Connectivity on a Regional Scale
Abstract
Habitat loss and fragmentation are important threats to carnivores worldwide, and can be especially intense for large predators. Jaguars have already been extirpated from over half of their original area of distribution, and few regions still maintain large populations. For these, detailed understanding is crucial for setting appropriate recovery targets in impacted areas. The Pantanal is among the best examples of a region with a large jaguar population in a healthy environment. Here, we analyzed 12 microsatellite loci to characterize genetic diversity and population structure of 52 jaguars sampled in 4 localities of the southern Pantanal, and compared them with prior studies of heavily fragmented populations of the Atlantic Forest. Although we observed some internal structure among the Pantanal localities, our results indicated that this area comprises a single population with high genetic variability. Moreover, our comparative analyses supported the hypothesis that the strong population structure observed in the Atlantic Forest derives from recent, anthropogenic fragmentation. We also observed significant but low levels of genetic differentiation between the Pantanal and Atlantic Forest populations, indicating recent connectivity between jaguars occurring in these biomes. Evidence for admixture between the Pantanal and a population on the western boundary of the Atlantic Forest corroborates the transitional nature of the latter area, where the jaguar population has already been extirpated. Our results can be used to understand jaguar population dynamics in a region that is less disturbed than the Atlantic forest, and to support the design of conservation strategies that maintain and restore natural connectivity among currently isolated areas.
https://www.ncbi.nlm.nih.gov/pubmed/26245785
"When the
tiger
stalks the jungle like the lowering clouds of a thunderstorm, the
leopard
moves as silently as mist drifting on a dawn wind." -
Indian proverb
New Border Wall Segments Would End U.S. Jaguar Recovery
TUCSON,

Ariz.

— The Trump administration's latest border-wall plan will wall off all remaining jaguar corridors across the U.S.-Mexico border. The Department of Homeland Security

announced

Monday that it will waive dozens of environmental and public health laws to fast-track border wall construction in Arizona, California and Texas.
"The new border walls will mean the end of jaguar recovery in the United States," said Randy Serraglio, a conservation advocate at the Center for Biological Diversity. "This tragedy's all the more heartbreaking because walling off these beautiful wildlands is completely unnecessary and futile. It has nothing to do with border security and everything to do to with Trump's racist campaign promise."
The new wall segments lie in remote, mountainous, extremely rugged terrain that correspond perfectly to the handful of remaining corridors jaguars use to move back and forth between the United States and the core of a small, vulnerable breeding population of northern jaguars in Sonora, Mexico.
During wall construction under the Secure Fence Act in the 2000s, the Border Patrol decided it was unnecessary to build walls in these places, despite migrant traffic being far greater than it is now.
"The Border Patrol decided years ago that border walls weren't needed in these remote areas," said Serraglio. "It would be incredibly expensive and an engineering nightmare, and there's no justification in terms of border security. Sacrificing the wildlife and living landscapes of the borderlands for Trump's vanity wall is criminal."
Many other species use these remote areas to migrate across the landscape. A 2017

Center report

identified 93 threatened and endangered species along the 2,000-mile border that would be harmed by Trump's wall.
"Jaguars are a key part of the stunningly diverse web of life in the borderlands that will fall apart if these walls are built," said Serraglio. "The crisis of runaway extinction is devastating wildlife and wild places all over our planet. Trump's border wall is pouring gas on that fire, and we'll continue to fight it every step of the way."
The Center and allies have

sued

to challenge Trump's emergency declaration, which would fund this border-wall construction. These groups have also asked the U.S. Supreme Court to review federal court rulings allowing the Trump administration to waive laws to speed border-wall construction from the Pacific Ocean to the Rio Grande Valley.
Beyond jeopardizing wildlife, endangered species and public lands, the U.S.-Mexico border wall is part of a larger strategy of ongoing border militarization that damages human rights, civil liberties, native lands, local businesses and international relations. The border wall impedes the natural migrations of people and wildlife that are essential to healthy diversity.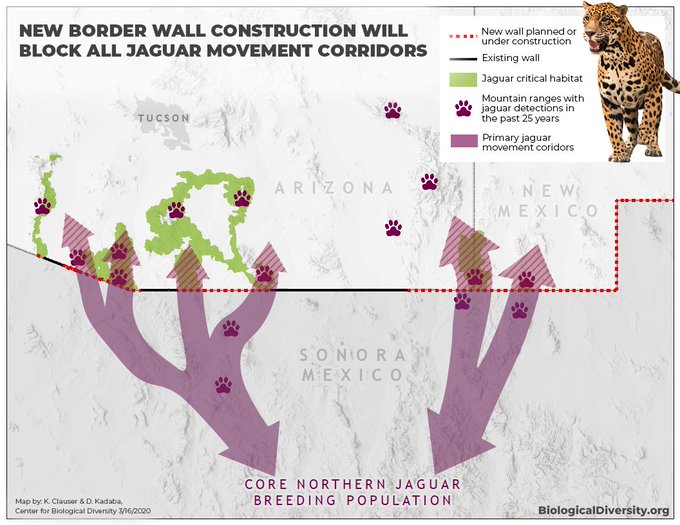 *This image is copyright of its original author
"When the
tiger
stalks the jungle like the lowering clouds of a thunderstorm, the
leopard
moves as silently as mist drifting on a dawn wind." -
Indian proverb
Users browsing this thread:
1 Guest(s)