---
RE: Bigcats News - singo - 03-05-2018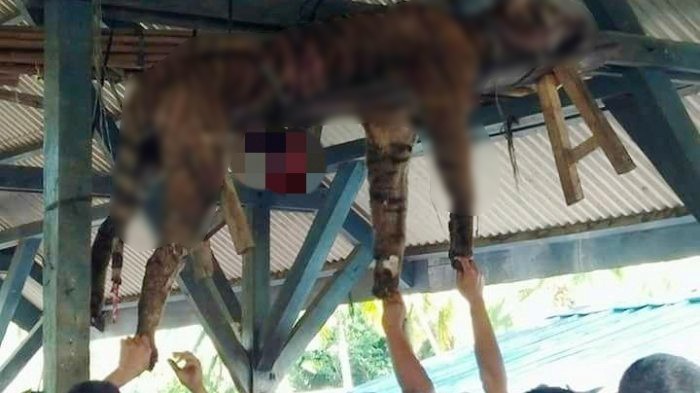 *This image is copyright of its original author


Sad news guys, this male Sumatran Tiger was brutally killed on Sunday by villager, in Hatupangan village, North Sumatra, Indonesia. 
The tiger was killed when sleeping under the resident house. Actually, the Natural Resource Conservation Agency (Indonesian government agency which responsible to protect endangered animal) has asked the villager not to kill the tiger because of its endangered status. Unfortunately, the lack of awareness, as well as the irrational beliefs among the villager, who believes if the tiger is

siluman

(ghost) make them keep killing the tiger.
But, further investigation to the body of the dead tiger also show if several part like canine, claw, and skin of its face and tail was missing. So there is suspicion if the body part are being traded.


---
RE: Bigcats News - peter - 03-06-2018



MORE



Good find Singo. This article was published today on the site of the NOS (Dutch national broadcasting channel):

https://nos.nl/artikel/2220815-zeldzame-sumatraanse-tijger-gedood-en-aan-plafond-genageld.html

The article has a video (1:49). Both the subtitles and the article are in Dutch. 

Here's the story. Apparently, a tiger had been lingering near a village in the northern part of Sumatra (Atjeh) for some time. When it was found sleeping underneath a house in the village, the villagers decided to scare the animal away. For some reason, the tiger was killed with a spear. When the authorities visited the village, they found the dead tiger hanging in the community house. Parts of the skin and some of the teeth and claws were missing (see the video).

There will be an inquest. The tiger, a male, was burned.

A few weeks ago, I saw a BBC-documentary about forest people in Kerinci (central part of Sumatra). The place where they had been seen almost 20 years ago was found, but the region had changed completely. Most members of the tribe still live in the forest, but they had adapted to modern life. 

Sumatra is changing fast. In the last two decades, the number of people has grown significantly. Many forests have been cut. Palm oil took over, but it didn't produce wealth for all. Poverty is everywhere and so is poaching. Sumatra still has 300-800 tigers, but they, apart for some remote regions, don't seem to have a future.


---
RE: Bigcats News - Jeffrey - 03-11-2018

TIGER TEMPLE/GOLDEN TIGER 

Is the Tiger Temple reopening? or is it all rumors?

Over the last year there has been two occasions where media has announced that the Tiger Temple will reopen. Firstly, Tiger Temple is not named that anymore, its Golden Tiger, and its not open yet. 
The first announcement of its reopening was in May 2017 with blazing headlines that the reopening was "imminent" . Tourist agencies in and around Kanchanaburi and other areas in Thailand were advertising ticket sales for the new venue. Nothing happened.
The second announcement was last month with statements saying it would open on the 1st March. That didnt happen either. Same sources for both articles, and both articles incorrect.

Here are some facts. 
At an event on World Wildlife Day, 4th March, in Thailand, DNP spoke very briefly and the points were that Golden Tiger (aka Tiger Temple) had the first zoo licence application knocked back because of land issues. Golden Tiger applied again on different area of land and the zoo licence was approved.
Rumors regarding tigers coming from another zoo called Malia- Sarika Zoo are false. DNP stated that Malia Sarika zoo has already been shut down and DNP has those tigers. At this time, Golden Tiger has no tigers and very importantly, none of the confiscated tigers that were at Tiger Temple will go to Golden Tiger.

Another point added was that, a number of the confiscated Tigers from Tiger Temple have died due to inbreeding causing very poor immune systems, plus a few died of a very virulent disease. It is known that when the tigers were confiscated from Tiger Temple there were diseased tigers present. In fact, days before confiscation, one tiger named Sangton died within the Tiger Temple, and just after confiscation another tiger named Liverpool died of the same causes.

Disease like this can be carried for months, sometimes years within the animal and then something will trigger it off.

We understand clearly that Golden Tiger is pushing to reopen again, however at this point it is not open.

We will continue to update.

Thanks


---
RE: Bigcats News - Pckts - 03-20-2018



Jaipur, March 20




Two male tigers have died in separate incidents in the tiger reserves of Sariska and Ranthambore in Rajasthan over the past two days, officials said on Tuesday.





A 13-year-old tiger died after he was rescued from a village in Khandar area near Ranthambore National Park in Sawai Madhopur district today.





"The tiger strayed and went close to a village where people surrounded him. A team of the forest department tranquilised and shifted him to a forest area, but he died after some time," Y K Sahu, chief conservator of forest (Sawai Madhopur), said.





Another four-year-old male feline was found dead in a farm near the Sariska Torest Reserve in Alwar district yesterday.





The tiger prima facie died of strangulation after getting stuck in a wire trap, placed by a farmer to stop wild animals from damaging his crop, said Govind Bharadwaj, chief conservator of forest (Alwar).





The farmer had been arrested after he surrendered before the forest department. He was booked under the Wildlife Protection Act, Bharadwaj said, adding that the accused was being interrogated to ascertain if it was a case of poaching.





The post-mortem reports of the two tigers were awaited, the officials said. — PTI 




http://www.tribuneindia.com/news/nation/two-tigers-dead-in-rajasthan-in-2-days/560769.html




---
RE: Bigcats News - Rishi - 04-02-2018



Family of Gir's oldest lions battle to save their territory




Mar 27, 2018



JUNAGADH: Gir forest is witnessing an ugly battle to gain supremacy over a territory that was ruled for long by two famous lion brothers -

Ram

and

Shyam. Ram

, the most photographed lion, died in October 2016 while his brother

Shyam

, who guarded the territory in Dedakdi range later, died a few months later.




*This image is copyright of its original author




Ram

, who died at the age of 15, and

Shyam

were the only lions to hold their territory for seven years, which is considered a fairly long time. Usually, a lion loses dominance over its territory within three years.

Bhushan Pandya, a wildlife expert, said, "Just like humans, lions too guard their territory and protect their family. When a lion gets injured or dies, the powerful lions of adjoining territory quickly try to capture his pride by first attacking the the cubs as they are a soft target. Until the cubs are alive, lioness don't surrender. However, once they all die, she starts a new family with the other powerful lion."

Chief conservator of forest, wildlife circle, A P Singh said, "It is true that a rival group of lions are trying to capture this territory. Forest officials are keeping an eye on this area but they don't want to intervene in their natural activity."

Now, their family consisting of two lionesses and seven cubs are struggling to retain the territory in Kerambha-Raidi area. For the last three to four months, the two lionesses are constantly warding off attacks by a rival group of lions from Babra-Vidi range and those from Dhari and Girnar east, who are desperately trying to take over this area by attacking their cubs.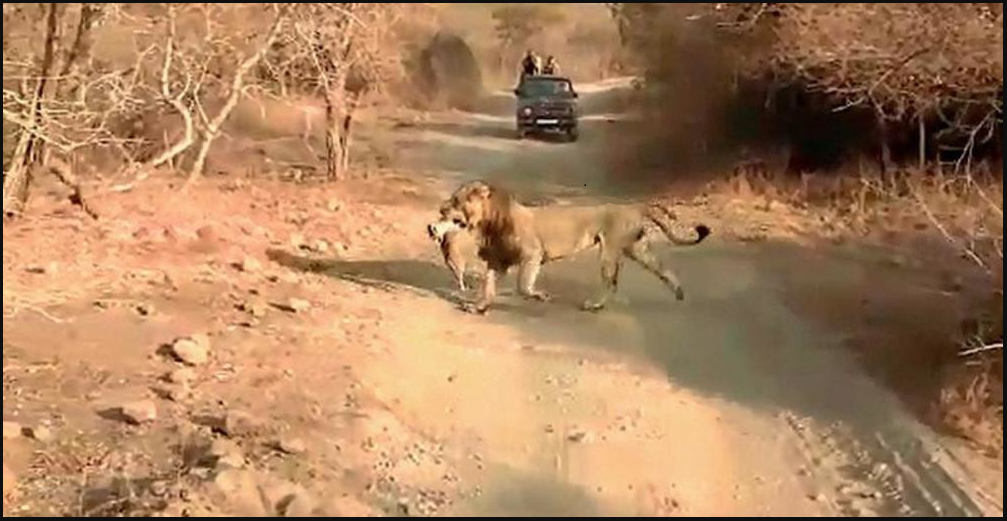 *This image is copyright of its original author


One of the daily encounters was captured by a tourist a few days ago in his mobile. A male lion is seen running away with one of the cubs. The lioness chases the lion to save the cub but in vain. The tourist shot this video after hearing unusual lion roars.
Forest officials said this behaviour is natural among lions and term it the battle for dominance on a particular territory wherein they force the lionesses to surrender by killing the cubs. In the overpopuated Gir, a lion and its pride usually dominates over roughly 5 to 15 sq km area.

A local forest officer told TOI, "The tourist heard the roars that sounded like a fight between lion and lioness and his group went in the direction of the sound. The lion had snatched two cubs earlier but one survived and he came to kill that cub. After the death of Ram and Shyam, the lions from other territories often come here and harass the lionesses and cubs."


---
RE: Bigcats News - Pckts - 04-02-2018

Wonogiri residents claim sightings of extinct Javan tiger
Ganug Nugroho Adi
The Jakarta Post
Wonogiri, Central Java | Sun, April 1, 2018 | 06:39 pm

Seven Javan leopards and one Javan tiger killed during Rampokan, a traditional Javan big cat fight. (Wikimedia Commons/Boomgaard/Frontiers of fear.)




*This image is copyright of its original author


A number of residents in Nguntoronadi district, Wonogiri regency, Central Java, claim to have seen tigers that have been declared extinct in the Mount Pegat area. The local office of the Natural Resources Conservation Agency (BKSDA), however, was quick to dismiss the sightings as Javan leopards.

"I have seen Javan tigers on Mt. Pegat and forests around the mountain. I saw a tiger playing with her three cubs," Mt. Pegat juru kunci (mountain attendant) Suratno, 58, said on Sunday.

Javanese culture recognizes the role of juru kunci, the literal translation of which is the one who holds the key. Juru kunci are tasked with watching over places such as mountains, cemeteries or rivers.

Suratno said Mt. Pegat had an area called Song Gogor, where locals believed tigers and their cubs dwelled. The species was believed to have gone extinct in the 1980s.

"Javan tigers are not extinct. They have stripes. There has also been sightings of tigers leaving sugarcane fields, usually in the afternoon," Suratno said.

Harjanto, 56, a resident of Kepuh Kulon, Bumiharjo in Wonogiri, said he had seen large striped cats in Mt. Pegat. However, he could not confirm whether they were Javan tigers. "What I saw had a big body, with stripes. I don't know whether it was a tiger," he said.

Sagimin, a resident of Bumiharjo village, claims to have seen a tiger near his house

 "The body was the size of a calf and it had stripes. During the dry season, tigers usually find water in the river near our kampung. I don't believe the tigers are extinct. I've seen them four times," Sagimin said.

However, Central Java's BKSDA head, Suharman, believed the sightings were not of Javan tigers but that of leopards. Leopards have spots. "Javan tigers were declared extinct by the International Union of Conservation of Nature (IUCN) in the 1980s. Tigers have not been seen since the 1960s," Suharman said.

He said he not received any official reports from the residents about Javan tiger sightings. However, should his side receive any official reports, the BKSDA would investigate the claims, he said. (evi)


---
RE: Bigcats News - sanjay - 04-03-2018

Can someone please edit above post of pckts with better formatting ?


---
RE: Bigcats News - Ngala - 04-03-2018


(04-03-2018, 01:06 AM)

sanjay Wrote: Can someone please edit above post of pckts with better formatting ?

Done Sanjay.


---
RE: Bigcats News - Jeffrey - 04-04-2018





*This image is copyright of its original author


Indonesia: Lost habitats push Sumatran tigers out of forests

The shrinking habitat of the critically endangered Sumatran tiger has pushed the black-striped carnivore out of its living areas, leading to increased human-tiger conflicts, an activist has said.

The habitat centers of the Sumatran tiger on the island shrank to 23 pockets in 2016 from the previous 29 recorded in 2010, tiger conservation project manager at the Indonesian office of the Zoological Society of London (ZSL), Yoan Dinata said.

------------------------------------------------------------
* Find out more about tiger habitat loss at https://eia-international.org/our-work/wildlife/tigers/habitat-destruction
------------------------------------------------------------

"The tiger population now faces bigger threats such as the declining area for them to live in and massive poaching," he said in Jambi on Wednesday.

Full story at http://www.thejakartapost.com/news/2018/03/28/lost-habitats-push-sumatran-tiger-out-of-forests.html

#Indonesia #Sumatra #tigers


---
RE: Bigcats News - Rishi - 04-07-2018

At first i kinda ignored this one but she's already gotten pretty famous. So why not...

---
Young woman fights tiger with a stick, after winning says let me first take a selfie
April 5, 2018



*This image is copyright of its original author




Such is the selfie mania that no occasion is small -- or big -- enough to not take a selfie. That is what you will realise once you read the story of this 23-year-old woman who fought a tiger with a mere stick, got a bloodied face, managed to scare away the big cat, then before she would seek medical help, took out her phone and clicked a selfie.





It all started when

Rupali

Meshram

, from Usgao

n village of Sakoli

Taluka in Bhandara district of eastern

 Maharashtra

, heard a goat bleat. This was at her house. The young woman ran out and saw a tiger attacking her goat. She fought the big cat using a stick. The fight wasn't going well. The tiger took a swipe at Rupali and her face was injured. But the fact that she stood up her ground -- that is before her mother dragged her inside the house -- did the trick. The tiger ran away.



They both sustained only minor injuries and have now been discharged from hospital. The goat however did not survive.

After the win against the tiger, it was apparently time for a selfie. Soon after the incident, Rupali took a selfie of her posing with her mother. The selfie of Rupali shows her smiling at the camera while her mother looking a bit dazed about all that had happened a while ago.
Rupali suffered superficial injuries to her head, waist, legs and hands. Her mother too suffered minor injuries, for which they sought treatment at a nearby hospital.
But that is after the selfie. The doctor who treated Rupali praised her for her extraordinary courage and said that she was lucky not to be bitten by the big cat.



In India, the selfie craze has grown big time in the last few years, especially as more and more people have got a smartphone.




---
RE: Bigcats News - Jeffrey - 04-08-2018





*This image is copyright of its original author

Gooood news Amur leopards population reaching now over 100 says expert. Still highly endangered but an increase though .

http://siberiantimes.com/ecology/others/news/rarest-big-cats-in-the-world-reach-key-milestone-in-evading-extinction/


---
RE: Bigcats News - Wolverine - 04-08-2018


(04-08-2018, 03:41 AM)

Jeffrey Wrote:


*This image is copyright of its original author

Gooood news Amur leopards population reaching now over 100 says expert. Still highly endangered but an increase though .

http://siberiantimes.com/ecology/others/news/rarest-big-cats-in-the-world-reach-key-milestone-in-evading-extinction/

Good find Jeffrey, thanks. Actually situation with Amur leopards in 21th century is very similar to situation with Amur tigers in 20th century... During their their lowest point 80-90 years ago Siberian tigers decreased to only 30-40 animals, now they are around 500, so hopefully Amur leopards who two decades ago in their lowest point also touched 30 hopefully one day will reach 500....
Its true that Northern areal of the tiger had always been larger than Northern areal of the leopard due to longer legs of tiger not sinking in that degree in the snow, but in same time the individual teritory of the tiger is much larger than the leopards teritory. Now the most decesive act should be transfer of the part the population from Eastern Manchurian mountains ("Land of the leopard NP") to the vast wilderness of Sihote-Alin mountain range where this animal lived untill 70-s.
This is a

remarkable success of Russian conservation program

showing its high efficiency concerning protection of any kind of big cats.


---
RE: Bigcats News - sanjay - 04-10-2018

A bad news coming from tadoba
Tiger killed A Man near kondegaav.
Man went for Mahua flower as per local. Lower body part eaten.



Warning - Visuals can disturbing




*This image is copyright of its original author
---
RE: Bigcats News - Rishi - 04-14-2018

Not sure if it's good news or NTCA is being reckless...

---
Supreme Court Shows Hope for Cheetah Reintroduction Plan in India
April 14, 2018
NTCA argues that 
reintroduction of the Cheetahs would help conservation of grasslands and open forests in the manner tiger conservation did
.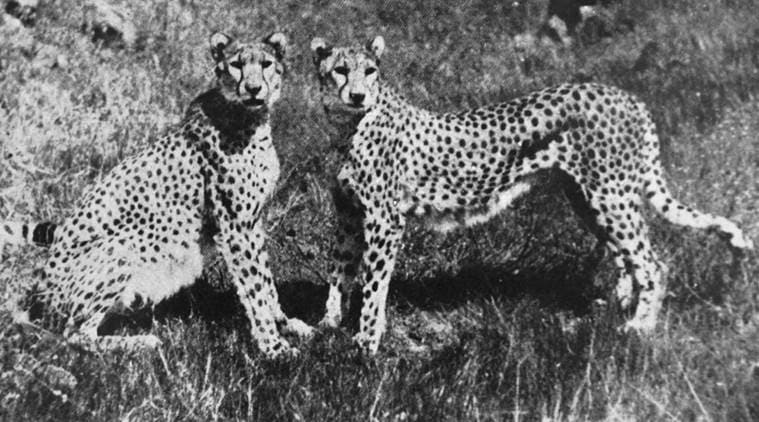 *This image is copyright of its original author


NEW DELHI: Eight years on, the Central government may finally see a glimmer of hope for its ambitious cheetah re-introduction project.

The Supreme Court has agreed to reconsider its 2013 order that had quashed a decision of the Ministry of Environment and Forest (MoEF) to introduce African cheetahs in Kuno Palpur sanctuary in Madhya Pradesh.
The top court had earlier noted that no detailed study had been conducted before introducing a 'foreign' species to India and that the designated expert body had also not been consulted. 

This order stalled the project initiated by the MoEF in 2010 to bring the cheetah, which became extinct from India's forests in 1952, back to the country. However, agreeing to rethink, a plea by the National Tiger Conservation Authority (NTCA) is up for hearing.
Trapping of extravagant numbers of wild adults, for assisting in royal hunts is said to be a major cause of the species' rapid decline in India as there is only one record of a litter ever born to captive animals.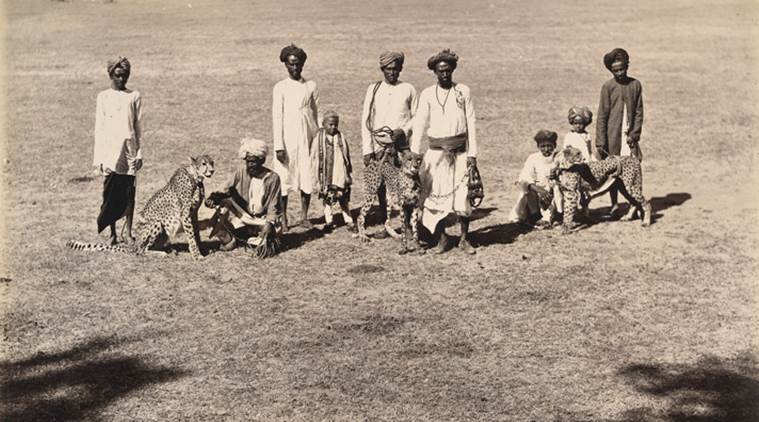 *This image is copyright of its original author


"The application for directions is to the effect that the decision rendered by this Court does not prevent the authorities from taking steps in conformity with the applicable law to re-introduce Cheetahs from Africa to suitable sites in India, identified by the Wildlife Institute of India based on a detailed site-specific action plan."

In its application the NTCA has told that various suitable sites have been identified by the Wildlife Institute of India, which include

Kuno

Wildlife Sanctuary and

Nauradehi

Wildlife Sanctuary in Madhya Pradesh, and

Shahgarh

area in Rajasthan.



"More sites can be examined if the court permits," states the application, adding 
---
RE: Bigcats News - Wolverine - 04-15-2018


(04-14-2018, 05:38 PM)

Rishi Wrote: Not sure if it's good news or NTCA is being reckless...


---




Supreme Court Shows Hope for Cheetah Reintroduction Plan in India




April 14, 2018






NTCA argues that 

reintroduction of the Cheetahs would help conservation of grasslands and open forests in the manner tiger conservation did

.





*This image is copyright of its original author


NEW DELHI: Eight years on, the Central government may finally see a glimmer of hope for its ambitious cheetah re-introduction project.

The Supreme Court has agreed to reconsider its 2013 order that had quashed a decision of the Ministry of Environment and Forest (MoEF) to introduce African cheetahs in Kuno Palpur sanctuary in Madhya Pradesh.
The top court had earlier noted that no detailed study had been conducted before introducing a 'foreign' species to India and that the designated expert body had also not been consulted. 

This order stalled the project initiated by the MoEF in 2010 to bring the cheetah, which became extinct from India's forests in 1952, back to the country. However, agreeing to rethink, a plea by the National Tiger Conservation Authority (NTCA) is up for hearing.



Trapping of extravagant numbers of wild adults, for assisting in royal hunts is said to be a major cause of the species' rapid decline in India as there is only one record of a litter ever born to captive animals.





*This image is copyright of its original author


"The application for directions is to the effect that the decision rendered by this Court does not prevent the authorities from taking steps in conformity with the applicable law to re-introduce Cheetahs from Africa to suitable sites in India, identified by the Wildlife Institute of India based on a detailed site-specific action plan."

In its application the NTCA has told that various suitable sites have been identified by the Wildlife Institute of India, which include

Kuno

Wildlife Sanctuary and

Nauradehi

Wildlife Sanctuary in Madhya Pradesh, and

Shahgarh

area in Rajasthan.



"More sites can be examined if the court permits," states the application, adding 

@Rishi appreciate your enthusiasm, cheetah

no doubt must be reintroduced in India

. But I dont think that reintroduction of African cheetahs in Asia is right decision in the moment when Asiatic cheetah still exist in Iran... Its true that differences between different subspecies of cheetah is probably smaller than among any other big cat in the world and they are almost identical, but nevertheless... If you bring African cheetahs in West India, they multiple and migrate into direction of Pakistan in one moment they can mix with Asiatic cheetahs in Iran, that will lead to bastartisation of original Asiatic cheetah and its pure genes will be lost. To introduce African cheetahs in Kuno wildlife sanctuary is almost same as to introduce in Kuno Serengeti lions from East Africa because Gujarat is not giving its lions...

Currently the number of wild cheetahs in Iran is so low that is impossible to move even one pear to India because that will be a significant blow for entire Iranian population. So what should Indians do? They have to wait for 10-20 years more untill situation with Iranian cheetahs is clear up - will they disapear compleetly or will increase their numbers and get some of them. If Asiatic cheetah by wonder revive Iran could even

exchange

some of its cheetahs for Asiatic lions from India... Lets not forget that the old name of Iran is "Persia" and the scientific name of Asiatic lion is Panthera leo

persica

- "Persian lion".
So I think that moment to reintroduce cheetahs in India is not yet come! But what is come brother is to translocate part of the Asiatic lions outside of Gujarat... the decision of Indian Supreme court must be implemented, the fail of its implementation by Gujarat is illegal and hence criminal act.

P.S.
Notheast African cheetah (

A. j. soemmeringii

) according to wikipedia is closely related to South African cheetah (A. j.jubatus) not to Asiatic subspecie (

A. j. venaticus

)


---