---
RE: Bigcats News - Ngala - 01-22-2017

Ministerial level meeting of snow leopard possessing nations to take place in Nepal
Kathmandu, Jan 12 

(Photo Courtesy: The Great Himalayan Trail)




*This image is copyright of its original author


The ministerial-level meeting of the countries home to the endangered snow leopard is taking place in Nepal on January 17-20 to share global efforts on preserving the snow beast and set its future actions.

The second high-level steering committee meeting accompanied by a conference 'Global Snow Leopard and Ecosystem Protection Program (GSLEP)' is scheduled to be held in Nepal, confirmed the Ministry of Forest and Soil Conservation.

Globally, snow leopard is available in Nepal along with Afghanistan, Bhutan, China, Tajikistan, Kazakhstan, India, Mongolia, Russia, Pakistan and Uzbekistan.

Speaking at a press conference organized at the Ministry on Wednesday to share information on the conference, Ministry Joint Secretary Dr Maheswor Dhakal shared that the participation from the ministers and high-level delegates have been confirmed for the crucial meeting.

The meeting would touch on the several issues such as identifying resource mobilization strategy for upcoming plan, developing common ideas to fight against poaching and illegal trade of snow leopard and taking initiative on carrying out study and research on snow leopard.

Dhakal expressed his confidence that the conference would help protect bio-diversity, contribute to tourism sector and boost private sector.

The main objective of the meeting is to discuss and agree on ways to retain snow leopard to its natural habitat.

Forest Ministry Secretary Krishna Poudel said the negative consequences of the climate change have adverse negative impacts in high hill region so that the protection of snow leopard would ultimately help preserve mountainous ecology.

The four-day meeting would issue the Kathmandu Declaration with concrete actions on protecting snow leopard. RSS

Published on: Thursday, January 12, 2017 13:40:37


---
RE: Bigcats News - Ngala - 01-23-2017

Department of Environmental Affairs confirms extension of zero quota for leopard hunting in South Africa
16 January 2017

The Department of Environmental Affairs (DEA) can confirm that a zero quota for the hunting of leopard (Panthera pardus) has been extended to 2017.

The decision is based on the review of available scientific information on the status and recovery of leopard populations in South Africa. The Scientific Authority recommended to the Minister of Environmental Affairs, Mrs Edna Molewa that, based on the information received and reviewed, a zero quota for 2017 for the hunting of leopard, with the possibility of introducing a precautionary hunting quota in 2018.

The zero quota for the hunting of leopard has been in place since January 2016 following an evidence-based decision by the Scientific Authority.

The Scientific Authority took into account input from the Scientific Steering Committee for Leopard Monitoring comprising government institutions, NGOs, representatives of industry and academic institutions.  Also taken into account was the results of systematic camera trap surveys undertaken in KwaZulu-Natal, Limpopo and Mpumalanga as well as relevant data from the industry obtained using Cat Spotter.

Draft decisions from the 17th Conference of the Parties to the Convention on the International Trade in Endangered Species of Wild Fauna and Flora (CITES CoP17) require all Parties with leopard export quotas to review the leopard hunting quotas and provide the scientific basis for the quota allocated.

This CITES review process will continue in 2017 to ensure that an appropriate quota is allocated for the South African leopard population.

The status of the Norms and Standards for Leopard Hunting, which are soon to be published for public comment, was also taken into consideration.  The Scientific Authority has recommended in its proposed quota zero quota for 2016 that a number of interventions should be implemented to ensure the sustainable utilisation of leopard populations. This included the development of norms and standards for the management and monitoring of leopard hunting as well as the extension of particularly systematic camera trap surveys to all provinces where leopard occur.

The Scientific Authority was established in terms of Section 60 (1) of the National Environmental Management: Biodiversity Act, 2004 (Act No.10 of 2004) (NEMBA) (as amended) to assist in regulating and restricting the trade in specimens of listed threatened or protected species and species to which an international agreement regulating international trade applies.

The Department of Environmental Affairs is implementing the recommendations made by the Scientific Authority.


---
RE: Bigcats News - Ngala - 01-25-2017

For watch th videos, click on the link.

Concerns over first snow and common leopards found in same area
By Navin Singh Khadka
Environment reporter, BBC World Service
17 January 2017
From the section Science & Environment

The first ever recorded video footage showing snow leopards and common leopards sharing the same habitat on the Tibetan plateau has caused concern among conservationists.

They are worried about the future of the snow leopard's habitat if common leopards begin to live at higher elevations in a warming climate.

The issue will be high on the agenda of an international meeting involving 12 snow leopard range countries starting in Nepal on Tuesday, 17 January.

The video was recently obtained from a camera trap in Qinghai province in China. It shows both cats at the same location in July 2016.

Wildlife experts say this is the first pictorial evidence of the two cats at the same place. The snow leopard is an endangered species.

One of the video clips from the camera trap shows a female common leopard with a cub.

This has made researchers think that the animal was not simply visiting the area but was actually living there.



Under threat


Snow leopards live at an altitude above 3,000m in typically open and rocky areas.

Common leopards' habitats include forests and woodlands at lower elevations.

Snow leopards are sparsely distributed across 12 countries - Mongolia and the Himalayan ranges in China, Afghanistan, Pakistan, India, Nepal and Bhutan, as well as in the five Central Asian states.

There are an estimated 3,500 to 7,000 snow leopards in the wild and they have been listed as endangered mainly because of poaching and habitat loss.

A snow leopard photographed in Qinghai province, China on 10 January 2016.




*This image is copyright of its original author


Scientists say the lower reaches of snow leopard's habitats and the upper limits of common leopards' territories have always overlapped in the Himalayas and other high mountains in Asia.

But, they add, climate change could make that more complicated.

"In a changing climate, we expect the tree line to move up the slopes and that's encroaching into the snow leopard's habitat," said Byron Weckworth, China programme director with Panthera, a conservation organisation dedicated to preserving wild cats.

Some studies have shown that the upper forest tree line is already being pushed higher.

They suggest that between 30% and 50% of the current snow leopard habitat in the Himalayas will be lost because of the shifting tree line and the shrinking of the alpine zone.

"The bigger threat is the snow leopards' habitat loss and its fragmentation," said Mr Weckworth, whose organisation has partnered with the Snow Leopard Trust and Chinese conservation organisation Shan Shui to monitor wildlife in China's Sanjiangyuan nature reserve.

A common leopard photographed in the same location in Qinghai province, China on 16 March 2016. This is the traditional habitat of the snow leopard




*This image is copyright of its original author


Prof Sandro Lovari, from the University of Siena in Italy, was not involved in this research but has conducted separate studies on snow leopards.

He agrees with the loss of habitat projections.

"Snow leopards could be squeezed between the barren land of the higher parts of the mountain and the upward moving tree line," he said.

Wen Cheng from Shan Shui says the availability of food will be key.

"The possibility for co-existence or conflict highly depends on the abundance and diversity of wild prey," he said.

Prof Lovari's team conducted a study on snow leopards in the Sagarmatha National park in Nepal's Everest region in 2013.

They found that the common leopard had a greater habitat adaptability.




*This image is copyright of its original author


"This behaviour could enhance the [common leopard's] takeover of the snow leopard's habitat as it's the larger, more ecologically flexible species," Prof Lovari explained.

In Nepal's Annapurna and Kanchanjunga conservation areas too, common leopards have been recently found in altitudes that normally have been the territories of snow leopards.

Koustubh Sharma, an expert with the Snow Leopard Trust, said: "How are these two cat species already managing to live together - or will the interface be difficult when their habitats are changing with climate change?"

"The pictures from our camera trap make these questions more relevant and pressing."

While some conservationists fear that there might be conflicts between the two leopard species for habitat and prey, others think the two already co-exist in places where their territories overlap.

Mr Weckworth said their research team in China found locals believing that the two species could even mate.

"The common leopards there are more pale in colour and that may have sparked that kind of perception among locals. But from a biological point of view, it's extremely unlikely that they can hybridise," Mr Weckworth of the Panthera organisation added.

During his field study in Nepal's Sagarmatha National Park, Prof Lovari said he found male snow leopards coming down to the edge of the forested land during the mating period.

"But there is no information whatsoever on the hybridisation between common and snow leopards," he said.

"It would be very unlikely - even more unlikely than brown bears and polar bears."


---
RE: Bigcats News - Polar - 01-25-2017

@Ngala,

Hopefully, these two felines won't fight just like Asiatic Lion/Bengal Tiger don't fight when both come into contact.


---
RE: Bigcats News - Bronco - 01-26-2017



Tiger photographed for the first time after 40 years in North Bengal at 7000 feet.



Though there were reports of ghost tiger sightings in north Bengal, including in forests like Buxa, Jaldapara and Neora Valley, no photo evidence of the same was available.




Chief wildlife warden Pradeep Vyas said: "A local named Anmol Chhetri sighted the big cat between Pedong and Lava around seven in the morning. He clicked its image and sent it to the range officer, who in turn informed the local DFO. They immediately rushed to the spot and found the big cat's pug marks and a cattle kill. We have decided to install camera traps in the area too.



The photograph showed that the tiger is young and healthy. It corroborates our view that there is presence of big cats in North Bengal. But, it is perhaps for the first time in last four decades that a tiger has been photographed in North Bengal", he said. 


*This image is copyright of its original author
http://www.thehindu.com/news/cities/kolkata/Blink-and-miss-Tiger-sighted-after-40-years-in-north-Bengal/article17069662.ece
---
RE: Bigcats News - Ngala - 01-27-2017

As Asian Luxury Market Grows, A Surge in Tiger Killings in India
BY SHARON GUYNUP  • JANUARY 10, 2017

Poachers killed more tigers in the forests of India in 2016 than any year in the last 15. The spike is linked to demand for tiger parts in China, where the endangered animal's bones and skins are regarded as exotic luxury items.

A group of men arrested while trying to sell a tiger skin near Chandrapur, India. STEVE WINTER/NATIONAL GEOGRAPHIC




*This image is copyright of its original author


From 1990 to 2013, the notorious tiger poacher Kuttu Bahelia and his extended family — brothers, uncles, and their wives and children — reportedly killed hundreds of tigers and leopards in the tiger-rich Indian states of Maharashtra and Karnataka, according to law enforcement informants and media reports. "Even if half that [estimate] is correct, it is still a very significant number," says Belinda Wright, who directs the non-profit Wildlife Protection Society of India (WPSI). 

So there was relief when, after years of eluding the police, Kuttu was arrested in 2015. He faced at least six counts of tiger poaching in forests across the central state of Maharashtra and was held without bail. On January 21, 2016, he was taken to court to stand trial in the first of those cases, for allegedly poaching a pair of tigers three years earlier. After his court appearance, while being transported back to jail, he begged to make a restroom stop — and fled into the forest, handcuffed, successfully evading his two police escorts. 

Authorities launched a manhunt, but Kuttu — who is descended from a long line of traditional hunters — had vanished. 

_________ 

In 2016, tiger poaching in India surged to its highest levels in 15 years. The spike was the result of a deadly confluence of factors that included killings by roving gangs like Kuttu's; more tigers snared by locals, who are increasingly trapping deer, wild boar, and other game for food; and cutbacks in anti-poaching patrols due to federal budget cuts. 

There were 50 confirmed tiger poaching deaths last year, according to WPSI statistics. But that number comes with a caveat: Customs officials multiply known poaching offenses by ten to estimate the true scope of the illegal trade. Another 82 tigers perished in 2016 from causes other than poaching, bringing the confirmed death toll to 132. Many tigers were killed to meet a thriving illicit demand, largely in China, for pelts, bones, and other body parts. 

Poaching is the greatest threat to the ultimate survival of tigers in the wild. Some 100,000 of these majestic cats roamed across Asia at the dawn of the 20th century, around the time Rudyard Kipling published The Jungle Book — which he set in what is now India's Kanha Tiger Reserve. Since then, tiger populations in Asia have plummeted by 96 percent, falling to fewer than 4,000 animals, split among five subspecies; a sixth, the South China tiger, is thought to exist only in captivity. Only a few hundred Siberian and Indochinese tigers remain. India's last census estimated 2,226 Bengal tigers, and these animals represent the last, best hope for wild tigers — 60 percent of all left alive today. 

Some investors, banking on extinction, are collecting tiger skins and tiger wine.

This dramatic decline began with elaborate big-game hunts that were a favored sport during the British Raj. Historian Mahesh Rangarajan estimates that more than 80,000 tigers were slaughtered by kings, lords, generals, and Maharajahs from 1875 to 1925. Many more then died as habitat was razed, which brought the cats into greater conflict with humans. 

More recently, the tiger has become a victim of consumerism. Demand for tiger parts used in traditional Chinese medicine skyrocketed during the 1980s in tandem with China's growing middle class. For millennia, the official traditional Chinese pharmacopeia has attributed curative properties to nearly every part of the cat, from whiskers to tail. Tiger remedies have been used to treat epilepsy, liver and kidney problems, baldness, toothaches, ulcers, impotence, fevers, nightmares, and laziness. The hu gu (Mandarin for tiger bones) are the most highly prized parts because of a purported ability to treat arthritis and restore flagging libido. 

But the demand has now changed. A 2014 report prepared for the Convention on International Trade in Endangered Species found that "'wealth' [is] replacing 'health' as a primary consumer motivation" and tiger parts "are now consumed less as medicine and more as exotic luxury products." Chief among them are tiger pelts used in high-end décor and "bone strengthening wine," made by steeping a tiger skeleton in rice wine, experts say. These items are used as bribes or prestigious gifts to gain influence, or to flaunt wealth and power. Some investors, banking on extinction, are collecting skins and tiger wine. 

The demand for these products is fueled by industrial-scale breeding facilities in China that currently "farm" an estimated 5,000 to 6,000 tigers for their parts. This legitimizes the sale of these items, stimulating the market and driving poaching in the wild, says Debbie Banks, head of the Environmental Investigation Agency's tiger campaign. 

Tigers are part of a larger, global illegal wildlife trade run by international cartels, a problem that has gained world prominence with the widespread slaughter of African elephants and rhinos. This trade is now ranked as the world's fourth-largest illegal activity after guns, drugs, and human trafficking operations, valued at $15 to $20 billion a year by the United Nations Environment Program. 

Gangs like Kuttu's are an integral part of this professional tiger-trafficking network. 

Tigers photographed with a remote camera in India's Bandhavgarh Tiger Reserve. STEVE WINTER/NATIONAL GEOGRAPHIC




*This image is copyright of its original author


Kuttu's family is from the Bahelia tribe, whose name derives from the Sanskrit vyadha, or "hunter." The clan's heritage harkens to a time when it and other tribes served emperors and kings as expert hunters. But their status plummeted when the British Raj instituted The Criminal Tribes Act of 1871, effectively branding lower castes and tribal people as criminals. 

Some traditional hunting families like Kuttu's remain nomadic or live on the fringes of society. With deep ancestral knowledge, they have become the most effective poaching gangs in India, says Jose Louies, head of law enforcement in India for the International Fund for Animal Welfare -Wildlife Trust of India. He notes that "it's a lucrative, easy job" — and Kuttu's family is among the top offenders. 

Stymied last year in their search for Kuttu, the police eventually enlisted additional help to find the fugitive, including operatives from India's Wildlife Protection Society. The first break came in June when Kuttu's family was sighted in the state of Madya Pradesh. Police and WPSI field agents spread out, scouring nearby villages, with no luck. Additional leads poured in. The gang was constantly on the move. 

Finally, however, the family slipped up. An informant obtained the number for a mobile phone a Kuttu gang member was using — a surprising mistake since most professional poachers no longer communicate via cell phone. Police tracked the signal and located their camp in Uttar Pradesh, outside a town that hugged the Nepalese border. One of the six major trafficking routes to China crosses through the center of Nepal. 

Police placed the group under surveillance. Finally, on November 30, the police moved in as family members headed into a nearby town. Though the gang scattered, the police captured Kuttu — a short, round-faced, 35-year-old with a goatee. Everyone else, including Kuttu's brother, Keru, who is wanted for trafficking tiger skins, ran off. 

If Kuttu is convicted in one case, he'll be sentenced to three years in jail; a second will put him out of commission for seven years. His is a high-profile case that will get serious attention, but in general, Indian wildlife laws are difficult to enforce because of an overburdened judicial system that rarely makes environmental crime a priority. Only 112 people in India have ever been convicted of killing or trafficking in tigers. 

Louies of the International Fund for Animal Welfare estimates that the core offenders in India number only about 70 people, including poachers, middlemen, and "carriers" who transport the contraband. When professional gangs target a forested area, they spend at least a week doing their homework, studying both park guards' patrol patterns and tiger movements. "They know tiger biology, the habitat usage, the behavior of the animals," says Louies. "Their skill set is absolutely brilliant." 

They almost exclusively use jaw traps — crude metal contraptions forged over a blacksmith's fire that they conceal on trails where tigers walk. They're easy to maintain, easy to hide, and deadly efficient, catching tigers by the leg. Guns are hard to conceal, make too much noise, and leave a bullet hole in the body of the pelt. 

Government guards hold metal jaw traps discovered in the buffer zone outside an Indian tiger reserve. SHARON GUYNUP




*This image is copyright of its original author


Often, they manage to catch a tiger within 24 hours. "No tiger can escape from these traps," says Nitin Desai, WPSI's central India director. Once it's caught, he says, "poachers spear it in the throat to silence it. Then they club it to death with sticks." 

This year, Desai says, most of the seizures involving organized poachers occurred in northern India, which shares long borders with China, Nepal, and Bhutan. While India has 50 tiger reserves, some are small and have reached their capacity to accommodate tiger populations. As a result, when adolescent tigers leave their mothers, they often need to travel long distances to find their own territory. The moment they step outside of the parks, there is no protection. 

Louies once asked a poacher where he prefers to hunt: a protected area where there are plenty of tigers but more patrols, or a fringe area where there are fewer tigers, but a lower chance of getting caught? His response: "A tiger reserve is like a nursery for me. That is where my tigers grow, my tigers breed. Every year, a few will come out, and that's all I need, so I wait outside. Why should I take the risk of going into the forest?" 

But even inside some tiger reserves, patrolling is lagging; a recent study showed that less than 30 percent of park acreage is being patrolled. And Bivash Pandav, a tiger expert at the Wildlife Institute of India, is concerned that there is little accountability for poaching events. "If poaching goes up, we cover it up, with more concern over protecting one's reputation than understanding the cause and the impact"— or finding a solution, he says. 

An example of the government's lack of transparency is their website, which lists 98 tiger deaths in 2016: two poached, 22 seized in parts, and 57 listed without cause, despite the agency's position that all deaths will be treated as poaching unless proven otherwise. 

Part of the problem is money. In 2015, finance minister Arun Jaitley cut funding for tiger conservation. States must now chip in 40 percent of certain expenses for the first time since concerted efforts to protect the cat began in 1973 under Indira Gandhi's Project Tiger. 

"This has resulted in budget cuts for anti-poaching, forest fire-fighting, staff salaries, and village relocation," says Bittu Sahgal, a noted conservationist and founder of the magazine Sanctuary Asia. These cuts have left many reserves more vulnerable. Among them is northern India's Corbett Tiger Reserve, the park with the country's highest tiger densities. Sixteen cats were confirmed poached in that general area last year. 

"If a few tigers are poached from an area where there are lots of tigers, they can bounce back," says Pandav. But tigers may then die battling over territory — or there may be fewer births for a year or two until the social order is reestablished. And poaching even a few individuals from a forest with a small number of tigers may make it very difficult for them to recover. Field studies have shown that if a population of tigers loses half of its breeding age females, that population collapses. 

Wright has a prescription for how to stop the killing before it happens, including an "an intelligence-led approach to wildlife crime" that more effectively identifies and tracks poachers, particularly repeat offenders. She said India also needs better surveillance along its porous borders and a beefed-up Wildlife Crime Control Bureau. 

Still, compared with other countries, India has a much better mechanism to protect its tigers. "Otherwise there is no way with a population of 1.3 billion people we would still have 2,226 tigers," says Pandav. "It's nothing but a miracle." 

Despite perilously low numbers, there's hope. Cats breed well, and overall, tiger numbers have increased in India over the last few years. "We're losing a lot of tigers," says Wright, "but they are very resilient. Left alone, and reasonably well protected, they do very well." 

And, says Louies, "Getting Kuttu out of the system is a major victory."


---
RE: Bigcats News - parvez - 01-27-2017



Blink and miss: Tiger sighted after 40 years in north Bengal



*This image is copyright of its original author
The rare sighting of a tiger in upper Neora Valley National Park in West Bengal's Darjeeling district has brought cheers to conservationists and wildlife enthusiasts.
Anmol Chhetri was driving downhill on Thursday when he spotted a Royal Bengal tiger between Pedong and Lava. He quickly took a photograph of the elusive predator.
"It is not just the photographs. Range officer Sujata Gurung reached the spot where the tiger was spotted and found pugmarks. A half-eaten carcass of a cattle along with tiger scat was found at the spot," Pradeep Vyas, Principal Chief Conservator of Forests and Chief Wildlife Warden, West Bengal, told 

The Hindu

.
Mr Vyas said evidences of the presence of tigers in north Bengal, in areas such as the Buxa Reserve, have been found in the past but there was no photographic proof for the past four decades. According to forest officials, the tiger was sighted at height of 7,000- 8000 feet above sea level.
---
RE: Bigcats News - Rishi - 01-28-2017


(01-27-2017, 07:07 PM)

parvez Wrote:

Blink and miss: Tiger sighted after 40 years in north Bengal





*This image is copyright of its original author




The rare sighting of a tiger in upper Neora Valley National Park in West Bengal's Darjeeling district has brought cheers to conservationists and wildlife enthusiasts.





Anmol Chhetri was driving downhill on Thursday when he spotted a Royal Bengal tiger between Pedong and Lava. He quickly took a photograph of the elusive predator.





"It is not just the photographs. Range officer Sujata Gurung reached the spot where the tiger was spotted and found pugmarks. A half-eaten carcass of a cattle along with tiger scat was found at the spot," Pradeep Vyas, Principal Chief Conservator of Forests and Chief Wildlife Warden, West Bengal, told 

The Hindu

.


Mr Vyas said evidences of the presence of tigers in north Bengal, in areas such as the Buxa Reserve, have been found in the past but there was no photographic proof for the past four decades. According to forest officials, the tiger was sighted at height of 7,000- 8000 feet above sea level.



*This image is copyright of its original author


Hi I'm new here.. This image was captured in camera traps laid at Neora Valley by the Forest Dept only a couple of days later at 23rd Jan, 8:27pm.
One of the newsreaders of a local news-channel posted it on FB rather crudely!!!..


---
RE: Bigcats News - parvez - 01-29-2017

@Rishi Thanks for posting the image. Welcome to the forum.


---
RE: Bigcats News - GrizzlyClaws - 01-30-2017

Tigers attacked human in a Chinese zoo.












---
RE: Bigcats News - Ngala - 02-03-2017

Leopards in Crisis — Learnings for Uttarakhand
WEDNESDAY, JANUARY 25TH, 2017
by Sanjay Sondhi

A leopard captured for potential relocation
"Problem leopards" are typically tranquilized and translocated to another forest -- this unfortunately does not provide a sustainable solution.




*This image is copyright of its original author


Children's Leopard Ambassador Program at Junnar
This innovative program led by school children helped ease the impact of conflict on the ground as part of the year round sensitization amongst all stakeholders.




*This image is copyright of its original author


An Assessment of Human Attacks by Leopards in Uttarakhand, Apr 2016

Not a month goes by without newspaper reports about the attack by a leopard or a tiger on humans in Uttarakhand, followed by days of reporting of the hunt for the cat, and invariably, ending with the capture or death of the unfortunate animal. In December 2016, the Uttarakhand High Court passed an order that leopards and tigers that have been declared man-eaters should not be killed, but should, instead, be tranquilized and translocated to another forest. While the order passed by the High Court is laudable and helps protect these large cats, this unfortunately does not provide a sustainable solution.

In 2013, frequent sensational reports on the leopard conflict in Uttarakhand led us to seek to understand this conflict, and look for solutions that were a win-win for everyone. It helped that an old friend of ours, Dr. Vidya Athreya from Pune, was one of the country's leading researchers on leopards. Vidya has done pioneering work on the leopard conflict in numerous places such as Maharashtra, Himachal Pradesh and West Bengal.

A two-year study followed in 2014-15 where we sought to identify hotspots of leopard conflict in Uttarakhand, followed by an assessment of the perceptions of affected people and various stakeholders. Our study took us to 69 villages across Uttarakhand, as we talked to people on the ground in order to understand the conflict better. The study yielded some interesting insights.

To begin with, data showed that there was no increase in leopard attacks on humans, which was the widely held belief. Examining data going back to 1998 showed us that there was no clear pattern, in some years, attacks had increased, but in other years, they had decreased. The other widely held belief, at least in wildlife circles, that habitat degradation and the resultant decrease in wild prey, had resulted in an increase in conflict, too, seemed a hypothesis that seemed to have no valid scientific basis. On the one hand, the leopard is a very adaptable cat, and lives not only in forests, but also in close proximity to villages, and has done so for many decades.

Also, in these human-dominated landscapes the leopard feeds on whatever it can catch; so livestock and dogs pass off legitimately as prey. Finally, we found many areas in Uttarakhand that had low, or no leopard conflict, which seemed to have habitat and prey base very similar to areas that had high conflict. The reasons for this are still not clearly understood.

We quickly realized that the leopard attacks on humans had many socio-economic dimensions. The insights gained revealed that the phenomenon of "palaayen" (people migrating from the hills to the plains) had a bearing on the conflict. "Palaayen" lead to increase uncultivated acreage, and the spread of Lantana and Eupatorium in the abandoned fields provided a place for the leopard to seek cover close to the villages. An increase in unattended feral cattle in villages, too, provided easy prey for leopards in villages. We found changing lifestyles, too, had an impact. Earlier, people would take livestock into the forest to graze. Today, with reduced number of livestock per family, many people just fed their livestock in their homes. This meant that the leopard, which often preyed on livestock in the forest, now was compelled to come into the village to look for food. We also found that increased mobile and TV coverage, lead to sensationalizing of leopard attacks, with word of attacks spreading much quicker today. This often led to demands and pressure for immediate action by the forest department, whether appropriate or not.

Our study culminated in consultations with the Uttarakhand Forest Department on what we could do to reduce the conflict. Here, Vidya's decade long work in collaboration with the Maharashtra Forest Department threw up some interesting possibilities. Could an innovative approach be adopted in Uttarakhand to reduce the conflict? Could we learn from what other States have done? Is there a better solution than capturing or killing the leopard?

Leopards in crisis: Learnings from Maharashtra

In November 2016, I accompanied a team of Uttarakhand forest staff and villagers from Tehri, Pauri and Almora to Maharashtra in November 2016. Our exposure visit led us to Sanjay Gandhi National Park (SGNP), Borivali in Mumbai and the Junnar Reserved Forest in Pune District. For the entire team, including myself, the visits to both these locations was an eye-opener!

At SGNP, the National Park is surrounded on all sides by habitation, mainly city dwellers living in high-rise apartments as well as some local villagers and tribals. Till 4 or 5 years ago, the forest department response to leopard attacks on humans was to capture and relocate leopards to other forest areas. Vidya's long-term research in Maharashtra through radio-tagging leopards showed that this practice did not necessarily result in a decrease in conflict, perhaps the opposite. A leopard named Ajoba was radio tagged by the Maharashtra Forest Department in 2009, with support from Vidya and her team. The leopard, captured near SGNP, was released at Malshej Ghat. Radio collar data showed that over a period of four months, Ajoba made a 120-km journey back to SGNP, its home range! This and other studies showed that leopard translocation is not the best solution, and it might even drive more conflict. Moreover, research has shown that if leopards are translocated, its range is often quickly occupied by another leopard, in the vacated terrain, which may not be familiar with the landscape, leading to unintentional attacks on humans.

So if, translocation does not work, what does? The Maharashtra Forest Department's efforts at SGNP have been to work with all stakeholders concerned such as citizens, media, tribals, residence societies, media, police and civic administration. In an effort called "Living with Leopards", the forest department, researchers, NGO's, tribals and citizens have come together to conduct year round awareness and sensitization campaign which not only makes people aware of leopards and their behaviour, but also suggests precautions and response mechanisms on sighting leopards in or near habitation. During our visit, we visited a police station, and were amazed to hear the local cops coolly inform us that they saw leopards very frequently, and were not afraid of them at all! A visit to a residential apartment at the edge of SGNP yielded similar responses.

Equally amazing was the interaction with the Warli tribe, many of whom live inside SGNP. The Warli tribe worships the leopard, and they have had no human attacks despite living inside the forest with the leopards. Learning about the leopard and its behaviour helps the Warli tribe avoid conflict. With the efforts of all stakeholders, there has been no leopard attack on humans at SGNP and surroundings for three years!

Our visit to Junnar, in a different and rural setting, revealed how year round sensitization amongst all stakeholders, involvement of the local villagers in protection through Village Rescue Teams, and an innovative Leopard Ambassador Program lead by school children helped ease the impact of the conflict on the ground.

The big takeaway for the Uttarakhand team was that there is a different way of dealing with the leopard crisis. The entire visiting team consisting of forest staff and villagers are enthused after the Maharashtra exposure visit. Can the Maharashtra lessons be adapted to work in Uttarakhand? Is there a better way to deal with the human-leopard conflict? Can there be an amicable solution that protects the leopard, and yet reduces attacks on humans? We don't know for certain, but to speak on behalf of the entire Uttarakhand team, we are going to try real hard!

Adapted from the Doon Watch Column in Hindustan Times.

For Vidya's work on the leopard, visit:

Project Waghoba

Mumbaikars for SGNP

WCS India


---
RE: Bigcats News - Pckts - 02-06-2017

Save Wildlife With Me-SWWM

Climate change brings rival cats to the snow leopard's neighbourhood..
http://www.earthtouchnews.com/conservation/human-impact/climate-change-brings-rival-cats-to-the-snow-leopards-neighbourhood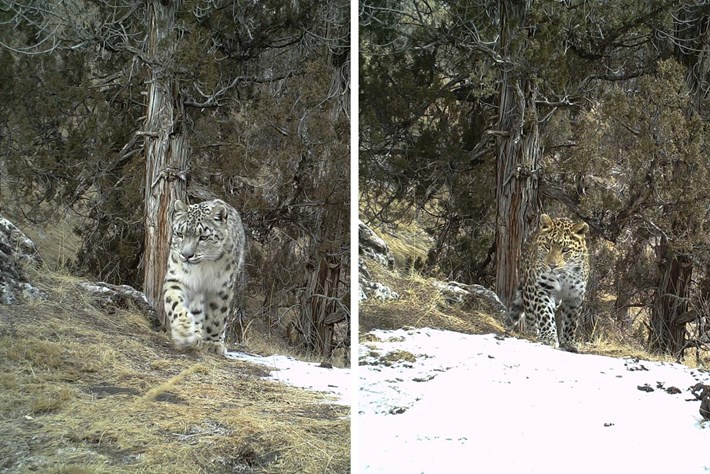 *This image is copyright of its original author
---
Good News & Success Stories - Rishi - 02-08-2017




Tiger population up by 6% in India, need more  measures to protect them: Experts

Posted at: Feb 7, 2017, 6:56 PM



*This image is copyright of its original author
There are 2,200 Royal Bengal Tigers and 7,910 leopards in 13 tiger reserves, as per a latest count.
Baripada (Odisha), February 7
Noting a 6 per cent rise in the tiger population in the country, experts on Tuesday suggested a need for greater flexibility to increase habitat for the feline for their protection.
Speaking at the national workshop on monitoring systems for tigers intensive patrolling and ecological status, Y V Jhalla, a principal scientist of the Wildlife Institute of India (WII), said the 6 per cent increase in the population of big cats was due to several measures taken to protect them.
The recent count of the big cat has revealed that around 2,200 Royal Bengal Tigers and 7,910 leopards are present in 13 tiger reserves in the country, he said, adding it was determined through camera trap method now in use.
Experts from all the 13 tiger reserves of the country stressed on greater flexibility to increase tiger habitat and other favourable measures that could boost the population of the big cat.
The workshop, organised by National Tiger Conservation Authority (NTCA), was mainly held for interaction on preservation of Royal Bengal Tigers considering the challenges faced by different tiger reserve authorities.
Principal Chief Conservator of Forests, Odisha, Siddhanta Das said the preservation of the big cat family was necessary for the existence of mankind as without the presence of the tigers in the forest, air, moisture, perennial water sources would vanish, causing ecological disaster.
"If the family of the big cat were not protected Similipal sanctuary would also turn into a desert," he pointed out citing that the conflict between man and animal had caused a lot of difficulties to the balance of ecology in Similipal.
India, he said, topped the list in the world for maximum funding for the preservation of tigers.
In order to make the sanctuary area free from human interference, the Similipal tiger reserve authority had chalked out programmes to relocate the villages from the core and buffer area. Those areas would be converted to meadows for wildlife fodder, he said.
Apart from Similipal reserve, villages located inside the protected forests in Odisha would be relocated without using any force against the villagers as per a policy decision by the Odisha Government, the PCCF said.
A total of 169 villages and 11,188 families had been relocated across the nation from forest areas to pave away for smoother movement of wildlife, Jhalla said.
Shifting of human interference from core areas of the sanctuary, growth of prey population and limited conservation area of 800-1000 sq km are necessary to foster and preserve the tigers, he said.
Unless the tiger conservation in Similipal sanctuary was properly taken up, the animal would perish like at Sariska tiger reserve, he added. — PTI
---
RE: Good News & Success Stories - Rishi - 02-09-2017



SCIENTISTS WANT TO GIVE THE WORLD A SECOND CHANCE AT CASPIAN TIGERS




OR AT LEAST SOMETHING CLOSE


By 

Sarah Fecht

 

January 24, 2017




*This image is copyright of its original author
Heptner and Sludskiy 1972



An artist's depiction of a Caspian tiger. This subspecies of tiger died out in the mid 1900s.


Caspian tigers once roamed all over Central Asia, ranging from modern day Turkey to northwestern China. The 

huge cats

 stalked through tall reeds and shrubbery, hunting boar and deer. But in the first half of the 1900s, hunting and poisoning decimated the subspecies, and the Soviet Union's agriculture projects drained the tiger's swampy terrain to grow cotton and other crops. Disappearing habitats and food sources had wiped the Caspian tiger off the map by the 1950s.
But Central Asia may yet get its tigers back. Scientists at the World Wildlife Fund (WWF) and the International Union for Conservation of Nature (IUCN) want to reintroduce tigers to a remote area of Kazakhstan.

It's too late to save the Caspian tiger (unless we 

de-extinct

 them using genetic engineering), but the Siberian tiger, a close relative, might be able to fill the ecological hole it left behind.

*This image is copyright of its original author



A Caspian tiger in captivity at the Berlin zoo, circa 1899. The colors have been enhanced in this version of the image.


"We think it's a good idea to restore this legendary animal to the habitats where it lived only 50 or 60 years ago," says Mikhail Paltsyn, a doctoral candidate at the State University of New York's College of Environmental Science and Forestry. Paltsyn is a member of the WWF and IUCN, and he was recently commissioned to study the restoration program.
Two factors bolster the case for the tiger's reintroduction. First, the collapse of the Soviet Union saw some of its agricultural programs abandoned, and natural habitats restored. Second, in 2009, scientists discovered that the 

Siberian tiger is a close relative of the extinct Caspian

. A good portion of the Caspian tiger's DNA lives on in the Siberian subspecies, which might make it a suitable replacement for the extinct cat.
For now, the idea of transplanting tigers from Russia to Kazakhstan is not a plan that's set in stone, but the Kazakh government has shown great interest. "The odds are really high" that the project will happen, says Paltsyn.


Habitat-hunting


Kazakhstan has been thinking about bringing its tigers back for a decade or so. Now, in a study in 

Biological Conservation

, Paltsyn and his colleagues have pinpointed the locations where reintroduced tigers are most likely to thrive.
The Caspian tiger's range was large but patchy. They lived in wetlands near rivers, separated by deserts and steppes. Analyzing the tiger's former territories, the researchers found that most of it can no longer support much of a tiger population. The big cats need large swaths of reed thickets and riverine forests called tugay to wander through, with few humans nearby and large numbers of boar and deer to hunt.
In the end, one area stood out as the best site for tiger reintroduction: the Ili River delta in southeastern Kazakhstan, and its neighboring Balkhash Lake. The area is expected to become part of a nature reserve within the next few years. It supports some 7,000 square kilometers of tugay and reed thickets along the river, whereas people and livestock are pretty sparse.
It goes without saying that Siberian tigers are not Caspian tigers. They're accustomed to prowling around Russia's broadleaf and conifer forests rather than the reed thickets of Kazakhstan. However, the two disparate locales share similar prey species and climates, although there's less snow in Kazakhstan. "It's a little bit of an unusual habitat for the Siberian tiger," admits Paltsyn. "But there's a lot of cover in the reed thickets, and scientists hope they'll successfully hunt for prey."

*This image is copyright of its original author



The Ili River runs through China into Kazakhstan. The area around where it meets Lake Balkhash may provide a suitable habitat for tigers one day.




However, populations of boar and deer are low in the proposed region—at the moment, they would only support around eight tigers. The researchers think that if they tend the prey populations for 15 to 20 years, and then slowly introduce about 40 tigers in groups of five, the region could eventually support up to 200 tigers—after a century or so.
A few hundred tigers may not seem like a lot, but it's quite a crowd for this dwindling subspecies.


Tigers of different stripes


There are only about 500 Siberian tigers left in the wild, so the group of 40 to 55 individuals that would be transplanted to the foreign environs of Kazakhstan is significant.
John Goodrich is the senior Tiger Program director at the wildcat conservation group 

Panthera

, and he's not part of the Kazakhstan reintroduction program. He thinks that if the program imports about five orphaned cubs from Siberia per year, as is the current plan, "this should have no ill effect on the existing wild population of Amur [Siberian] tigers."
"Orphaned cubs are taken into captivity almost every year in the Russian Far East," says Goodrich, "and it has been demonstrated that these cubs can be raised in captivity and successfully released back into the wild."

*This image is copyright of its original author



The riverside reed thickets of Kazakhstan would be quite a change of scenery from the Siberian tiger's typically snowier habitat, but scientists think the big cats will be able to adapt.


And it's possible the project will even help the Siberian tiger. "If we established a new population of tigers in Central Asia," Paltsyn says, "it could serve as a reserve population." Deforestation and developments such as 

roads, railways, and power transmission lines

 pose problems for Russia's tigers. The tigers in Kazakhstan could be insulated from any disasters that might strike in Russia.
Big cats have proved themselves to be remarkably adaptable. In 2002, five 

South China tigers

 were moved from Shanghai to a South African sheep farm, where they've grown to a population of 20. Meanwhile, some West Texas mountain lions are flourishing in Florida, and Canadian lynx are living it up in Colorado.
"We are pretty optimistic that if we bring tigers into the Ili-Balkhash area, they can easily adapt to the new conditions," says Paltsyn. "But of course they should be carefully monitored, and if the population starts to decline, maybe it's not a good idea."


Challenges ahead


If they do end up moving to Kazakhstan, the tigers will face three main threats.
First, the government will need to get wildfires under control. Local residents burn down the riverside tugay forests and thickets to create grazing land for their sheep and cattle. This loss of habitat is the main reason for the low numbers of deer and boar (a.k.a. tiger food) in the area.
Poaching is another problem. Locals hunt the deer and boar that the tigers will need to survive—sometimes for meat, and sometimes for pleasure. "Hunting is traditional," says Paltsyn, "and it's not strictly controlled right now." What's worse, Kazakhstan already has a problem with snow leopard poaching. Without rigorous anti-poaching efforts, says Goodrich, the restored tiger populations could get hunted out. "It will take a very strong commitment and significant resources applied to law enforcement to avoid this risk," he says.

*This image is copyright of its original author



Much of Ili River's shoreline has been burned to create land for livestock grazing. Conservationists hope that restoring the area's native reed thickets and tugay forests will bring back the tiger's prey—namely, deer and wild boar.


Getting the locals to cooperate could be a challenge, but Paltsyn is hopeful. The upcoming Ili-Balkhash Nature Reserve is expected to have 100 inspectors to patrol its lands and to shut down any harmful activities.
Perhaps the biggest challenge will be making sure the region gets enough water for the tigers and their prey to thrive. Before the Ili River reaches Kazakhstan, it flows through Xinjiang, China, where water consumption is growing. Between 1995 and 2003, Paltsyn's study notes, the area of irrigated lands increased by 364 percent. That means less water downstream, and if water consumption continues to grow, it could spell disaster for the tiger restoration. And that's not even taking into account climate change, which is expected to make the region drier. The tiger restoration project's success hinges on whether China can be persuaded to curb its consumption.
The good news, says Goodrich, is that "a tiger reintroduction plan may provide the impetus both governments need to take the measures required to protect one of the last wild tugay systems."


What about the locals?


Few people live near the potential tiger refuge, and their numbers are shrinking. Basic infrastructure like schools and hospitals are limited, and the land isn't great for livestock grazing, so a lot of people are getting out. Some of those who remain will no doubt resist efforts to curb wildfires and poaching.
"Local people are of course very concerned," Igor Chestin, the head of the WWF's Russian branch, wrote in an email. "[F]inding a way to accommodate needs of local people and tigers is a key for the success of the program."
The Kazakh government is hoping the tiger refuge would help the local economy. They're expecting to make money off of tourists who'll come to see the tigers, and the project could open up new business opportunities for locals to become tour guides, restaurant owners, and shopkeepers.
Fortunately, says Chestin, there's plenty of time to figure out these social and political issues. Long before tigers can be reintroduced, the habitat and deer and boar populations need to be restored—a process which could take 15 or 20 years. "This gives enough time to prove that restored natural ecosystem is more worthy for locals than degraded pasture," he says.


The long road to recovery


The tiger's recovery in Kazakhstan will take a big step forward this year or next with the creation of the Ili-Balkhash Nature Reserve. After that, it comes down to hammering out deals between Kazakhstan, Russia's WWF, and China. Paltsyn says the project should also be reviewed and approved by the IUCN Cat Specialist Group and other wild cat experts.
Meanwhile, Chestin is confident the program will find funding, including about $5 million and $2 million USD per year from Kazakhstan and the WWF, respectively.
After the money and politics are ironed out, the restoration of prey species could potentially start as early as 2018, says Chestin.
If the project gets the official go-ahead and the prey restoration goes well, the legendary striped cats may once again roam the reed thickets of Kazakhstan by 2033.
---
RE: Bigcats News - Bronco - 02-11-2017



Man-eating tiger an unlikely electoral issue in Pilibhit district





A two-year-old female has killed five people and injured an old woman sleeping in the veranda of her home in the Indo-Nepal Terai region since November.





Residents say they are poorly guarded as all licensed firearms have been deposited with the police ahead of this month's polls. Local bodies have threatened to stay away from voting on February 15 unless the big cat is nabbed.



http://indiatoday.intoday.in/story/state-assembly-election-uttar-pradesh-assembly-election-big-cat-unlikely-electoral-issue-tiger-man-animal-conflict-pilibhit/1/879375.html


---