---
RE: Bigcats News - Sully - 12-08-2015

@Pckts Really? I would think any confrontation with Sultan would be certain death even if it's not too serious, I know she is being treated by the rangers which I disagree with but regardless I would think it would be the end, she is ancient now.


---
RE: Bigcats News - Sully - 12-08-2015

India 'man-eating' tiger shot dead after attacking guard
By Imran Qureshi BBC Hindi, Bangalore
20 November 2015
From the section India

Image copyright AFP Image caption There are about 1,700 tigers in the wild in India
Forest workers say a tiger who killed and ate a farmer a few days ago has been shot dead after attacking a forest guard in southern India.
The tiger was killed when it caught hold of the guard who was tying a buffalo calf as a bait to a tree in the Bandipur forest range, officials said.
The animal, described as a "man-eater" by authorities, had attacked another man about a month ago, they said.
There are about 1,700 tigers left in the wild in India.
It is estimated India had 100,000 tigers a century ago, but their numbers have declined sharply since then, due to poaching and rapidly shrinking habitats.
With increasing human encroachment into their reserves, tigers often compete for resources with nearby villagers, leading to conflict.
The latest incident took place on Wednesday when more than 60 forest department personnel along with their colleagues from the Special Tiger Protection Force were sent to capture the tiger.
As tigers tend to return to the same spot, the team tied a goat as a bait at the place where the animal had killed and partially eaten a 55-year-old farmer, forest officials said.
The tiger evaded the bait but left behind enough pug marks for the forest department officials, armed with tranquilisers and bullets, to remain on the track.
The tiger was killed in a rather dramatic manner when it pounced and caught forest guard Shiv Kumar.
"It was when Shiv Kumar was trying to tie the bait that we suddenly heard the tiger's growl and the guard's shriek. That's when our sharpshooter Sushil Kumar shot the animal," Ravi Ralph, chief wildlife warden of Karnataka, told BBC Hindi.
Mr Kumar was taken to a hospital where his condition is described as "out of danger".
Last year, in the Doddabetta Forest range near the town of Ooty in Tamil Nadu, forest workers shot dead a tiger blamed for killing three women over two weeks.
Wildlife experts say most attacks on people are chance encounters gone wrong, and victims of such attacks are rarely dragged away as prey.
But a series of attacks on people in quick succession is a tell-tale sign of a man-eater at work.
Fewer than 85 humans are killed or injured by tigers every year in India and the country's strong animal welfare lobby has been campaigning that "man-eaters" should be captured rather than shot.
Forest officials, however, say sometimes prompt action is crucial in saving lives.





A bandipur man eater...doesn't sound good.


---
RE: Bigcats News - Pckts - 12-08-2015


(12-08-2015, 01:08 AM)

SVTIGRIS Wrote: @Pckts Really? I would think any confrontation with Sultan would be certain death even if it's not too serious, I know she is being treated by the rangers which I disagree with but regardless I would think it would be the end, she is ancient now.

Yes, its only hearsay atm. It was also said that she attacked a Guard as well, but I haven't seen follow up proof of either account as of yet. She's lived far past her natural life but still sad to see. She's survived many battles in her life, male and female. She's a fighter, she will go down on her shield, that's for sure.


---
RE: Bigcats News - Sully - 12-08-2015

Thoughts on this subject?

Travel




*This image is copyright of its original author


Cecil the Lion's noble sacrifice
His shooting by an American dentist has reminded the world that big-game trophy hunting is essential for the survival of African wildlife




*This image is copyright of its original author


James Delingpole
James Delingpole
5 December 2015
?subject=Cecil%20the%20Lion%E2%80%99s%20noble%20sacrifice&body=Read%20Cecil%20the%20Lion%E2%80%99s%20noble%20sacrifice%20-%20http://life.spectator.co.uk/2015/12/cecil-the-lions-noble-sacrifice/

'In a funny way, the killing of Cecil the Lion was the best thing that could have happened to us in Zim,' murmurs our white Zimbabwean guide over a gin and tonic and a platter of crocodile and biltong. We are lurking in a hide disguised as a termite mound, waiting for the elephants to take their evening drink at the water hole below the Safari Club, a luxury game lodge in the resort town of Victoria Falls.
I shan't give the guide's name because even six months after the event, the 'murder' of Cecil the Lion — by a Minnesotan dentist, of all indignities — is still a sensitive subject in these parts. Cecil, by all accounts, was a highly popular figure: photogenically black of mane, pleasant of disposition (at least by lion standards), the undisputed star draw of nearby Hwange National Park. No one dependent on the region's fragile tourist industry wants to come out publicly defending Cecilcide. You never know who's listening. Someone might take offence.
Nevertheless, as my guide explains, Cecil may have done his home country a favour. First, he drew helpful attention to the fact that Zimbabwe — once the breadbasket of Africa, now more widely known as its basket case — still has a functioning safari tourism industry and that the game hasn't all been eaten by starving locals. Second, he raised grudging awareness of something the world's bunny-hugging bleeding hearts would rather you didn't know: that trophy hunting may not only be essential to Africa's economy, but also to the long-term survival prospects of its wildlife.
Around 105,000 animals are killed by the 18,500 trophy hunters who visit Africa every year. A ten-day lion-hunting package in Zimbabwe will cost you £36,500; the auction price of shooting a single black rhino in Namibia is around £230,000; the South African economy alone generates £325 million a year from its trophy hunting industry. It creates jobs; it attracts much-needed foreign revenue. Yet still most of the big wildlife conservation charities tell you it's an outrage and should be banned.
Why? Well ostensibly it's because hardly any of that revenue trickles down to poor, needy locals, because trophy hunting raises only a fraction of what photo safaris do, and because it may be driving rare species closer to extinction.
In reality, though, it's about telling potential donors what they want to hear. The international animal compassion industry — buoyed by tweets from the likes of comedian-turned-campaigner Ricky Gervais and royal patronage from both the Prince of Wales and Prince William — makes the kind of money the hunting industry can only dream of. In the frenzy of virtue signalling that followed Cecil's death, it cashed in with everything from special edition Ty Beanie toys to £1,500 gold mobile phones engraved with the moving legend 'For Cecil and his Kingdom'.




*This image is copyright of its original author


Elephant watching an African game reserve
But for most people who actually live in Africa, it's a different story, as Zimbabwean conservationist Trevor Lane explains. Lane runs the Bhejane Trust, a charity dedicated to preserving the black rhino in parks including Hwange. 'I'm a great fan of Prince William, but he's got it completely wrong on trophy hunting,' he tells me. 'Not only does it provide a large chunk of our national park budget, but it gives local people a vested interest in preserving wildlife.'
Take elephants — one of the big five species most favoured by trophy hunters (the others being lion, leopard, Cape buffalo and rhino). To a squeamish urban Westerner, it might seem a monumental tragedy when — as happened in Zimbabwe in October — a massive bull elephant gets shot by some fat German trophy hunter. To a starving African villager, though, it's a lifeline.
'Suppose you're a subsistence farmer and you've got $200 of crops which have to last you the whole year. Well that elephant can destroy them in one night. So that elephant has really no value to you, except as poached ivory — which will get you imprisoned for nine years, if you're not shot on the spot — or as meat. Unless, of course, a professional game hunter comes along and tells you that that elephant is worth $10,000 to your community. Then suddenly you've got a reason not to kill it.'
And no, the argument about sparing game for the more lucrative photo tourism doesn't wash. Not when southern Africa has so many elephants — 108,000 in Botswana's Chobe park alone — that it doesn't know what to do with them. Besides which, those national parks make up just a tiny fraction of the country. 'A lot of the rest is so rough, sparse and remote you could drive all day and see almost nothing,' says Lane. 'No photo tourist would want to go there, but thanks to game hunters these barren regions become economically viable.'
Well, that's me persuaded. But I fear I'm in a minority. As I've noticed on repeated visits over the years, first as a 19-year-old overlander in a rickety bus from Cairo to the Cape, most people in the West aren't much interested in the real problems of the real Africa. They'd rather keep it as it is on

Meerkat Manor

or

The Lion King;

as a gigantic theme park full of charmingly anthropomorphised animals singing jolly songs in pidgin Swahili.
Don't get me wrong, I adore fantasy Africa as much as the next would-be Stewart Granger. To research this article I went on safari courtesy of Somak Holidays and experienced a cornucopia of once-in-a-lifetime experiences: helicopter flights over the Victoria Falls; gorge-jumping off 300ft cliffs above the Zambesi; djembe drumming, silly costumes and warthog steaks (delicious) in the Boma restaurant; sunset cruises on the Chobe river, a booze cruise on the Upper Zambezi; a bull elephant coming to drain the water from the private plunge pool at my luxury air-conditioned chalet at Ngoma Safari Lodge; enormous crocodiles; migrating zebra… it's a trip I can't recommend highly enough. I've been on lots of safaris over the years, but never one where I've eaten so well and been accommodated so luxuriously, and seen so much magnificent game — including, my highlight, the scarce Roan antelope — so close-up.
But after a week of morning game drives and Ama-rula nights, about the only actual Africans you'll have met will be your delightful lodge staff, your oblig–ing guide, the man who stamped your passport, the traditional native dancers stomping for cash at the gateway to the Zambezi booze cruise, and the similarly desperate locals trying to fleece you for crappy carved wooden elephants in the market. So that leaves about 973 million other Sub-Saharan Africans still unaccounted for — and they've all got to eat, somehow.
Poaching's a no-no, we can agree on that: the animals are slaughtered indiscriminately, they die horribly by poisoning, botched gunshot or mutilation, and the gangsters who profit from it are mostly not even African. But if all that photogenic wildlife is to be preserved for future David Attenborough films, then park rangers need to be paid, and the ordinary Africans who have to live cheek by mane with all that prowling, stomping game need to be persuaded that it's more a boon than a curse.
Trophy hunting isn't the only answer, but it is one of the answers. Sure, it might not be to everyone's tastes. (Personally, I'm far too squeamish to kill a lion with a gun and nowhere near brave enough to try it with a crossbow.) But since when did any ignorant do-gooder in New York or London have the right to tell people on one dollar a day that they can't have a future because killing fluffy animals with cute names is hurtful and horrid?
To me, the very idea of that is far more despicable, nauseating and inexcusable than anything that maligned dentist did to Cecil.

TROPHY FEES IN NUMBERS
(approx) 
£27,440
Elephant
 
£8,160
Roan antelope
 
£2,480
Giraffe


---
RE: Bigcats News - Sully - 12-08-2015

@Pckts Fully agree


---
RE: Bigcats News - sanjay - 12-09-2015

A bad news from corbett 

A male tiger, aged about ten years, was found dead in a tank in Kalagadh Range of Nainital's Corbett Tiger Reserve, officials said today.

The partially putrefied carcass of the tiger was found by the patrolling staff last evening in a tank in the reserve area, the Reserve's Deputy Director Saket Badola said.

Preliminary examination of the carcass indicates it died about three days ago.

Apparently, the big cat slipped and fell into the tank near the Seismographic Centre of Kalagadh Dam. The death seems accidental.

Officials have reached the spot and a post-mortem is being carried out.

(image for representation only)





*This image is copyright of its original author



Credit to: Save the tiger fb page


---
RE: Bigcats News - Pckts - 12-09-2015

Very sad to see.


---
RE: Bigcats News - Sully - 12-12-2015

Conservation first as rehabilitated Siberian tiger gives birth in the wild
Orphaned tiger who was rehabilitated and released back into the wild has given birth to two cubs in Russia, raising hope for the species' survival


Mute

Current Time 0:00
/
Duration Time 0:22
Loaded: 0%
Progress: 0%

Rehabilitated Siberian tiger plays with cubs in wild
Damian Carrington

@dpcarrington

Thursday 10 December 2015 15.37 GMT Last modified on Thursday 10 December 2015 22.40 GMT
6,195

Save for later
An orphaned Siberian tiger who was rehabilitated and released back into the wild has given birth two cubs, conservationists in Russia said on Thursday.
It is believed to be the first time a released tiger has gone onto become a mother and raises hope for the survival of Siberian tigers. Also known as Amur tigersjust 500 individuals remain in the wild following decades of illegal poaching and deforestation.
The tigress, named Zolushka (Russian for Cinderella), was found in February 2012 as a starving four-month-old cub. Her mother is thought to have been killed by poachers. She was nursed back to health at the Alekseyevka Rehabilitation Centre, having had the tip of her tail removed following severe frostbite.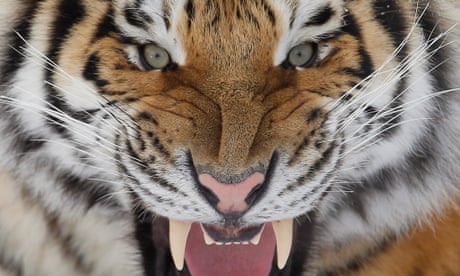 *This image is copyright of its original author


Deep in the Siberian taiga, on the trail of Russia's elusive tigers

Read more
Zolushka was kept away from humans, so as not to become acclimatised to them, and slowly learned how to hunt live prey. At 20-months-old, the usual age that young tigers leave their mothers, she was released in the Bastak reserve in the Pri-Amur region of far-eastern Russia.
Zolushka was fitted with a satellite and radio collar and tracked by rangers and motion-sensing remote cameras and quickly began hunting badgers, wild boar, and red deer.
The birth of her cubs was a surprise because tigers disappeared from the forests of Bastak reserve 40 years ago. But a lone wild male arrived, apparently trekking 124 miles west from the northernmost parts of the current Amur tiger range in Russia.
The videos and photos revealing the existence of the two cubs playing with their mother were returned from the field on Wednesday. "This is a great day for Bastak reserve," said Aleksandr Yuryevich Kalinin , director of the protected area. "This demonstrates that there is still suitable habitat for tigers in the Pri-Amur region, and there is a place for tigers here."
Masha Vorontsova, director of the International Fund for Animal Welfare (IFAW) in Russia, which took part in the project, said: "This is what we've all been hoping for since her release in 2013. This shows that she has fully adapted to a life in the wild and is able to successfully hunt, breed and now raise a new generation of Amur tigers."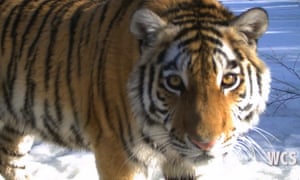 *This image is copyright of its original author



Facebook Twitter Pinterest
Zolushka was rescued in 2012, and has since been rehabilitated and reintroduced to the Bastak reserve. Photograph: Bastak Reserve/WCS
"This is a watershed event not just for Zolushka, but for the entire population of Amur tigers," said Dale Miquelle, director of the Wildlife Conservation Society in Russia, which was also part of the project. "These births mark the beginnings of a recovery and expansion of the last remaining Amur tiger population into habitat lost years ago." He said he cubs were proof that conservation on the ground can work.
In 2014, IFAW and its partners released another five Amur tigers back to the wild, the largest tiger release in history. Some the tigers were reported to have crossed into China and may have killed goats and chickens.


---
RE: Bigcats News - LionKiss - 12-16-2015

here there is a new poisoning case in Kenya,
awful

http://africageographic.com/blog/poison-...ion-pride/


---
RE: Bigcats News - Apollo - 12-20-2015

Now Amur the tiger teaches his friend Timur the goat how to hunt




Safari park odd couple get even closer as big cat tries to train his unlikely friend how to catch prey.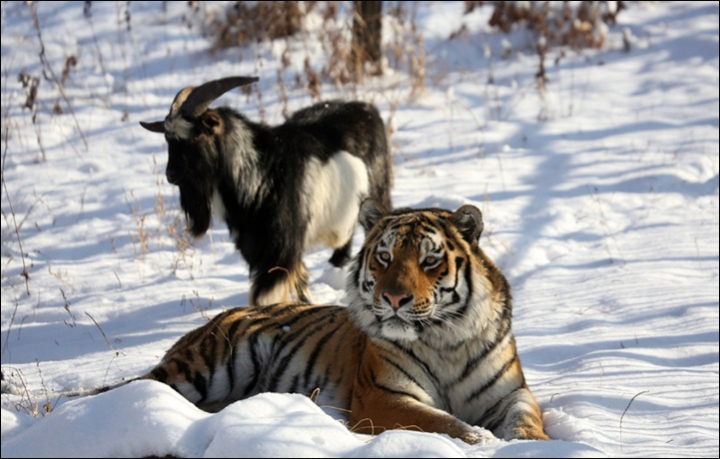 *This image is copyright of its original author
The friendship between the two animals has surprised not only keepers in the Russian Far East but much of the world. The goat was intended as the tiger's lunch but instead they became best mates. While they live in adjoining cages, they spend their days together strolling in the grounds of the park.
Dmitry Mezentsev, director of Shkotovo safari-park, said: 'Sometimes during walks the tiger behaves as if he is hunting. Timur copies the behaviour of the predator, and imitates him. But he is not likely to start hunting.'
Timur - whose bravery won praise from around the world - is becoming nervous when he is not alongside his big cat protector. 
'For two nights in a row Timur stays by the bars separating his cage from the tiger',' he said. 'He refuses to stay in his shelter and declines to eat his evening meal. He's more worried when the tiger is not around and when he is surrounded by people. He wants to be around the tiger to get rid off stress.'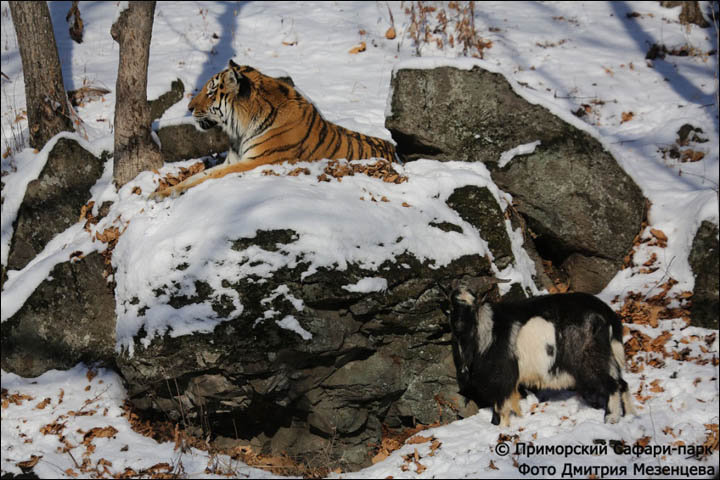 *This image is copyright of its original author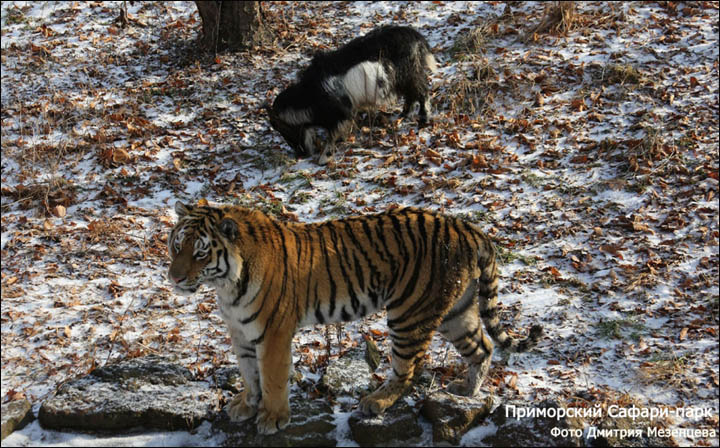 *This image is copyright of its original author
Ten days into a relationship nature did not intend, the goat now considers humans as 'a threat, as predators'. The latest update is that Amur and Timur are 'as friendly and happy as ever'.
Despite this, a well-known Russian animal handler has demanded that the creatures should be permanently separated since the tiger can suddenly turn on the goat, despite his earlier refusal to eat him as a meal. 
'If the tiger for some reason misses one or two feeds - naturally, there can be no mercy. The instinct to win,' said Edgar Zapashy.
He warned: 'The goat can to try to run away, and he will become a target by doing so. Instinct will work - and that's all. What's more, the goat is not the smartest animal. He could be so brazen that he will run and attack the tiger and get a real resistance. 
'On the other hand perhaps they will live happily ever after, but it is better not to continue this experiment. I do not see any sense in this. They have created a funny precedent. Let's keep the good and kind fairy-tale ending.'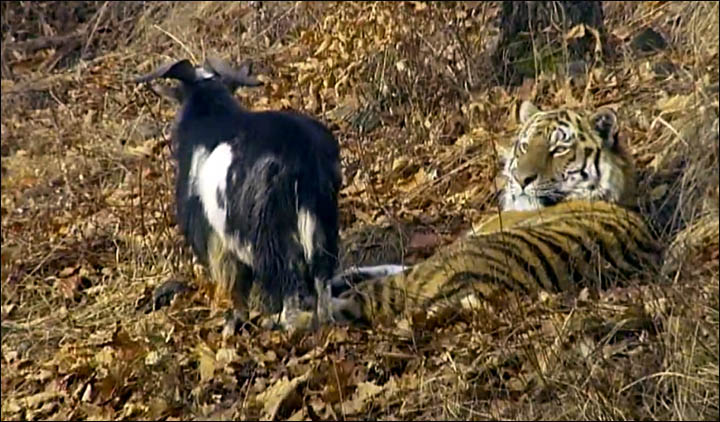 *This image is copyright of its original author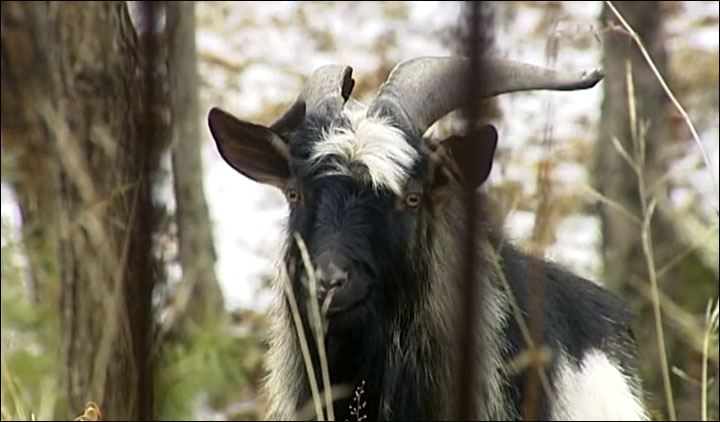 *This image is copyright of its original author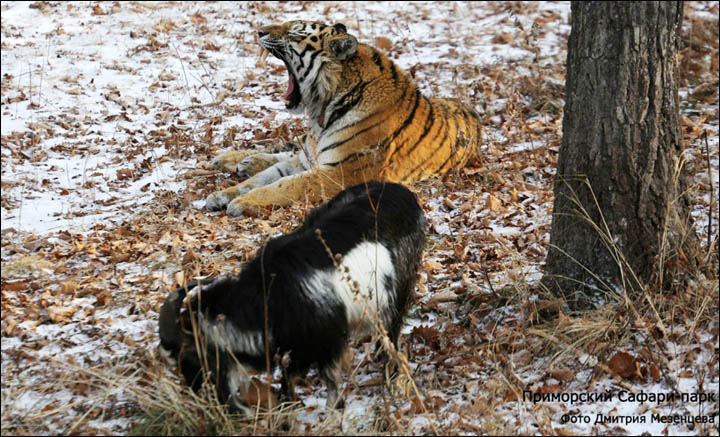 *This image is copyright of its original author
But Vladimir Krever, WWF-Russia bio-diversity coordinator, has predicted that this all-male relationship could become even more unexpected.
'One shouldn't apply terms of romantic novels to animals. But anything can happen in this unusual pair,' he told Moskovsky Komsomolets, predicting unexpected intimacy between them.
'As long as the predator is not hungry, the goat has a lot more chance to survive. However, there have been cases when even a hungry tiger didn't consider an animal he normally hunts on as food. Such examples of this paradoxical friendship can't be subject to predictions because it is related to particular intellectual features of this particular predator. There have been very limited studies of that.'
http://siberiantimes.com/other/others/news/f0191-now-amur-the-tiger-teaches-his-friend-timur-the-goat-how-to-hunt/
---
RE: Bigcats News - Pckts - 12-22-2015

After Cecil Furor, U.S. Aims to Protect Lions Through Endangered Species Act
Five months after a lion named Cecil was shot and killed in Zimbabwe by a Minnesota dentist, the Obama administration has decided to place lions in Africa under the protection of the Endangered Species Act, an action that will set a higher bar for hunters who want to bring lion trophies into the United States.
From Our Advertisers




Lions in central and West Africa will be listed as endangered, according to the Fish and Wildlife Service, which announced the change on Monday. Lions in southern and East Africa will be classified as threatened, with a special rule that prods countries to regulate sport hunting of lions in ways that promote conservation.
Both designations, the agency said, will result in stricter criteria for the import of live lions and lion parts, like heads, paws or skins.
Trophies from countries where lions are endangered will be "generally prohibited," except in very limited circumstances, the agency said.
 
Lion Researchers Call for More Fences to Save the Big CatsMARCH 26, 2013


Trophies could still be imported from nations where lions are listed as threatened — like Tanzania, Zimbabwe and South Africa, all popular countries for American hunters — as long as they met the standards set under the special rule and the animals were killed legally.
Daniel M. Ashe, the director of the wildlife service, called the lion "one of the planet's most beloved species." The agency said its decision was a response to the drastic decline of lion populations in the wild.
The government is acting almost five years after conservation groups petitioned to have the African lion listed as endangered, and the final ruling offers stronger protections than a 2014 proposal by the administration, under which lions in all African countries would have been classified as threatened.
The wildlife agency attributed the change to "newly available scientific information on the genetics and taxonomy of lions."
But Wayne Pacelle, the president of the Humane Society of the United States, one of five conservation groups that petitioned to have the lion listed, said he thought that the killing of Cecil was "a defining moment."

Wildlife biologists and conservation groups have warned for years that lion numbers had plunged across much of Africa, depleted by habitat loss, retaliatory killings by farmers and herders, and, in some countries, poorly regulated trophy hunting. In a recent study, scientists projected that without major intervention, the number of lions in Africa could be halved in the next 20 years. Only about 20,000 lions remain on the continent, according to some estimates.
But the killing of Cecil, a lion that had been lured out of a protected national park, seemed to galvanize public attention.
Cecil's death in July set off an international debate and incited so much vitriol on the Internet that the dentist, Walter J. Palmer, closed his office for two weeks.

In the months since, France has banned the import of lion trophies, and Britain has said it will do so in 2017, barring "significant improvement in the performance of the hunting industry." More than 40 airlines have also said they will no longer transport hunting trophies.
Advertisement
Continue reading the main story
Mr. Pacelle said Cecil had "changed the atmospherics on the issue of trophy hunting around the world."
He added, "I think it gave less wiggle room to regulators."
Most conservation groups and wildlife biologists said the government's decision was a step forward.
"I am pleased," said Luke Hunter, president of Panthera, an organization devoted to the conservation of big cats. "I think they have used, clearly, a fair amount of science in the decision, and as I understand it, it is a significant improvement on their first proposal."
Jeffrey Flocken, the North American regional director for the International Fund for Animal Welfare, which was also a petitioner, said of the listings, "this is huge, and we're really excited."
He said he hoped the listings, which will go into effect Jan. 22, would "greatly curtail" trophy hunting. In some African countries, like Kenya, lion hunting is already illegal.
The federal government cannot regulate hunting in other countries, but because many trophy hunters are American, the tougher standards for imports could reduce the number of lions killed by hunters.
Hunting organizations, however, said the administration's action, by making it harder to import trophies, would end up hurting lions.
"We will be looking to see how the U.S.F.W.S. substantiates its final rule, as we currently believe the record of information fails to justify this listing," said Joseph Hosmer, the president of the Safari Club International Foundation, referring to the wildlife agency.
The foundation and other pro-hunting organizations, as well as many Africans, argue that the money from sport hunting in Africa helps poor countries maintain robust conservation programs and provides aid to local residents.
But Hans Bauer, a lion expert at Oxford's Wildlife Conservation Research Unit, said the tighter regulation imposed by the threatened listing seemed to represent "a last chance" for sport hunting in East Africa.
"The burden of proof is now shifted," Dr. Bauer said. "Under this new ruling, countries must not only prove that hunting is not bad for lions; they must prove that it is good for lions."
He added: "Many have challenged the hunting industry to show some figures to support their claim that the revenues from lion hunting support lion conservation, but the industry has been notoriously opaque and has long resisted calls for reform. This must now change."
Wildlife experts said listing lions under the Endangered Species Act was likely to influence international classifications of the big cats.
Currently, lions are listed under Appendix 2 of the Convention on International Trade in Endangered Species, which comprises species that are not yet threatened with extinction but may become so. The action by the United States, some experts said, could lead to some lions being moved to Appendix 1, which prohibits almost all international trade.
The listings by the Fish and Wildlife Service treat lions in different regions as two genetically distinct subspecies, a division that echoes international classifications and is supported by scientific data.
Advertisement
Continue reading the main story
Advertisement
Continue reading the main story
One, in central and West Africa, has numbers that are so low — only about 900 — that the endangered status was "a bit late," Dr. Bauer said. Lions in India belonging to the same subspecies, which number about 500, are already on the endangered list.
Lions in southern and East Africa, where most trophy hunting occurs, number from 17,000 to 19,000, according to the wildlife agency. Under the new rule, the agency will create a permit process, and hunters who want to bring lion trophies into the United States will have to show that the imports were "legally obtained" from countries that have "a scientifically sound management program that benefits the subspecies in the wild," according to the wildlife service.
The agency said it planned to collect information from conservation groups and scientists about the hunting and conservation practices of countries and would not rely solely on what governments said about their policies.
But some conservationists and lion experts said they would watch closely for how rigorous the agency would be in vetting countries.
"We are anxious to see how it works in practice," Mr. Pacelle said.
Craig Packer, a lion expert who for 35 years ran the Serengeti Lion Project in Tanzania and has been critical of hunting practices in that country, said, "I hope they will take seriously the impact that corruption has on the performance of particular countries, particularly Tanzania."
Dr. Packer said corruption "subverts any good conservation practices in these hunting blocks." He added that bad behavior by hunting companies and government officials should have consequences.
Along with listing the lions under the Endangered Species Act, Mr. Ashe, the wildlife agency director, is issuing an order that will prohibit anyone who has been convicted of or pleaded guilty to a wildlife violation from obtaining a permit to import sport hunting trophies.
"Importing sport-hunted trophies and other wildlife or animal parts into the United States is a privilege, not a right," Mr. Ashe said.


Correction: December 21, 2015


An earlier version of this article misstated the length of time that Dr. Walter J. Palmer's office was closed after the death of the lion named Cecil in July. Although Dr. Palmer did not return to the office for six weeks, the office itself was only closed for two weeks

http://www.nytimes.com/2015/12/21/science/us-to-protect-african-lions-under-endangered-species-act.html?_r=0


---
RE: Bigcats News - sanjay - 12-27-2015



Tiger Highlights in year 2015.



This is an excellent article by WWF in which they summarize the progress of different countries in tiger conservation program
It includes, India, Russia, Indonesia, Bhutan, Nepal, and surprisingly China. Yes, China also get its wild tiger and China has since put tigers on their political agenda, with a plan for a full tiger census in 2016.

Nepal garnered worldwide recognition in 2014 when it became the first country to accomplish a full year of zero poaching for three of the world's most iconic species – not a single tiger, rhino or elephant was poached. This year, Nepal's tireless commitment to conservation work once again made history, when Chitwan National Park became the first site in the world to achieve Conservation Assured | Tiger Standards (CA|TS) – the highest accolade in tiger conservation management a country can aspire to.

Nepal's hard work is paying off; the last tiger survey showed an increase to 198 wild tigers, up from the 121 recorded in 2009. This small Himalayan country will next count its tigers in 2017.

If you love tiger and its conservation program then you must read this article
- See more at: http://tigers.panda.org/t2/tiger-highlights-2015


---
RE: Bigcats News - Pckts - 12-27-2015

Awesome article


---
RE: Bigcats News - GuateGojira - 12-29-2015

That what I have said here many times, Nepal and Russia seems to have a real commitment with they tigers and we can see that they numbers are growing. Also, they have the most reliable figures and although they are still low, it seems that by 2016, there are c.200 tigers in Nepal and 540 in Russia, which are good numbers overall.

India, my beloved country, is sadly suffering with a lack of political commitment, and that is a huge problem. They preach they love for tigers but constantly we see politicians creating laws that allow the destruction of large areas of habitat. For China, I have serious doubts with them as they still sponsor tiger "farms" under the excuse that they are breeding tigers to reintroduce them.

I think is important to highlight that the wild tigers that live in China at this day, are all Amur tigers. I don't think that any Bengal or Indochina tiger still live in they southern boundaries, although I would be very happy of been wrong.

It is sad that there are less than 110 tigers in the Sundarbans (probably the same number in the Indian side), a place that was popularly know as a stronghold for tigers, but at the end, there is no such thing right now. However, in the future, they could recover if a proper management is made.

Bhutan is the surprise of the day, with a population of 103 tigers, it is a new hope for tiger conservation and those animals look very large!

Check this other article, with data on the tiger populations:
          http://tigerday.panda.org/

These maps are important:

*This image is copyright of its original author



*This image is copyright of its original author



What do you think?
---
RE: Bigcats News - sanjay - 12-29-2015

Yes, I agree. One important thing that have change during all these decade is lot of common people are getting attracted towards tiger and other wild animals. Country like Africa and India are making an awesome amount of revenue through wildlife tourism and this is one of main reason conservation value has increased.


2016 is around the corner and we hope a great year ahead for tiger and other wildlife animals.

I would suggest that someone with good knowledge should summarize the article in your words and put it in tiger extinction thread


---