---
RE: Bigcats News - Rishi - 12-13-2018

@Rage2277 what a turn of events!

Although it was only natural that the animal will be drawn to a power-station where it was born & brought up. Due to him people the town of Sarni, not used to tiger presence, were terror gripped for almost 10 days. 

Once they thought that he'd moved on & called off the search, but he was seen again later that night. It's a good thing they decided to move him to Kanha enclosure though, that might mean they think they can reaccustom him to wild life & preys.(<read the link)


---
RE: Bigcats News - Rage2277 - 12-13-2018


(12-13-2018, 06:56 AM)

Rishi Wrote: @Rage2277 what a turn of events!

Although it was only natural that the animal will be drawn to a power-station where it was born & brought up. Due to him people the town of Sarni, not used to tiger presence, were terror gripped for almost 10 days. 

Once they thought that he'd moved on & called off the search, but he was seen addition later that night. It's a good thing they decided to move him to Kanha though, that might mean they think they can reaccustom him to wild life & preys.(<read the link)

man i was kinda banking on him staying in satpura ah oh well..but i wonder if they'll consider sending him to mukundra eventually,though they have to bring the ladies first and wait a little while for them to settled before bringing another male.


---
RE: Bigcats News - Rishi - 12-13-2018

Ignore the journalist's "analysis". 
Despite the considerable increase in numbers & range, this year India's (recorded) tigers deaths may remain below 100!

Sight increase in leopard deaths, but not too much...

*This image is copyright of its original author
https://telanganatoday.com/india-losing-a-tiger-every-three-days
---
RE: Bigcats News - Apollo - 12-13-2018

A 3-year-old tiger died in Tadoba Andhari Tiger Reserve in Chandrapur district due to electrocution after he got stuck in barbed wires separating a farm and the reserve. Dr. Jerryl Banait, Activist speaks to Mirror Now about it.












---
RE: Bigcats News - Rage2277 - 12-19-2018



Tigress T-106 relocated to Mukundra





TNN

 | 

Dec 19, 2018, 00:16 IST




*This image is copyright of its original author
Jaipur: Boosted by the dismissal of a PIL by the Rajasthan High Court that was filed seeking a stay on shifting of big cats, the state forest department on Tuesday relocated 

tigress

 T-106 to the Mukundra Hills Tiger Reserve (MHTR) from the Ranthambore National Park (RNP).
The shifting finally took place nearly nine months after tiger Mirza was relocated to MHTR. After a day-long exercise, the tigress was tranquillised in the evening near Khara Chata area of Sultanpur range. Two-and-half year tigress was shifted to MHTR by road. The tigress was re-christened MT-2.

Y K Sahu, chief conservator of forest (CCF), wildlife, and field director, Ranthambore Tiger Project, Sawai Madhopur said, "After tranquillising, a GPS enabled collar was fitted around the tigress neck. It was safely shifted to the MHTR by road," he said.

Daughter of T-39, tigress T-106 initially will be kept in the 24-hectare enclosure in the MHTR. "For the soft release of tigers, the MHTR has constructed an enclosure. The enclosure is being built to help the animal acclimatize before being released into the wild," said an official at MHTR.

A forest official said this is the third time in the country when reintroduction of big cats has taken place in a tiger reserve in phased wise manner. Earlier, tiger reintroductions were done in Sariska (Rajasthan) and Panna (Madhya Pradesh).

The exercise to shift tigress started after the Rajasthan High Court on December 10 cleared the way for shifting of two tigresses from the (RNP) to the (MHTR) by dismissing a petition filed by an activist.


The bench of Justice Mohammed Rafiq dismissed the petition filed by an activist Ajay Shankar Dubey, which alleged that tiger T-91 was translocated to the Mukundra Hills without the requisite approval of the National Tiger Conservation Authority (NTCA), which is illegal and arbitrary on part of the state government.




The forest department in court earlier said that the tiger was shifted to the Mukundra Hills in April this year and since then the adult tiger is alone. Because of this, the stress level of T-91 may be increased and it will affect the behavior of the tiger. "The proposal submitted to the NTCA was for shifting a tiger and two tigresses and NTCA had given in- principle approval on July 24 this year," informed an official.




But due to the case pending in court the department is not able to proceed with the translocation of the female tigresses which defeats the very purpose of translocation- that is repopulation of the tigers in the reserve.




The department in one of its application also mentioned, "Though mating of tigers happen any time of the year, in the regions with tropical climate this happens more frequently during the period between November and April when temperatures are colder. In such circumstances, it would be most appropriate that translocation of two female tigers from Ranthambore National Park to Mukundra Hills Tiger Reserve as per permission issued by the NTCA."

---
RE: Asiatic Lions - Data, Pictures and Videos - Sanju - 12-19-2018



Another lion attack on the farmer, three incidents in three weeks





Amreli

:
A Lion attacked on a farmer in the village of Khabha, a large village. The farmer was admitted in Rajula hospital for treatment.

P.S: Link will be provided after a while when it is available in English News.


---
RE: Bigcats News - Sanju - 12-22-2018



Lioness Dies In Road Accident In Gujarat


The lioness, aged 1-2 years, died at a rescue centre in Amreli district where she was taken after being found in an injured state on a road, an official said

Cities | Press Trust of India | Updated: December 22, 2018 03:35 IST
by Taboola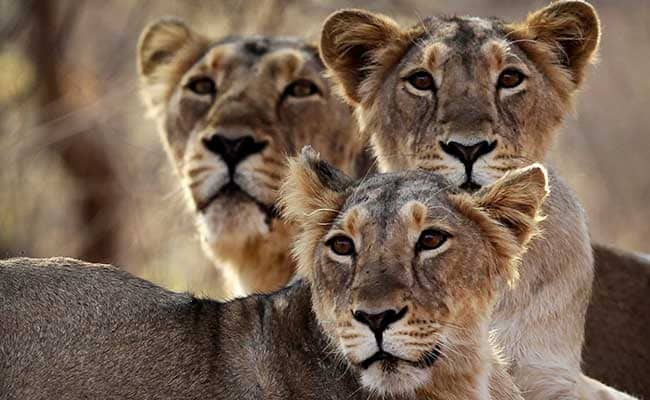 *This image is copyright of its original author


A few months ago, 23 big cats died due to viral infections and territorial fights in the Gir forest.



Ahmedabad: 


A lioness succumbed to injuries sustained after being hit by a vehicle in Rajula range of the Gir forest in Amreli district of Gujarat, a forest department official said on Friday.
The lioness, aged 1-2 years, died at a rescue centre at Babarkot in Amreli district, around 340km from the area, where she was taken after being found in an injured state on a road near Balani Vav village, he said.
"The lioness was rescued from the road accident site and sent to a rescue centre at Babarkot. The veterinary officer could not save the animal. It died late last night," the official said.
This comes two days after a lioness and its two cubs were crushed to death by a goods rain near the Gir forest in the same district.
The incident took place on Monday midnight near Borala village in Savarkundla taluka when a pride of six lions was walking along the railway track.
On Thursday, the carcass of a lion cub was found in a farm in Khambha taluka of Amreli district. Forest officials had said the cub died due to lever infection.
A few months ago, 23 big cats died due to viral infections and territorial fights in the Gir forest.
Last month, the state government had announced a Rs. 351-crore programme for the conservation of wild cats in the state.

The Gir Forest National Park is the only abode of Asiatic lions.
https://www.ndtv.com/cities/lioness-dies-in-road-accident-in-gujarat-1966471
https://www.nyoooz.com/news/ahmedabad/1285548/lioness-dies-in-road-accident-in-gir-forest/


---
RE: Bigcats News - Sanju - 12-22-2018



Malayan tigers are nearly extinct, a biologist warns


By Daniel T Cross on December 21, 2018
Forest Wildlife





*This image is copyright of its original author




Time is running out for Malayan tigers in the wild.



Unless conservation efforts are stepped up these

critically endangered

striped predators might well go

extinct

in their habitats in

Malaysia

.
This stark assessment comes from tiger biologist Kae Kawanishi, a member of the Malaysian Conservation Alliance for Tigers (MYCAT).



Quote:"The Malayan tiger (

Panthera tigris jacksoni

) is about to go extinct in the wild. Because of its limited distribution, only Malaysia can save this tiger from imminent extinction, but drastic actions needed are unlikely to come in time," Kawanishi says.
Quote:"

The tiger is the most endangered of the big cats on Earth

," she adds. "

Four

tiger subspecies have gone extinct in the past century and among the five surviving,

the Malayan tiger is the least known, least supported and is closest to extinction

."


Experts believe that only as few as

150

Malayan tigers, which are

endemic to Malaysia

, may remain in the wild. Even these last few tigers, the remnants of animals that numbered several thousand only a few decades ago, are facing constant threats as a result of habitat loss and forest fragmentation.
"It is a matter of a year or two before the species loses its ability to cope environmental or demographic random events and processes," Kawanishi warns. "There is no crisis greater than tiger extinction in Malaysia's nature conservation history."
This is no mere hyperbole. Within the past few decades, Balinese, Caspian and Javan tigers have all gone extinct.
Ironically, the very national identity of Malaysia is predicated on the majestic predators. Tigers are featured on the nation's coat of arms as Malaysia's national animals, and they are displayed proudly in the heraldry of national institutions.

Tigers also feature prominently in Malaysian folklore and are inexorably linked with the country's self-image. Myriad athletic and sporting institutions, like Malaysia's national football team, style themselves after the nation's mighty Malayan tigers, helping cement an image of the country far and wide as a place where wild tigers roam.
Yet tigers that do continue to roam in the wild are now few and far between. Continued poaching is taking a toll on wild tigers in Malaysia. Over the past few years several wild tigers are known to have been killed by poachers.
"There is no time left now for peaceful dialogues and gradual improvements in the effort to protect tigers," Kawanishi warns. "The only measure left to save the Malayan tiger is

military protection against poaching now

."

Tigers are powerful creatures in their own right, but they're defenseless against people who are out to harm them.

Human greed, ignorance and cold-heartedness are driving these beautiful animals ever close to the verge of extinction

.


https://www.sustainability-times.com/environmental-protection/malayan-tigers-are-nearly-extinct-a-biologist-warns/?fbclid=IwAR2Q1CmgtuzWEr-to5VJMKaNFZyKjG4YcfhmPdMaTgAYzAXTAdqqAjUOWWU


---
RE: Bigcats News - Sanju - 12-22-2018



Gujarat High Court seeks reply from railway ministry, state over lion deaths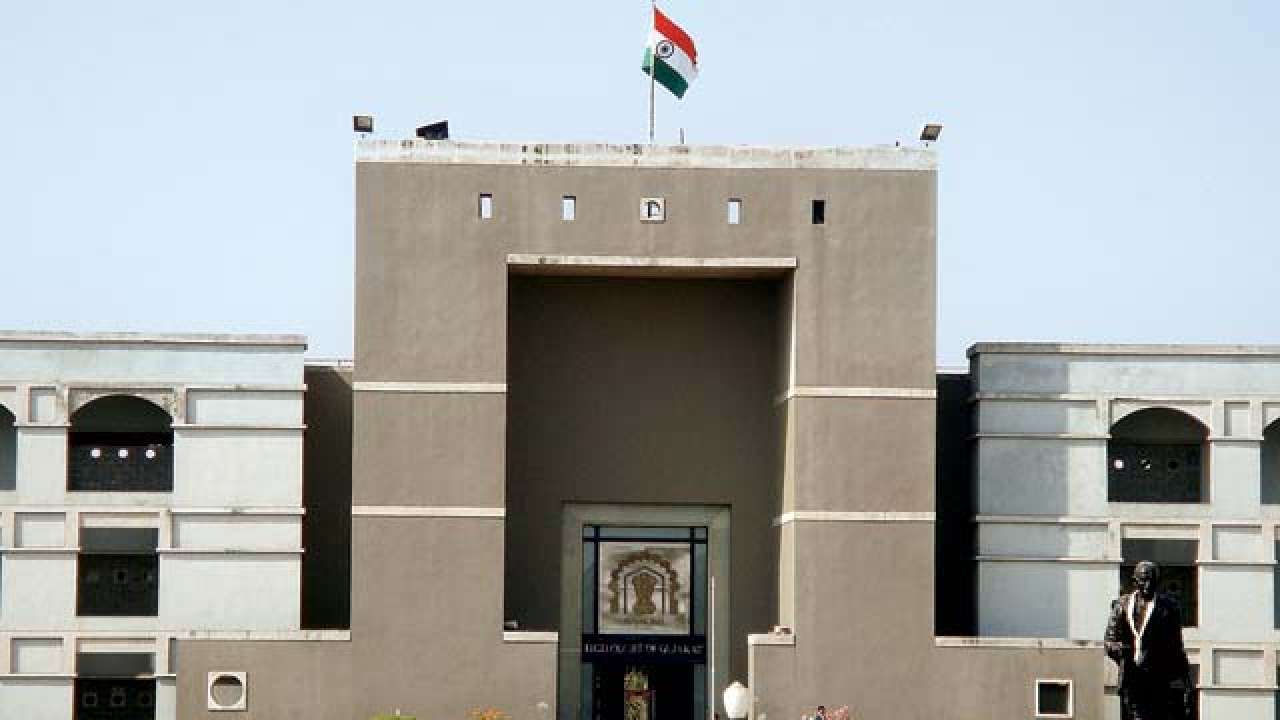 *This image is copyright of its original author

Gujarat High Court


Updated: Dec 22, 2018, 05:45 AM IST

Concerned over the series of lion deaths in train accidents, the Gujarat High Court on Friday sought a reply from the railway ministry and state government over the steps that they can take to prevent such cases.
Taking cognisance of the incident wherein three lions died after being run over by a train in Amreli earlier this week, the high court's division bench, headed by Justice SR Brahmbhatt, issued a notice to railway ministry as well as the state government.
The court asked the railway ministry to submit what measures it can take to prevent the occurrence of such incidents. It also directed the state government to file a reply in the matter. Both were asked to file their replies by January 16.

During the hearing, authorities submitted before the high court bench that the three lion deaths in a train accident had taken place at a significant distance from the unfenced stretch of the railway tracks.
In June 2018, railway had said in an affidavit in the high court that out of 86 km stretch of railways that passes through Gir forest, fencing work on only six km was pending. It had assured that the work would be completed within six months.

Incidentally, on October 17, the high court had already directed the state government to submit a progress report of steps taken for preventing lion deaths due to open wells, electrocution and spread of virus. The state was asked to submit the report by January 15.
Cub dies, lioness injured


A lion cub died in a road accident in Amreli, while a lioness was injured after being hit by a train, also in Amreli, last night, officials said. The incidents come three days after three lions were crushed by a train in Amreli.

Forest department officials

said that a female lion cub, aged 1-2 years, sustained injuries in an accident on Mithapur road in Rajula range at around 9:00 last night. The cub was sent to the rescue centre at Babarkot for treatment, but it could not be saved and passed away in the night.

In another case, a lioness was injured after being hit by a goods train near Uncheya village of Rajula between 1:00 and 2:00 am last night. The lioness is under treatment, officials said.




ORDER ORDER
The court asked the railway ministry to submit what measures it can take to prevent the occurrence of such incidents.   
It directed the state government to file a reply in the matter. Both were asked to file their replies by January 16.

https://www.dnaindia.com/ahmedabad/report-gujarat-high-court-seeks-reply-from-railway-ministry-state-over-lion-deaths-2698897
---
RE: Bigcats News - Sanju - 12-22-2018



Hunted Avni's cub captured, sent to Pench Tiger Reserve for rehabilitation



According to sources, both the cubs were some distance apart when the darting was done today, the team will conduct another operation tomorrow to catch the male cub.
Written by Vivek Deshpande | Nagpur | Updated: December 22, 2018 8:04:56 pm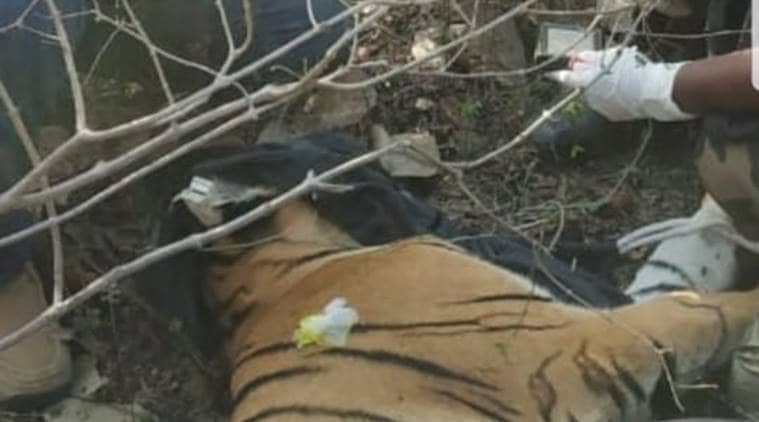 *This image is copyright of its original author




The female cub weighed around 80 kg



One of the two cubs of tigress T1, who was shot dead last month in Yavatmal district, has been caught. In an operation conducted by the Madhya Pradesh special team Saturday, the female cub was captured and sent to Pench Tiger Reserve for rehabilitation.

"The Madhya Pradesh special team, which was called for the operation, carried out the operation at around 3 pm on Saturday. She was tranquilised after being cornered with the help of four elephants. She was later revived and has been sent to Pench Tiger Reserve (PTR) as per the rehabilitation plan," said Principal Chief Conservator of Forest (Wildlife) A K Mishra. "The team will resume the operation to catch the other cub, the male, tomorrow," he added.
"We had readied the enclosure in Pench with refurbishment and strengthening of joints. The cubs will be trained in re-wilding in the enclosure," Mishra said.
The

forest department has been trying to capture the cubs

of the man-eating tigress, nicknamed Avni, since her controversial killing in November.
Advertising

As per earlier reports, the cubs were restricted in a chain-link fence in an area of around 80 hectare. But the Additional Principal Chief Conservator of Forest Sunil Limaye said that to track the cubs a smaller enclosure was created inside the chain-link fence.

Read: T1 killing: Probe raises doubt on shooting team's self-defence claim
 
He said: "We had to create a smaller enclosure within the 80 hectare chain-link fence since the area was too large to track the cubs. It was a challenge to quickly fix the compartmental chain-link fence when the two large cubs were moving inside. But we managed to do that in a race against time."
You might like

Asked if the cubs would be radio-collared, Limaye said: "No. We have to follow the procedure laid down by the National Tiger Conservation Authority where we will set up a committee that will finally decide the future for the cubs. Till then they will remain in the Pench enclosure."
The female cub weighed around 80 kg, and according to sources both the cubs were some distance apart when the darting was done.

https://indianexpress.com/article/india/tigress-t1-cub-avni-cub-captured-sent-to-pench-pench-tiger-reserve-for-rehabilitation-5505412/


---
RE: Bigcats News - Sanju - 12-23-2018



In search of purr-fect solution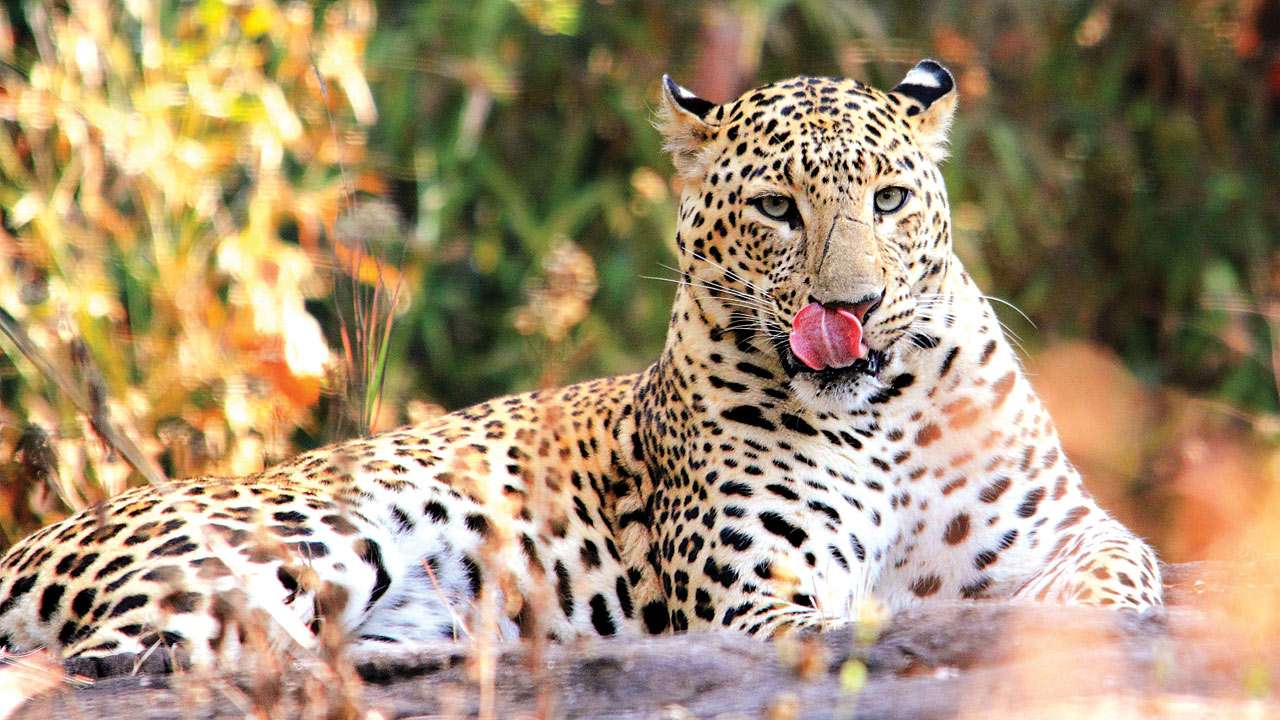 *This image is copyright of its original author

Leopard-Kedar Gore

It is time for India to seriously think about a 'Project Leopard' with emphasis on mitigating human-leopard conflict - Kedar Gore
Updated: Dec 23, 2018, 07:05 AM IST

Strength, agility, intelligence and ability to survive in practically

all types of terrestrial ecosystems

make cats one of the most successful predators. Out of the

"36 species of wild cats

" in the world,

15 are found in India

, occupying a variety of natural habitats and human-dominated landscapes.

While India's large cats — Bengal Tiger, Asiatic Lion, Common Indian Leopard, Snow Leopard and Clouded Leopard

— are more popular, very little is known about the ecology and distribution of the 10 species of "other smaller cats":

Asian Golden Cat, Marbled Cat, Caracal, Asiatic Wildcat, Eurasian Lynx, Pallas's Cat, Jungle Cat, Leopard Cat, Fishing Cat and, the smallest of all wild cats of the world

,

"the Rusty Spotted Cat"

.



Cheetah, yet another species of cat, became extinct from India in the early 1950s

due to unnatural causes.

All cat species are protected and placed in Schedule I of the Wildlife (Protection) Act, 1972, except the Jungle Cat, which is placed in

Schedule II

.

India's flagship project —

the Project Tiger

, covering

50 tiger reserves spreading over 72,000 sq km area

— has been instrumental in offering protection to tigers along with the other species of wild cats that coexist with the tigers.
Although the tiger reserves are well protected, most of their connecting habitats may not be within the legal domain of Protected Areas (PA) and are

often compromised to the growing developmental demands and ever-increasing anthropogenic pressures

. Being territorial and having restricted sacrosanct forests, tigers try to explore newer areas that are adjacent to the tiger reserves and put themselves at the risk of being in human-dominated landscapes.

Humans often encounter them due to their dependence on forests for natural resources collection and cattle grazing. Though a rare occurrence, attacks by large cats on humans too cannot be ruled out in such areas, mostly as chance encounters and rarely as deliberate predation. Such incidences, if not controlled, and the causes for such attacks, if not addressed timely, might lead to an increase in human-tiger conflict incidences as was seen last month in the cases of

T1 tigress

in Maharashtra and killing of a tiger under a tractor by an irate mob in Dudhwa, Uttar Pradesh.
Unfortunately, the beauty of the wild makes them vulnerable to global illegal wildlife trade.


Quote:Between 1994 and 2018, a total of 1,178 tigers and 4,698 leopards had been killed by poachers. These are reported cases and we cannot rule out the possibility of more animals being actually dead due to poaching, retaliatory killings, electrocution and carcass poisoning.

India's tiger reserves act as "breeding centres" and the connecting corridor and non-PA forests, where wildlife conservation is unfortunately not a priority, may well be poachers' paradise. Out of the 96 tiger deaths in 2018, 46 deaths have occurred outside tiger reserves and reasons for most of these deaths is yet unknown.

Around

1,200 wildlife poaching cases

were registered in various states between 2015 and 2018, but conviction took place in only 10 per cent of the cases. Capacity-building and motivation of the enforcement agencies is necessary to prevent poaching and to ensure a higher conviction rate in poaching cases.

Leopards suffer a far greater mortality at the hands of poachers and in conflict with people

.



Quote:

It is time for India to seriously think about a 'Project Leopard' with emphasis on mitigating human-leopard conflict.


Asiatic Lions are globally restricted only to the Asiatic Lion Landscape spread over 20,000 sq km in the Saurashtra region of Gujarat. Although lions outside Gir Protected Area survive mostly on livestock, the local people have so far shown remarkable tolerance towards livestock depredation.

However, every habitat has its carrying capacity and tolerance has its limits

. Being in human-dominated landscapes exposes large cats to Canine Distemper Virus (CDV), which is mostly spread through feral dogs. Recent deaths of lions in Gujarat were attributed to CDV, which was also responsible for an epidemic in the Serengeti region of Africa, where 1,000 African Lions died in

three weeks

.


Quote:Therefore, it is important to have alternative population of lions elsewhere in Gujarat and other states for the long-term survival of this species.

Many of the smaller cats are

mostly nocturnal and occasional camera trap images

are possibly the only records of their occurrences. The nocturnal nature of these cats — perhaps a survival strategy adopted to avoid humans — makes them

very difficult to observe and study

.

Asian Golden Cat and Marbled Cat are denizens of dense forests in the northeast

;
Caracal, Asiatic Wildcat, Leopard Cat and Jungle Cat

prefer grasslands

, scrublands and forests in western, northwestern and central India

;
 

Fishing Cat prefers mangroves and wetlands like west Begal and other coastal states

;

Snow Leopard, Pallas's Cat and Eurasian Lynx survive in the high altitude Himalayas

; and
Rusty Spotted Cat also survives in human-dominated landscapes in addition to PAs.

All these habitats are subjected to severe pressures of hunting by local communities, poaching mafias, habitat loss and fragmentation.


Quote:Many

grasslands in India

are categorised as

'Revenue Wastelands'

and are the least protected and concerned Indian habitats unlike forests and jungle ecosystems, thus compromising their sanctity as

important ecological units

that need protection.

The Northeast region needs special attention to address the

severe hunting and poaching pressures

.
India's wild cat conservation needs a holistic approach with habitat management of natural as well as man-made ecosystems.

https://www.dnaindia.com/analysis/column-in-search-of-purr-fect-solution-2699256


---
RE: Bigcats News - Sanju - 12-23-2018



Where the wild things are: A day in the life of Sagar Manjariya, a wildlife tracker in Gir forest



There are 160 wildlife trackers in Gir and other protected areas where lions roam. Of them, 18 are attached to the Sasan wildlife division alone.
Written by Gopal B Kateshiya | Published: December 23, 2018 5:01:55 am
Related News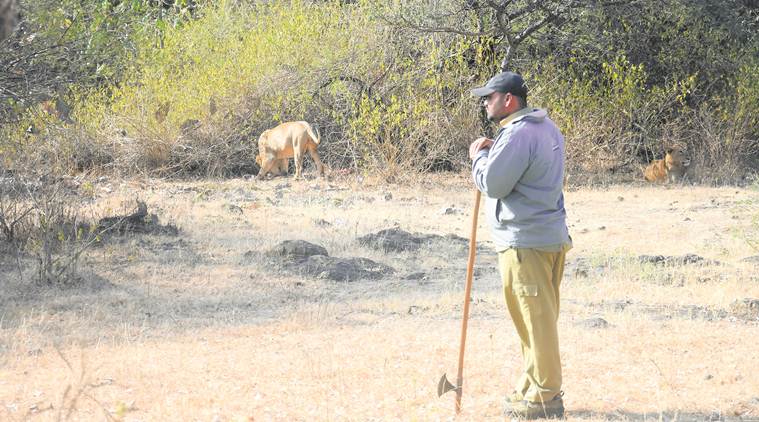 *This image is copyright of its original author


Manjariya says

Asiatic lions are usually not dangerous

. Armed with an axe, his job involves rescuing animals and tracking their movement. (Ashwin Sadhu)

At 6 am on a cold winter day, Sagar Manjariya emerges from his quarters in Forest Colony in Sasan, a tourist hub from where lion safaris take off for Gir forest, in Junagadh district of Gujarat. Riding a motorbike, he reaches a roadside tea stall where fellow tracker Naresh Vaghela joins him. The duo quickly gulp tea and head into the Gir National Park and Sanctuary.

There are

160 wildlife trackers in Gir

and other protected areas where lions roam. Of them,

18 are attached to the Sasan wildlife division alone

. Engaged on 11-month contracts by the Gujarat State Lion Conservation Society, a trust formed by the state government, they keep a watch on Gir's animals, especially the Asiatic lion.
The only equipment the trackers carry are torches and axes, also used by them to cut their way through thickets. On November 29, two lions had killed a caretaker, Rajnish Keshwala, and left two injured near Sasan — a fact that weighs on Manjariya's mind.

Manjariya and Vaghela have been riding for 4 km when Manjariya hears the alarm call of a spotted dear near the bank of Raydi river. As it is still dark, he pulls out his torch to try and spot pugmarks, but doesn't find any. The deer could have been scared by the smell of a lion, the 34-year-old mumbles.
Advertising
The sun is still not up when they reach a natural watering hole. By now their walkie-talkies are buzzing, with the other trackers fanned out across the forest, in teams of six, sharing information on the animals they have spotted, and relaying it to the Control Room. One of the men in Manjariya's team, Suresh Shekhva, says he has found pugmarks suggesting the lions have moved east.
At a forest post in Kerambha, Manjariya finally gets lucky, and in the brightening light, sees some lion pugmarks on a forest path. He marks them with the handle of his axe, so that other trackers know someone has already been there. He follows the pugmarks for around 2 km till Gangajaliya Ness, one of the 50-odd colonies of Maldharis inside Gir. A community of cattle-herders, they have lived here for centuries. The Maldharis tell him they heard the roar of two lions that morning.

It's around 8 am that, alerted by Shekhva again, Manjariya and Vaghela finally spot a male lion, named Bahubali, who is sitting next to a rivulet. For the next 40 minutes, from around 15 metres away, the three trackers observe the lion. Manjariya notes that it appears to be well fed, seeing his "roundish belly", and likely to rest there for some time.
The son of a Gujarat Police assistant sub-inspector, Manjariya dropped out of school after Class 10. After a couple of years of taking tourists on safaris, he became a tracker in 2009, and now earns Rs 12,500 a month.

The recent incident in Devaliya safari park was a reminder of the risks involved in the job, Manjariya says. "I was part of the team that recovered Keshwala's body." He points out that the lions in the safari park are zoo-bred ones. "Wild lions generally do not behave in that manner. But there is risk."
A tracker's job also involves rescuing animals if they are sick or injured, and helping in their medical care. They are not entitled to weekly offs or long paid leave. Manjariya says he could get four days off when his father died two months ago. Last month, he was part of the team that rescued a leopard from the Secretariat in Gandhinagar.
Manjariya and Vaghela now come across a tracker who seeks Manjariya's opinion regarding two sub-adult male lions who have preyed on a nilgai. Manjariya concludes that the two seem fine.
As he heads back, he receives a message to submit three copies of his passport-size
photographs to get a duty pass made for the proposed visit of President Ramnath Kovind later this month. Manjariya does that before finally heading to his two-bedroom quarters around noon. As he plays with his two-month-old son, wife Uma prepares lunch. Their six-year-old daughter is at school.
By 3 pm, Manjariya is back in the forest and he and Vagela run into a tourist gypsy, which has halted to let people watch a spotted deer. Manjariya sees a biscuit wrapper on the ground and instructs a labourer to clear it. "Guides are supposed to prevent tourists from littering," he says.

Heading back to the spot where they had seen the lion in the morning, they meet up with Irfan Bloch, another tracker of their team, and notice the scat of a leopard. "The hair in the scat suggests the leopard ate a spotted deer," remarks Bloch.
Suddenly, looking up, Manjariya exclaims, "Here she is!" Finally, after a day of searching, they have found their lioness, who stands just 20 metres away. As the three make "Ouhoon, hoon" calls, the lioness walks closer, looking at them intently, then abruptly sits and turns away.
Manjariya says they made the "Kukavo" call. "We informed her that it was us. We believe lions know our calls." They are in little danger from the lioness, he adds. "Unless provoked, Asiatic lions never attack humans. But they can be aggressive when they have small cubs or are in mating season."

The lioness, whom they observe for around 30 minutes, is Sundari, identifiable by the cut in her left ear. As she continues to look the other way, Manjariya requests Bloch to hit a plant with the handle of his axe while he himself crushes dry leaves. Responding to the sound, the lioness turns, and Manjariya is satisfied. "She seems alright," he declares.
Moving away, Manjariya informs the Control Room about the lioness. Finally, around 5 pm, he decides to head home.
He has gone hardly a kilometre when he runs into tourists clicking photographs of Sundari, who appears to be enjoying the attention. "She must have come out for some evening breeze," smiles Manjariya, instructing the guides to not stall at one place for long.
By the time he gets home, it's 7 pm. Manjariya's daughter comes running out. Holding her hand, he talks about how his mother, who lives in Junagadh, worries about him. "I tell her I don't work with wild animals. But sometimes, my name is in newspapers."

Wife Uma refers to the November 29 incident. "I was calling him frantically, and broke down when he returned home. Now I am tense all the time he is in the forest."
Sasan DCF Mohan Ram admits the importance of wildlife trackers for forest management. "They keep track of wild animals and also tourist movement. Without them, we can't function." However, says Dushyant Vasavada, Chief Conservator of Forests, Junagadh Wildlife Circle, regularisation of their services is beyond his powers. "The state government has to take a call."
At present, Manjariya says, he goes through days of uncertainty every 10 months. Turning in around 9.30 pm, he adds, "Sometimes I lie awake at night worrying about how I will provide for my family. But in the morning, I am back in the forest, among the lions, and I forget all worries."

In the distance can be heard alarm calls of a spotted dear and a peacock.

https://indianexpress.com/article/india/gujarat-gir-forest-lions-trackers-wildlife-sagar-manjariya-5505732/

---



Gujarat: With 35 deaths in 3 months, govt launches plan to conserve Asiatic lions


Deepika S Oneindia 22 December 2018



Ahmedabad, Dec 22:

The Gujarat government has launched the 'Asiatic Lion Conservation Project' with an aim to protect and conserve the world's last ranging free population of Asiatic Lion and its associated ecosystem.
The decision came two days after three asiatic lions were run over by a goods train in Gir. So far, 35 lions have lost their lives due to various reasons.




*This image is copyright of its original author


Union Environment Minister Dr Harsh Vardhan said that the project will strengthen the ongoing measures for conservation and recovery of Asiatic Lion with the help of state-of-the-art techniques/ instruments, regular scientific research studies, disease management, Modern surveillance/ patrolling techniques.
He added that the total budget of the project for three years that amounts to nearly Rs 9,784 lakh will be funded from the Centrally Sponsored Scheme- Development of Wildlife Habitat (CSS-DWH) with the contributing ratio being 60:40 of Central and State share.


Also Read

Lion Death: What ails the pride of Gujarat's Gir?
Gir forest, which is home to Asiatic lions have seen a large number of lion deaths over the past three months. Besides territorial infighting among other big cats, so far, 35 lions have lost their lives to Canine Distemper Virus and Protozoa infections.
Fearing that the same fate as that of the Serengeti National Park might await the lions of Gir forest,

several experts have opined that it is best to move the lions to other habitats

. CVD is the same virus which killed 1,000 Lions at Tanzania's Serengeti National Park in 1994.
For the conservation of Asiatic lions, the Gujarat government has announced a package of Rs 351-crore in late November, which includes several new initiatives. The initiatives include building a state-of-the-art veterinary hospital in Sasan-Gir and creating a team of 120 veterinary doctors to treat lions and other wildlife.


Also Read

Gir Lion deaths: Is it time to find a second home for Asiatic lions?
Drones will be deployed to keep an eye on lions' movements, Rs 80 crore will be spent on building as many as eight new rescue centres, 33 Rapid Response Teams will be deployed in the forest and 100 'trackers' will be recruited to keep a watch over the lions, Forest Minister Ganpat Vasava said.


Lions death in numbers


Earlier this year, on March 2018, the Gujarat Assembly, after being informed by State Forest Minister Ganpat Vasava, announced that 32 Asiatic Lions died due to "unnatural causes" in and around Gir Wildlife Sanctuary, over the last two years. These unnatural causes include falling into the well and being hit or run over by train. A total of 184 Asiatic lions died in 2016 -17, wherein 104 deaths occurred in 2016 and 80 deaths in 2017.


2013 SC order:


In April 2013, Supreme Court ordered the shifting of limited Asiatic Lions from Gujarat to Madhya Pradesh's Kuno Palpur Wildlife Sanctuary. It directed a 12-member expert committee to implement its order.


The court said that these lions are endangered species, and all efforts should be made to preserve them including their translocation in limited number to MP. However even years after this order by SC the translocation is delayed.




Quote:Asiatic lions that once ranged from Persia (Iran) to Palamau in Eastern India were almost driven to extinction by indiscriminate hunting and habitat loss.

A single population of fewer than 50 lions persisted in the Gir forests of Gujarat by late 1890s. With timely and stringent protection offered by the State Government and the Centre, Asiatic lions have increased to the current population of over 500 numbers.
The last census in the year 2015 showed the population of 523 Asiatic Lions in Gir Protected Area Network of 1648.79 square kilometres that includes Gir National Park.

https://in.news.yahoo.com/gujarat-35-deaths-3-months-143225157.html


---
RE: Bigcats News - Sanju - 12-25-2018



2018 has been a brutal year for India's wildlife


By Deepika S | Published: Tuesday, December 25, 2018, 6:00 [IST]

2018 has been a long and tough year for wildlife in this country. An ominous trend is the 'lynch mentality' that seems to be taking over in every field. If a leopard is discovered in or near an urban area it is often chased, stoned and beaten to death by berserk mobs. The Gir lions deaths, Bandipur tiger Reserve flyover, elephant deaths and the controversial killing of 'Avni' generated heat and hysteria.



Gir lion deaths


Gir lion deaths In September, wildlife lovers were shocked when around 30 lions died in Gujarat's Gir sanctuary after getting infected by the Canine Distemper Virus. powered by Rubicon Project Another 30 lions were kept under observation for the deadly virus, which wiped out 30 per cent population of the big cats in Serengeti jungles of Africa in 1994.




*This image is copyright of its original author


According to the 2015 census, Gujarat had 523 lions, which draw tourists and animal enthusiasts to the state. The state government is now planning to shift some lions to places like Bardo Dungar forest area in Porbandar, but has refused to relocate them to neighbouring Madhya Pradesh. There is impending danger of epidemic, or natural calamity, forest fire, disease outbreak, genetic depression through inbreeding. 

Five years since the SC order, at least 23 lions have died - and the unofficial count, as per sources, is closer to 50 dead lions. Many of them have died because of disease - and the deadly Canine Distemper Virus (CDV, a disease which pet dogs are vaccinated against) is identified as one of the causes. Some have also died due to poisoning or infighting. Lions have meant a great deal for India. They adorn Ashoka's pillar, and every single Indian banknote. Four of them are part of India's National Emblem, and they were the National Animal till 1972. These imperious symbols aside, the lion is still known as 'Jungle ka raja'(King of the Jungle) in folklore, also people retain a fascination for lions.



Avni murdered?






*This image is copyright of its original author


The drama unfolding around Avni, a tigress with two cubs hit the headlines for bad news. Avni, the six-year-old tigress and mother of two 11-month-old cubs, who allegedly killed 13 persons since June 2016, was shot in a controversial manner by sharpshooter Asgar Ali, son of famous sharpshooter Nawab Shafat Ali on November 2 this year. The killing of the tigress triggered a full blown war of words between the forest minister in Maharashtra and union minister Maneka Gandhi, both belonging to the BJP. The controversy started when the government decided to bring in Shafat Ali, a self-styled hunter. Ali has put down many man-eaters in India, but his swagger is a mixture of trophy hunting and apparently, eugenics. He claims tigers can be terrorists; that he is a good shooter because of his "blood", and boasts his grandfather "shot tigers like dogs". A group of wildlife vets in Maharashtra have objected to Khan being allowed to tranquilise the tigress. Tranquilisation of animals is a difficult and precise process, animals can also die if it is wrongly done. The government had spent almost Rs 60-70 lakhs on the search operations. Forest department had hired elephants, thermal drones, perfumes, sniffer dogs, paraglider, more than hundred trap cameras. More than 200 people including private & forest department shooters were involved in the search operations. Though every time, Avni somehow managed to elude to capture in camera. But on Friday, shooters sighted her in 149 Borati and killed her.

The news of Avni's death created a huge storm on social media.




*This image is copyright of its original author




India's first tiger translocation hits roadblock

(I don't know why they said 1st, this ain't the first. many happened before.)

India's first tiger translocation hits roadblock India's first interstate translocation exercise for tigers hit a roadblock with Odisha government decided to shift Royal Bengal tigress 'Sundari', who had allegedly killed two persons, from Satkosia Wildlife Sanctuary to an enclosure at any place including in Nandankanan Zoological Park. The relocation approved by the National Tiger Conservation Authority (NTCA) kicked off earlier this year with two big cats: a male (T1) from Kanha Tiger Reserve, followed by a female (T2) from Bandhavgarh in Madhya Pradesh. Both tigers were brought to the 963 square km Satkosia Tiger Reserve in June, to shore up the existing tiger population of two in the reserve and thereby in the state.The number of big cats in the state ranges from 28 to 40. A major reason behind this whole operation is the space crunch. With the steady increase in tiger population in many reserves, there is a need to expand the tiger habitat or to relocate them in a better and safe place.



Gruesome death of Elephants






*This image is copyright of its original author


India's escalating man-animal conflict is leaving its elephants with no safe home. A recent heart-wrenching incident inside Karnataka's Nagarhole National Park in southern India captures the gravity of the situation. On Dec. 15, a 42-year-old elephant suffocated to death after getting stuck in a seven feet high iron fence. Ironically, the fence was set up by forest authorities to protect the creatures by preventing them from straying into human settlements. The 42-year-old was chased by a mob. Instead of stopping once he had moved away from their farms, they continued to pursue him. He ran towards the safety of his home, the Nagarhole National Park, but was unable to find his way around a fence. In desperation, he tried to leap or climb over it and died in what was most likely a very painful accident that lasted several hours as his own 5-ton body weight slowly crushed his chest. Also, Karnataka lost its most loved elephant, 'Rowdy' Ranga, in a road accident. According to reports, the 48-year-old wild elephant was killed after it was hit by a speeding bus around 2am on Monday, near Mathigodu Elephant Camp in Thithimathi on Mysuru-Gonikoppal Road. The death of Ranga, the second such incident in recent times has reignited the call for a complete night traffic ban in Nagarhole and Bandipur forest ranges. Between April and mid-December, 65 elephants were killed in Odisha alone, most of them due to human interventions such as power lines, oncoming trains, and the construction of wells, tanks, and drains, which elephants have fallen into.




*This image is copyright of its original author


Bandipur flyover put on hold Well, there has been a splash of news and hot debate with regard to lifting of the ban on night traffic through Bandipur Tiger Reserve in Karnataka. This row started as a result of the Central government asking Chief Minister H.D. Kumaraswamy to withdraw the ban so that an elevated corridor or road and other infrastructure could be started and the Central ministry suggested that the chief minister had agreed to lift the ban. The PWD Minister Mr H.D. Revanna also hurriedly announced that a flyover could come up every 2.50 km inside Bandipur. When the news triggered opposition from environmentalists and other sections of the society, the chief minister gathered himself quickly expressed his opinion and perhaps has stayed put with this decision. There is traffic up to 9 pm every day and this is good for Kerala to maintain its economy, traffic and the environment. Actually the deadline advanced from 9 pm to 7 pm.



Leopards chased






*This image is copyright of its original author


There have been instances where the leopards were chased and killed by the frenzy mob. In 2018, India recorded its highest leopard mortality in the last four years. While almost 34 per cent of the big cats were poached for purposes of trafficking, the remaining 74 per cent died either due to train or road accidents. Data from previous years asserts that 460 leopards died this past year as compared to 431 in 2017, 440 in 2016, 399 in 2015 and 331 in 2014.

Read more at: https://www.oneindia.com/india/2018-has-been-a-brutal-year-for-indias-wildlife/articlecontent-pf34764-2827083.html


---
RE: Bigcats News - Sanju - 12-27-2018



Good news / Koono (Kuno) Sanctuary became National Park, open tourism and Daily employment opportunities




*This image is copyright of its original author
Empower committee will visit Kuno
Preparation of necessary resources will start

Dainik Bhaskar Hindi Daily News



Sheopur

: In 2003, Kuno Sanctuary was ready to receive its first batch of lions. Now, again it is ready for the expansion of Asian lions, is a national park now. In the meeting with forest department officers headed by new Chief Minister Kamal Nath, a decision has been taken to make Kuno National Park. On getting the status of National Park to the Kuno Palpur Wildlife Sanctuary, as soon as the Shopur District falls on the

world tourism map. Tourism and daily job or employment will start to grow and develop in the district.





Also read this:

Two Tigers came overnight in Kamototiya adjacent to the capital

Simultaneously, shifting Lions from Gujarat's Gir Sanctuary will be discussed soon with the Central Government, after which the Empower Committee will be visiting Kuno. In order to make Kuno National Park was added to adjacent Shivpuri district, with an increment of 413 sq. Km area to make it eligible for National Park status. For this action, de-notification of the Son Chiraya Sanctuary of Shivpuri district had already started.



The condition has been laid:

In order to give Asian lions, the Gujarat government had laid the condition to increase the area of Kuno and giving it the status of National Park. Works and attempts were done on the scheme of transfer the Asian Lions to the Kuno Sanctuary Project since 1993. The displacement of 24 villages has been done under this project of spending about 900 crore of Sate government and Central govt. But the Gujarat government has been

playing flaws

in giving lacs to translocate lions. In January 2017, the Empower Committee had inspected kuno and suggested it to increase its area and said that it is the msot favorable habitat for the lions.



Movements has been done:

72 agitations, protests and movements have been organized since 2008 for shifting Asian lions in Kuno Sanctuary, Madhya Pradesh. Apart from the demonstration of the

"Babbar sher Bassao Sangharsha"

committee protest against the State and Central Government from the district headquarters which was held at Tikoli, the entrance of the Kuno, but the Gujarat government is still in indispensable attitude. Atul Chauhan, President of the Sangharsh Samiti, welcomed Kamal Nath's decision on granting the status of National park to the Sanctuary. Chauhan, president of the Sangharsh Samiti, says that this is the only oppurtunity in case of development and this is the only ray of hope or chance for the Sheopur district which is the most backward districts of the state because the situation of employment sources, industrial development and transport facilities is pathetic here in geographically.



Planning of Corridor:

With the approval of the Kuno National Park status, it is planned to build corridor by combining Ranthambore Tiger Reserve's  Ranthambore National Park-Shivpuri National Park-Sawai Madhopur to improve gene flow of WITL and maintain meta populations. Tourists from all over the world come to Sawai Madhopur to see the tiger right now. At present, the tourism industry and employment turnover of Sawai Madhopur is one and a half thousand crores annually. The Bengal tiger found here is also living in more than 50 sanctuaries of the country. Whereas the Asiatic Lion is only in Gir Sanctuary and can be seen in Kuno Sanctuary soon.

https://www.bhaskar.com/mp/gwalior/news/kuno-wildlife-sanctuary-national-park-01419754.html


---
RE: Bigcats News - Sanju - 12-30-2018



Four Stories That Captured India's Environmental Zeitgeist in 2018







*This image is copyright of its original author


Neha Sinha 19 hours ago



2018 was the year when environmental protest filled the streets, even as the government stayed unmoved and dark predictions by biologists came true. Here are four big moments from the last 12 months that captured this spirit.






*This image is copyright of its original author




1. Gujarat's lions


In 1994, a canine distemper epidemic killed a third of the lions in Serengeti National Park, Tanzania. It alerted biologists to the perils of having large wild-animal populations together. Disease and epidemics are a form of biological population control – until the populations and habitat are already small. Then it becomes a disaster.

Quote:In 2013, the Supreme Court of India had asked Gujarat, home to the world's only wild Asiatic lions, to give some of them to a second habitat in Madhya Pradesh. But Gujarat didn't comply, asserting that the animals were its pride. And then what biologists had been saying for years came true.

First it was just a few lions. But soon after, in October, at least 23 died in Gir, many from the canine distemper virus (CDV).
In India, wild and domestic animals mix freely. Among them, dogs carry a host of deadly pathogens, including the CDV. A rabid dog bit a tiger in the Panna reserve in 2013. The latter received two anti-rabies shots and had to be monitored, in case other cats were exposed to the disease.
The second, and exacerbating, problem with the Gir and Girnar sanctuaries is that they seem to have reached their holding capacities. In recent years, lions have walked up to the coastline, fallen in wells and have been mowed by trains. On December 18, a train ran over three lions in Amreli.
Gujarat's response to the disease outbreak has gone against the known principles of conservation – exemplified by its continued refusal to part with the lions. The state may believe its own sense of majesty arises from its stewardship but when it chose to vaccinate them instead of letting them found a second home, it's hard to believe it doesn't think of the lions like it does cattle.



2. Our biological resources






*This image is copyright of its original author

Baba Ramdev. Credit: Facebook/Patanjali Products
Who owns biological resources? If Meghalaya has endemic orchids, should the state have first right to the profit, or local communities, or whichever company gets to the orchids first?
International conventions like the Convention on Biological Diversity are clear on the matter: local people should be the first beneficiaries of profit-sharing for biological resources. Indians famously begrudge foreign companies for patenting what they think is their property, e.g. basmati rice. Many Indian and foreign companies sell herbal, ayurvedic and organic products. Although the Biodiversity Act 2002 would technically have a say on how their profits are split, it hasn't been implemented well.
So it was remarkable when, earlier this month, the Uttarakhand high court ordered Divya Pharmacy to pay part of its revenue as fees to the state's biodiversity board for using the state's biological resources. The company had contended it does not need to do so because it is Indian: Divya Pharmacy is owned by Baba Ramdev.
The judgment observed: "Biological resources are definitely the property of a nation where they are geographically located, but these are also the property, in a manner of speaking, of the indigenous and local communities who have conserved it through centuries."



3. Keep trees standing






*This image is copyright of its original author

A creeping tide of densification has already occurred across Delhi with the Master Plan 2021. Credit: Juhi Saklani
What should your city look like, and who gets to decide? Citizens have engaged in several debates on sanitation, the beauty of public art and effective municipal administration. Next up: preserving the last green spaces in cities and keeping them breathable.
After NBCC (India) Ltd. announced it was going to cut 16,000 trees for a redevelopment project in what was then one of the world's most polluted cities, thousands of people hit its streets in protest. The NBCC's environmental impact assessments also hadn't included proper species lists and contained plagiarised text. People also found that the redevelopment may have been a ploy to create commercial spaces.
In Mumbai, people protested a variety of transportation projects that will demolish natural infrastructure. The Navi Mumbai airport is to come up over a wetland and an area where 266 species of birds have been spotted. A new trans-harbour link in Sewri will cut through an another area teeming with greater flamingos.
For over two years, citizens from all walks of life have been protesting the metro rail yard at Aarey, which will destroy the Aarey forest. Earlier this year, a huge fire broke out in the area, inviting suspicion that it had been set off to damage the flora. The Maharashtra government has ordered an enquiry into the incident.
Pune's residents have been protesting the metro and a new road, both of which will run close to the Salim Ali Bird Sanctuary. Some 169 trees have already been cut. Experts have stressed that green belts are the only places left to damage and so have asked for an underground metro. While they have found a civic voice, whether agencies will adapt their plans is unclear.
All of these are battles in a war to keep trees standing and to keep greenery from being commercialised.



4. Killing tigers






*This image is copyright of its original author

Representative image of a tigress and cub. Credit: Waldemar Brandt/Unsplash
Avni, a tigress in Maharashtra's Vidarbha region, had been labelled a 'man-eater'. The Supreme Court okayed a proposal to solve the problem: to capture the animal, failing which forest officials could kill it. But the attempt eventually made to capture Avni was riddled with so many problems that it might as well have been premeditated murder.
Protesters spilled out on the streets to try to save Avni's life, alleging that the part of forest where Avni lived was being diverted to industry. The tension mounted but the Maharashtra government didn't relent. It eventually showed it would rather break protocol than uphold it.
Going against guidelines set by the National Tiger Conservation Authority (NTCA), Avni was shot at night by a professional hunter on contract. The hunting party didn't have a veterinarian. A post-mortem negated its claim that it attempted to tranquilise the tigress first. The bullet was lodged in the animal's body in a way that suggested she'd been shot from point-blank range.
All this after scores of people, dogs and drones had been dispatched to track her and her cubs down. Experienced trackers have said this was all fire and smoke, and not an honest endeavour to capture her.
The ghastly episode unmasked the callousness with which a carnivore is dealt outside a protected area or tiger reserve. The Maharashtra government refused responsibility for the lapses and seemed interested only in a cover-up.
Its counterpart in Odisha behaved similarly. In November, a male tiger brought from Madhya Pradesh was found dead in Satkosia. Observers suspected a poaching snare had caused the fatal wound around its neck. However, the state insisted the tiger had been killed by a maggot wound.
A fact-finding mission by the NTCA and Wildlife Institute of India settled the question. The tiger had indeed been poached, and the team declared no more tigers could be introduced to the area till proper monitoring systems were put in place.
Let's hope the headlines in 2019 are less distressing.



Neha Sinha works for the Bombay Natural History Society.



https://thewire.in/environment/four-stories-that-captured-indias-environmental-zeitgeist-in-2018


---