---
RE: Tiger Predation - Apollo - 04-18-2014



LIFE Magazine: My year with the tigers, By George B Schaller.

 

16 month old cub killing a buffalo.



*This image is copyright of its original author
---
RE: Tiger Predation - Apollo - 04-18-2014

 These are some of the Tiger and elephant interactions.  

1) I think many would have seen and read this first incident. 

"Though other jungle inhabitants seldom interfere with an elephant, a hungry tiger will not hesitate to attack a solitary animal. The tiger will never let go an opportunity to prey upon calves and juveniles. J.C. Daniel in his book, The Asian Elephant, gives a number of recorded instances of tiger predating even upon full-grown elephants. Col Kesri Singh, in his book: The Tiger Of Rajasthan, has given an instance of a fight between a tiger and a big tusker in Assam. "...Some three or four years ago a tiger, having killed a baby elephant, was attacked by a tusker. Instead of trying to get clean away the tiger came at the elephant from the flank or rear, and having got on to his back raked and tore at him with his claws. The fight went on for a long time, the tusker apparently trying to dislodge the tiger by running under and against trees. He seems to have succeeded in this at least once, but only for the tiger to recover and return to the attack...In the morning the area was examined and the story reconstructed from the copious signs left about the area. The aggressor had had the best of it, for the party found the remains of the elephant calf and the dead tuskers huge bulk, atrociously torn, but the tiger had disappeared."   
"Death by a Thousand Cuts". 



2)

An elephant is suspected to have died of wounds inflicted by the same tigress that attacked a man at the Corbett National Park in Uttaranchal.  Park officials confirmed that the pachyderm, which was found dead Friday night, had fought with the tigress that had mauled a man at the Dhikala tourist complex on the previous night.   According to a park official, "The elephant had been spotted with wounds, visibly inflicted by a tiger about five or six days back. "We were keeping track of the animal. Finally we found him lying dead in the forest quite close to the Dhikala complex."  The elephant was found to have suffered multiple wounds on its trunk and it was amply evident that these were sustained in a battle with the tigress, which is suspected to have also suffered wounds.  The tigress had been spotted with two cubs. These cubs are believed to have been with the mother during the fight with the elephant.  Park officials were of the view that the elephant was unable to eat on account of the wounds on its trunk and therefore turned quite weak.  Asked why officials did not tranquillise the elephant to treat its wounds, Uttaranchal chief wildlife warden C.K. Chandola told IANS: "It is usually preferred that animals living in their natural habitat find their own natural means to heal themselves.  "No one thought that the wounds would prove fatal," he said.  "Special teams had been detailed to keep track of the movements of the tigress to assess the nature and kind of wounds it had received in the fight with the elephant."  While there is no evidence of the big cat turning into a man-eater, Chandola did not rule out the possibility.  "Irreparable wounds or old age and infirmity can force a tiger to turn to man-eating. We have to keep a strict vigil."  

http://citynewslive.com/fullstory2k5-insight-news-status-29-newsID-6008.html 



3)

A 20-year-old female elephant has been killed by a tiger in the Corbett Tiger Reserve (CTR), a forest official said.The half-eaten body of the pachyderm was found by a forest patrolling team on Friday morning, Uttarakhand Chief Wildlife Warden Srikant Chandola said.

'Rare incident'

"The killing of elephant calves by a tiger is a common incident in jungles, but this is a very rare incident when the tiger has attacked and killed an adolescent elephant," he added.

http://www.thehindu.com/news/states/other-states/article1134163.ece 



4)

It was a fight that even surprised the Forest officials of Similipal Tiger Reserve (STR). A duel between a tiger and an elephant in which the big cat prevailed. The tiger reserve rarely has witnessed such incidents in the past although tigers are known to kill elephant calves. Every year, two or three calves are hunted by the tigers in the reserve.[/size]

[size=14px]http://www.elephant-news.com/index.php?id=1613[/size]



5)

Riding on elephants, eight tourists from West Bengal had their wish fulfilled on Monday when they spotted a tiger from close quarters in Assam's Kaziranga National Park.  But the thrill of watching a big cat soon turned out to be their worst nightmare when a tigress and her cubs pounced on the jumbos they were riding. Luckily, nobody was injured in the incident because of quick work by the mahouts who steered the gentle giants and the tourists out of danger.  It was all going fine for the guests who were enjoying a ride in the Bagori range of the park on Manimala and Lakhimai two elephants of the forest department till 6.35 am when all of a sudden a tigeress and its two cubs pounced on the jumbos from behind a bush. Fortunately, the mahouts reacted on time and steered the elephants out of danger.  Dipak Das, the owner of the elephants, said, "Like other days, we had started our second trip of private elephant safari in the Bagori range at 6.15 am. We had altogether seven elephants in the trip and there were four persons on each jumbo. On seeing the pachyderms, the tiger tried to attack them. However, the elephants managed to escape because of the mahouts' presence of mind. The two jumbos and all the tourists are unhurt."  This is the first such incident in Kaziranga this year. 

 http://articles.timesofin...nga-national-park-jumbos  



6)

Tiger kills man, injures elephant  Dalgaon, Nov 29, 2006. A Royal Bengal tiger which sneaked from the Orang National Park on the night of November 24 last and later killed one Niranjan Das (50) of village Nichilamari under Borchala police outpost also attacked a trained elephant of the Park. Briefing this, DFO, Wildlife informed that the elephant named "Indra" who was engaged alongwith three other domestic elephants of the Park to force the tiger back to the forest area, was seriously injured by the 'man-eater'. The team of forest guards and elephants were compelled to retreat after the severe attack. Tranquiliser specialists also failed to bring the man-eater under control. But to the utter relief of the Park authority and the villagers, the 'man-eater' returned to the Park in the afternoon of November 26 last, ascertained by the foot prints of the animal, the source added.

http://www.resourceshimal...an_injures_elephant.html 


These incident were taken from http://bb2.atbb.jp/rodem/viewtopic.php?p=963&sid=c2483855fe84766411411b8d98311ec4



7)

Tiger kills Tusker ElephantFirst Published : 22 Sep 2009 11:55:00   In a rare incident recently a tiger is reported to have killed a tusker in the Eravikulam National Park near Munnar, intriguing forest officials and wildlife enthusiasts alike. For tigers have never been known to attack elephants - let alone kill them - being physically no match for the pachyderms. Perhaps, this was a territorial feud - common in the wilds - and the tusker presumably was ailing and weak. Yet it's hard to imagine a tiger taking on an elephant and besting it. 

http://www.expressbuzz.com/



8)

Tiger Injures female elephant and kills Calf   Dehradun, Jan 21,2010 (PTI) A tiger killed a seven-month-old elephant calf at Dhikala range of Corbett Tiger Reserve, officials said today.   The incident took place yesterday when the calf was roaming around with his mother and suddenly attacked by the wild cat, they said.   The female elephant was also injured in the attack when she tried to save the calf.   The elephant and her calf were apparently got separated from their herd when the incident occurred, they said.  

http://www.ptinews.com/ne...iger-kills-elephant-calf



9)

Kaziranga tiger attack bull elephant   Foresters await nod to sedate herd - Jumbos camping in swamp  A STAFF REPORTER   On the rampage   Guwahati, Dec. 25,2009: The forest department is contemplating the difficult task of tranquillising a herd of rampaging elephants after an attempt to chase it away from human habitat failed.  The herd has damaged hundreds of acres of paddy land in the villages along the banks of the Brahmaputra.  A recent drive to chase it away had to be shelved after a school student was hit by a stray bullet allegedly fired by forest guards.  "We have written to the headquarters that the only option left is to tranquillise the elephants one by one and shift them to either Kaziranga National Park or Dibru-Saikhowa National Park," the assistant conservator of forest, Jorhat division, Gunin Saikia, told this correspondent today.  Though it would be a Herculean task, it was the only option left with the forest department, he said.  "We have tried whatever is possible but failed; now the only option left with us is tranquillisation," Saikia said.  The herd is now taking shelter in a swampy area full of elephant grass at Borkhelia under Teok police station in Jorhat district.  The herd of about 70 elephants takes shelter at the swamp during daytime and attacks human settlements as soon as night falls.  The Jorhat district administration has also started a project to build trenches around human settlements to keep the elephants away.  Saikia said the herd's present location was ideal for carrying out a tranquillising drive and shift the elephants to Kaziranga and Saikhowa.  Kaziranga to the west and Saikhowa to its east are less than 150km from Jorhat town.  Recently, the Jorhat forest department has set up a special task force, comprising homeguards and local youths, to chase away the elephants but the attempt failed to yield results.  "The elephants get scattered into small groups as soon as we launch the attack. It is almost impossible to chase them away," Saikia said.  Last night, a Royal Bengal 

http://www.telegraphindia...heast/story_11908740.jsp



10)

Elephant attacked and seriously injured by tiger   STAFF WRITER 18:14 HRS IST   Golaghat, Aug 14, 2009 (PTI) An elephant was attacked and seriously injured by a tiger in world-famous Kaziranga National Park (KNP), forest officials said today.   The six-year-old female elephant was attacked by a tiger in the northern part of the Park and its hind legs were injured last night, KNP director S N Buragohain told PTI.   The elephant, which had its ears torn apart in the incident, was being treated at the camp office of the Park where her condition was stated to be stable, he said.   Buragohain said a new range situated to the North of the River Brahmaputra has been added into the park, increasing its total area to 859 sq km from 430 sq km earlier.   Besides the newly added Northern range, the park earlier was divided into four range - Kohora, Bagori, Burapahar and Agaratoli -, Buragohain said.  

http://bigcatnews.blogspo...nd-injured-by-tiger.html


11)

Treating an elephant that a tiger had attacked





*This image is copyright of its original author



go for the link and scroll down

http://www.corkscrew-balloon.com/polo/95/

 


---
RE: Tiger Predation - Apollo - 04-19-2014



Tiger Shikar in India - A Tiger Hunt in India by Ellis Dungan




Tiger Shikar in India is a documentary by filmmaker Ellis Dungan that follows a tiger hunt in India. The film is from the collection of the West Virginia State Archives.

Ellis R. Dungan was a film maker who lived in Wheeling, West Virginia. After studying cinematography and motion picture production at the University of Southern California, Dungan was invited by a classmate to Indian where his film career was launched. This selection of film contains some of the footage from India.










---
RE: Tiger Predation - peter - 04-20-2014

South-east Russia:



*This image is copyright of its original author
---
RE: Tiger Predation - Apollo - 04-20-2014


(04-20-2014, 04:48 AM)

'peter' Wrote: South-east Russia:





*This image is copyright of its original author



 

 



Hi Peter,
Is it a black bear or a brown bear in the middle picture ?
 


---
RE: Tiger Predation - Apollo - 04-20-2014

Tiger attacked a Wild Boar at Corbett National Park











---
RE: Tiger Predation - Apollo - 04-20-2014



Spotting of tiger kill: vigil intensified in Neyyar sanctuary








*This image is copyright of its original author


The carcass of a wild buffalo with pugmarks around it, indicating the presence of a tiger, found in the Neyyar sanctuary in February.
Thechance discovery of a tiger kill in Neyyar Wildlife Sanctuary, near here, has prompted wildlife enforcers to intensify their efforts to further insulate the protected area from trespassers, poachers, illegal hooch brewers and ganja cultivators.

Wildlife Warden, Thiruvananthapuram, Jayakumar Sharma said he had seen the rotting and half-eaten carcass of a wild buffalo weighing at least 600 kg near Valliyar while on a trek to survey the endangered Nilgiri Tahr population on Varayattumudi hill in February. All around the carcass were the fresh pugmarks of an adult tiger, which was confirmed recently, he said.

Smitha K. Komath, one of the surveyors who accompanied Sharma, said they were first struck by the stench of rotting flesh while arduously trekking uphill.



FRESH PUGMARKS



"It was raining. The entire spot was muddied. The pugmarks around the carcass seemed very new. One of our team mates Sandeep Das photographed the kill and the uniquely distinguishable pugmarks around it. We were 30 of us in all. The tiger must have heard our group approach and slunk away. We believe that the predator could not have gone far from its kill and must have been watching us," she said.

Mr. Sharma said no wildlife enforcer, forest guard, tribal or watcher had reported the sighting of a tiger in the sanctuary so far. Leopards were often sighted. The department has alerted the Kalakkad-Mundathari wildlife sanctuary in Tamil Nadu, which was contiguous to Neyyar, of the kill.

Wildlife enforcers said the discovery of the tiger kill was significant as it indicated the possible presence of at least one such top predator in the sanctuary.



BOAT PATROL



Following the arrest of a person last week on the charge of felling an Indian Kino tree and few acacia saplings inside the sanctuary, wildlife enforcers have deployed three speed boats to patrol the reservoir intensively. The boats are equipped with powerful headlights and have armed guards on board.Forest foot patrols have been intensified.

The sanctuary hosted a robust population of wild elephants, gaur, sloth bear, wild boar and Nilgiri Langur. Many of these wild animals were vulnerable to poaching.

At least three thousand trekkers annually climbed the 1,890-m high Agasthyarkoodam hill between January and February.

http://www.thehindu.com/news/cities/Thiruvananthapuram/article2635380.ece
---
RE: Tiger Predation - Apollo - 04-20-2014



Huge Gaur Bull Killed by a Dominant Male Tiger from Kanha Tiger Reserve







*This image is copyright of its original author



The dominant male had killed the Gaur bull and after he had his fill, the Indri tigress along with her four cubs had a feast.

http://www.indianaturewatch.net/displayimage.php?id=210108
---
RE: Tiger Predation - Apollo - 04-20-2014

Tigress T39 with a sambar deer kill


*This image is copyright of its original author
---
RE: Tiger Predation - Apollo - 04-21-2014

 

Tiger kills rhino in Dudhwa Tiger Reserve

 

A six-year-old rhino was attacked and killed by a tiger in Dudhwa Tiger Reserve, its deputy director said here today. "The park authorities came to know of the rhino killing by a tiger, when its partially eaten carcass was recovered near Salukapur," Ganesh Bhat, DTR deputy director, said. This is the second incident of a tiger attack on an adult rhino, he said. Earlier, a tiger had attacked and injured a female rhino in Dudhwa.   

http://ibnlive.in.com/generalnewsfeed/news/tiger-kills-rhino-in-dudhwa-tiger-reserve/943332.html

 


---
RE: Tiger Predation - Apollo - 04-21-2014



Palamu Tiger Reserve officials worried about bison

 

Palamu Project Tiger officials are a worried lot. Their worry is that bison are being frequently killed by a tiger.   Speaking to this correspondent, field director of Palamu Tiger Reserve (PTR) SEH Kazmi said in the last two weeks, a tiger has preyed upon two bison, including a baby. He agreed bison face the risk of poaching, too, as there are some tribes who eat bison's meat.

On March, 7 a full grown bison was found dead after being stalked by a tiger in PTR. Again, last Saturday, a baby bison was killed by a tiger. Kazmi said these two deaths were detected only from corpses. Unlike a leopard or a tiger's hide, a bison hide has no market value. The number of bison in PTR today is not more than 50, admitted Kazmi.

However, there were 727 bison in 1992. Seven years later, in 1999, the number slipped down to 361. In 2004, it was shown as 260 but now it is only about 50.

 http://articles.timesofindia.indiatimes.com/2012-03-21/ranchi/31219507_1_bison-seh-kazmi-palamu-tiger-reserve

 


---
RE: Tiger Predation - Apollo - 04-22-2014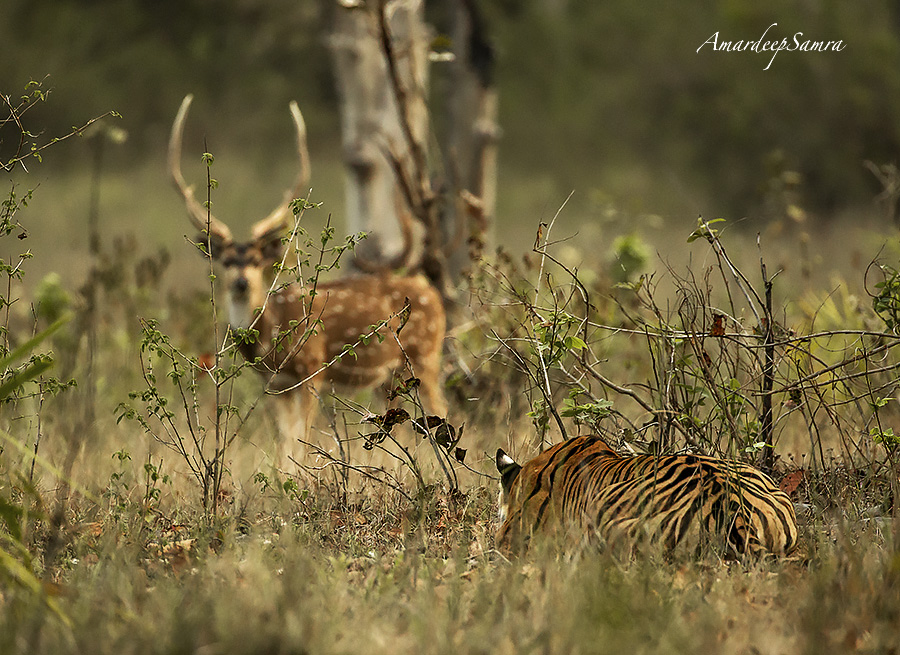 *This image is copyright of its original author
Tiger ambush at Kanha Forest....!
Early morning of april 12, 2014 we saw a female Tiger perfectly camouflaged in the grass about to attack Chital. The Chital suddenly started looking towards the direction of the Tiger, somehow was still unaware of her presence continued to graze and there was no predator call. Tiger stalked closer and suddenly attacked...!!
---
RE: Tiger Predation - Apollo - 04-22-2014



Tigress, four cubs attack, kill bison in Bandhavgarh Park







*This image is copyright of its original author



In yet another jolt to the Gaur(Bison) Project, a tigress and its four cubs attacked and killed a bison at Bandhavgarh National Park. The recent death of the bison has alarmed wildlife enthusiast as in last one month alone three bisons have died.   

As per information, near Mahamandam, a tigress and its four children attacked a bison. The bison's skeleton was later found by Park staff.  

Now wildlife enthusiasts are concerned about the decreasing number of bison in Bandhavgarh. During translocation process, 19 bison were brought to Bandhavgarh national park for translocation after they become extinct From 19 bison, 16 bison are only remaining at Bandhavgarh National Park. It may be recalled that bison were present in Bandhavgarh from year 1968 to 1998.   

Thereafter none of the bison was seen. Hence translocation of bison was taken up. In 50 hectare fenced area, bison were left in Bandhavgarh National Park. In first stage 16 Bison were released in big fenced area and after some days, three more bison were sent to this big fenced area. 


http://wildexpeditionindia.com/blog/?p=894

 


---
RE: Tiger Predation - Apollo - 04-22-2014



Tiger killed Gaur in Bandipur




*This image is copyright of its original author
---
RE: Tiger Predation - Apollo - 04-23-2014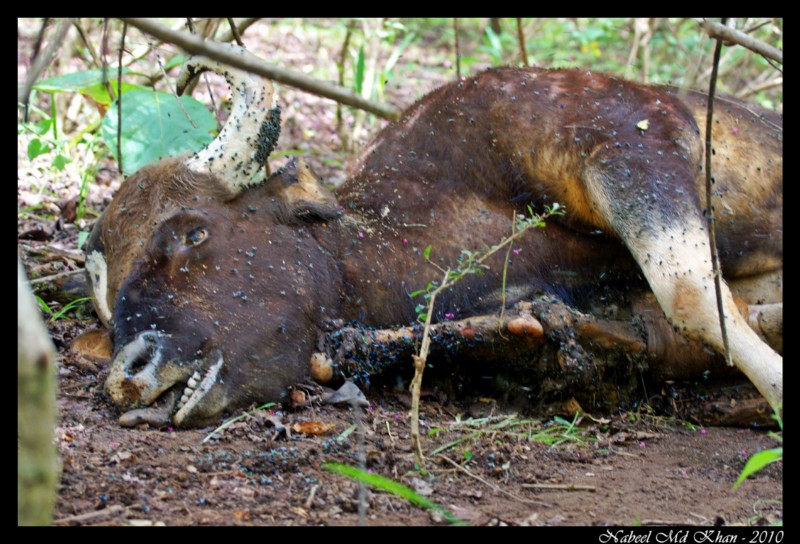 *This image is copyright of its original author
Tiger Kill | Bandipur.
This Gaur was killed by a Tiger which Mr. Shakir & Diju Ravindran had posted the image earlier.
http://www.indianaturewatch.net/displayimage.php?id=176945
---