---
RE: Animal News (Except Bigcats) - Apollo - 05-24-2014



Antarctic Treaty signatories make marine protection progress






Antarctic Treaty signatories made progress on Wednesday towards future protection of the icy continent's marine life, NGO officials said.





Authorities at the treaty's annual meeting, in Brasilia this year, "sent a strong message of support" to the commission overseeing Antarctic wildlife protection, said Mark Epstein, director of the Antarctic and Southern Ocean Coalition.





Member countries strongly urged "designating marine protected areas in the Southern Ocean," he added.





The Commission for the Conservation of Antarctic Marine Living Resources was launched in 1982 to try to conserve marine life there amid rising commercial interest in Antarctic krill resources, a main component of the ecosystem.





Progress on the issue had been at a standstill since 2012. The commission, based in Hobart, Australia, has held three meetings since then and has been unable to get Russia and Ukraine on board.





"The Antarctic Treaty Consultative Meeting has breathed new life into the marine protected areas process after the last two years of challenges and disappointments," said the Antarctic Ocean Alliance's Steve Campbell, whose group includes large players such as the WWF and Greenpeace.





Waters off Antarctica had long been largely protected, but as fishing advances into the area, many species and ecosystems face previously unknown threats.





The Antarctic Treaty establishes that the continent will not be militarized, can be used for scientific research and should be free of territorial claims.




http://timesofindia.indiatimes.com/home/environment/developmental-issues/Antarctic-Treaty-signatories-make-marine-protection-progress/articleshow/34814385.cms


---
RE: Animal News (Except Bigcats) - Apollo - 05-24-2014



New 'Dancing Frog' Species Found in India's West Coast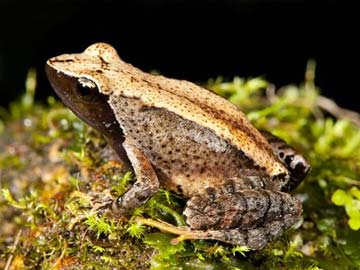 *This image is copyright of its original author
This undated photograph shows one of the 14 new species of so-called dancing frogs discovered by a team headed by University of Delhi professor Sathyabhama Das Biju in the jungle mountains of southern India.
Scientists have discovered 14 new species of so-called dancing frogs in the jungle mountains of southern India - just in time, they fear, to watch them fade away.
Indian biologists say they found the tiny acrobatic amphibians, which earned their name with the unusual kicks they use to attract mates, declining dramatically in number during the 12 years in which they chronicled the species through morphological descriptions and molecular DNA markers. They breed after the yearly monsoon in fast-rushing streams, but their habitat appears to be becoming increasingly dry.
"It's like a Hollywood movie, both joyful and sad. On the one hand, we have brought these beautiful frogs into public knowledge. But about 80 percent are outside protected areas, and in some places, it was as if nature itself was crying," said the project's lead scientist, University of Delhi professor Sathyabhama Das Biju.
Biju said that, as researchers tracked frog populations, forest soils lost moisture and perennial streams ran inexplicably dry. He acknowledged his team's observations about forest conditions were only anecdotal; the scientists did not have time or resources to collect data demonstrating the declining habitat trends they believed they were witnessing.
The study listing the new species - published on Thursday in the Ceylon Journal of Science - brings the number of known Indian dancing frog species to 24.
They're found exclusively in the Western Ghats, a lush mountain range that stretches 1,600 kilometers (990 miles) from the western state of Maharashtra down to the country's southern tip.
Only the males dance - it's actually a unique breeding behavior called foot-flagging. They stretch, extend and whip their legs out to the side to draw the attention of females who might have trouble hearing mating croaks over the sound of water flowing through perennial hill streams.
They bigger the frog, the more they dance. They also use those leg extensions to smack away other males - an important feature considering the sex ratio for the amphibians is usually around 100 males to one female.
"They need to perform and prove, 'Hey, I'm the best man for you,'" said Biju, a botanist-turned-herpetologist now celebrated as India's "Frogman" for discovering dozens of new species in his four-decade career.
There are other dancing frogs in Central America and Southeast Asia, but the Indian family, known by the scientific name Micrixalidae, evolved separately about 85 million years ago.
Biju and his team had long been baffled about the frogs' mating patterns, after searching years around the forest floor for egg clutches without success. But one late October day in 2011 they witnessed a rare tryst, and saw the female immediately bury her eggs once fertilized. This confirmed the frogs were indeed breeding only after stream levels had come down, and underlined how vulnerable they might be to changes in rainfall or water availability.
These are tiny, delicate frogs - no bigger than a walnut - and can easily be swept away in a gushing mountain stream. So breeding happens only once the level of a stream levels drops to the point where the water babbles over boulders and stones, he explained. If streams hold less water or dry out too early, the frogs get caught without the right conditions to breed.
"Compared with other frogs, these are so sensitive to this habitat that any change might be devastating for them," Biju said. "Back in 2006, we saw maybe 400 to 500 hopping around during the egg-laying season. But each year there were less, and in the end even if you worked very hard it was difficult to catch even 100."
The Western Ghats, older than the Himalayas, is among the world's most biologically exciting regions, holding at least a quarter of all Indian species. Yet in recent decades, the region has faced a constant assault by iron and bauxite mining, water pollution, unregulated farming and loss of habitat to human settlements.
A 2010 report by India's Environment Ministry also said the Ghats were likely to be hard-hit by changing rainfall patterns due to climate change, and more recent scientific studies have also suggested monsoon patterns will grow increasingly erratic.
India's government has been working to establish a vast environmental protection zone across the Ghats to limit polluting industrial activities and human encroachment, but it put the latest proposal on hold earlier this year.
Meanwhile, as India's population has grown to a staggering 1.2 billion, at least 25 percent of the forests have vanished from the Ghats, which is now home to more than 325 of the world's threatened species of plants, birds, amphibians, reptiles and fish.
Many of these newly discovered frogs could soon be joining them, Biju said. Many of the 24 known Indian dancing frog species lives only in a single, small area. Seven were in what Biju described as highly degraded habitats where logging or new plantations were taking over, while another 12 species were in areas that appeared in ecological decline.
Biju's determination, or even obsession, with documenting as many new frog species as possible stems from his fear that many will vanish as "unnamed extinctions" before scientists ever learn they exist. Scientists believe Earth has about 8.7 million distinct plant and animal species, but they have documented only 1.5 million.
Amphibians are particularly vulnerable. At least one-third of the world's known 6,000 frog species are threatened with extinction from habitat loss, pollution, changing temperatures or exotic diseases spread by invasive animals and pests, according to Global Wildlife Conservation.
Sonali Garg one of the study's co-authors, said her family initially thought she was crazy for wanting to study frogs. "But slowly, they're becoming aware of how important and special frogs are," she said. "Slowly, I'm converting them."
http://www.ndtv.com/article/india/new-dancing-frog-species-found-in-india-s-west-coast-520394
---
RE: Animal News (Except Bigcats) - Apollo - 05-24-2014



Poaching could wipe out Tanzanian elephants in 7 years








*This image is copyright of its original author




 Poachers are slaughtering Tanzania's elephants for their ivory at such alarming rates that the population could be completely wiped out in just seven years, conservationists told a conference Friday. 

The two-day UN-backed conference which opened Friday aims to come up with strategies to stem worsening elephant poaching in Tanzania, a top safari destination determined to protect its prized wildlife assets but struggling to deal with increasingly sophisticated organised crime gangs. 

"Approximately 30 elephants a day are killed... at this rate the population will be exterminated by 2020," the Tanzanian Elephant Protection Society (TEPS), an independent conservation group, said. 

Tanzanian Vice President Mohamed Gharib Bilal opened the summit by asking for international assistance in battling the increasingly well-organised and equipped poaching gangs. 

"Organised and intricate poaching networks in and outside the country sustain this illegal trade, thus making it difficult for Tanzania alone to win this battle," Bilal said, painting a bleak picture of the situation. 

Tanzanian police launched late last year a crackdown on suspected poachers amid a spate of killings of elephant and rhino, operating under what was reported to be a shoot-to-kill policy and making sweeping arrests. 

While poaching rates dropped drastically, the operation was shut down because of allegations of harassment, rape and murder of suspected poachers.  But TEPS director Alfred Kikoti said he wanted the military to resume its role battling poachers. 

"They have to stay in there, protecting our elephants," he said. "They can't just be in there for one operation and then pull out. It needs to be a longer term commitment." Poaching has risen sharply in Africa in recent years. Besides targeting rhinos, whole herds of elephants have been massacred for their ivory — threatening the tourism sector, a key foreign currency earner for Tanzania. 

Organised gangs with insider knowledge and armed with automatic weapons and specialised equipment such as night vision goggles, use chainsaws to carve out the rhino horn or remove elephant tusks. 

Millions of dollars of elephant tusks and rhino horns are smuggled out of East Africa each year, according to United Nations experts, with demand fuelled by an increasingly affluent Chinese middle class. 

In 2006, the elephant population of Tanzania's vast Selous-Mikumi ecosystems, once hosting one of the largest elephant populations in the world, numbered 70,000, Bilal said.  Last year, there were only 13,000 elephants there. 

Tourism, some 90% of which is wildlife based, accounts for 17% of Tanzania's gross domestic product and employs over 300,000 people, according to official statistics.
http://www.deccanchronicle.com/140509/lifestyle-petsenvironment/article/poaching-could-wipe-out-tanzanian-elephants-7-years
---
RE: Animal News (Except Bigcats) - Apollo - 05-24-2014



Great Himalayan National Park Nominated for World Heritage Tag





The Great Himalayan National Park (GHNP) of Himachal Pradesh has been nominated for the prestigious UNESCO-approved World Heritage Site status.





The International Union for Conservation of Nature (IUCN), the advisory body to the UNESCO Committee on Nature, has nominated 12 natural and mixed sites from across the world for the World Heritage Status and India's GHNP is one among them.





IUCN will present its recommendations to the World Heritage Committee during its 38th meeting from June 15 to 25 in Doha, Qatar. It will also discuss the necessary action to conserve world's natural wonders in a range of debates and side events.





The Great Himalayan National Park Conservation Area, one  of the most picturesque areas in the Western Himalayas -- well known for its exquisite floral and faunas biodiversity -- had lost the chance to get the World Heritage Site status last year.





The GHNP, located in the Kullu district of Himachal Pradesh and covering an area of 754.4 square kms, is naturally protected by snow covered, steep ridges on its northern, eastern and southern boundaries.





It is contiguous with the Rupi Bhaba Wildlife Sanctuary in the south-east, Pin Valley National Park in the north-east and Kanawar Wildlife Sanctuary in the north. These areas form the Great Himalayan National Park Conservation Area.





The area was declared as National Park under the Wildlife (Protection Act) 1972 by the Himachal Pradesh Government in 1999. This pristine area of temperate forests and alpine meadows surrounded by high mountains has remained without any human interference since 1999.





The GHNP harbours a wide variety of wildlife habitats and high biological diversity within a small area. It harbours the most important gene pool of Western Himalayan flora and fauna.





This includes endangered mammalian species such as snow leopard, Asiatic black bear and Himalayan brown bear.

 



 

http://www.newindianexpress.com/nation/Great-Himalayan-National-Park-Nominated-for-World-Heritage-Tag/2014/05/11/article2218817.ece


---
RE: Animal News (Except Bigcats) - Apollo - 05-25-2014



The Real Super Star




*This image is copyright of its original author
Indian man single-handedly plants a 1,360-acre forest (and changes the story)
Jadav Payeng turned a barren sandbar in northern India into a lush new forest ecosystem.
A little more than 30 years ago, a teenager named Jadav "Molai" Payeng began burying seeds along a barren sandbar near his birthplace in northern India's Assam region to grow a refuge for wildlife. Not long after, he decided to dedicate his life to this endeavor, so he moved to the site so he could work full-time creating a lush new forest ecosystem. Incredibly, the spot today hosts a sprawling 1,360 acres of jungle that Payeng planted — single-handedly.
The Times of India recently caught up with Payeng in his remote forest lodge to learn more about how he came to leave such an indelible mark on the landscape.
It all started way back in 1979, when floods washed a large number of snakes ashore on the sandbar. One day, after the waters had receded, Payeng, only 16 then, found the place dotted with the dead reptiles. That was the turning point of his life.
"The snakes died in the heat, without any tree cover. I sat down and wept over their lifeless forms. It was carnage. I alerted the forest department and asked them if they could grow trees there. They said nothing would grow there. Instead, they asked me to try growing bamboo. It was painful, but I did it. There was nobody to help me. Nobody was interested," says Payeng, now 47.
While it's taken years for Payeng's remarkable dedication to planting to receive some well-deserved recognition internationally, it didn't take long for wildlife in the region to benefit from the manufactured forest. Demonstrating a keen understanding of ecological balance, Payeng even transplanted ants to his burgeoning ecosystem to bolster its natural harmony. Soon the shadeless sandbar was transformed into a self-functioning environment where a menagerie of creatures could dwell. The forest, called the Molai woods, now serves as a safe haven for numerous birds, deer, rhinos, tigers and elephants — species increasingly at risk from habitat loss.
Despite the conspicuousness of Payeng's project, forestry officials in the region first learned of this new forest in 2008 — and since then they've come to recognize his efforts as truly remarkable, but perhaps not enough.
"We're amazed at Payeng," says Gunin Saikia, assistant conservator of Forests. "He has been at it for 30 years. Had he been in any other country, he would have been made a hero.

"
With thanks to Bron Taylor, 
http://www.brontaylor.com
 professor of Religion and Environmental Ethics at U of FLA.
---
RE: Animal News (Except Bigcats) - sanjay - 05-25-2014

What a achievements! Hats off this person and wish other people do at least some plantation in their life and save nature.


---
RE: Animal News (Except Bigcats) - Apollo - 05-26-2014



Sloth bear poaching for aphrodisiacs: Madhya Pradesh constitutes SIT





Madhya Pradesh forest department has constituted a special investigation team (SIT) to probe the role of a global syndicate behind poaching of male sloth bears for sourcing their reproductive organs and gall bladders, which are key ingredients of aphrodisiacs. These organs fetch a high price in international and domestic market. 





Forest officials were alarmed to find reproductive organs and claws 'skilfully' chopped from carcasses recovered from different parts of the state, indicating involvement of professionals. Two bear carcasses were found near buffer zone of Kanha Tiger Reserve in West Mandla district while others were recovered from Chhindwara, Betul and Burhanpur districts. 





State's chief wildlife warden Narendra Kumar said five different officers have has been assigned to investigate each case. "Sloth bears are equally threatened species. We have got fresh clues about a gang involved in poaching. Different teams are working on it," he Narendra Kumar told TOI. 





Assistant conservator of forest (ACF) Ritesh Sirothia will lead SIT, said sources. Reportedly, two poachers have been detained by SIT in connection with sloth bear killed in Chhindwara region. "Efforts are on to crack the poaching network," Sirothia said. 





Sloth bears (Melursus ursinus), a Schedule I species under the Wildlife Protection Act of India is a vulnerable species in the IUCN Red list. It is among four of Asia's five bear species banned from international commercial trade under Convention on International Trade in Endangered Species of Wild Fauna and Flora (CITES). 





Besides use as sex stimulants, medical applications of reproductive organs of these animals include treatment of cancers, burns, pain, asthma, sinusitis and as tonic to prevent liver damage. Bears are the only mammals to produce significant amounts of the bile acid, tauro ursodeoxycholic (UDCA). It has a high demand in countries like China, Hong Kong, Japan, Macau, the Republic of South Korea and Taiwan. 





"It is bile within gall bladder, which exceeds even the cost of narcotics and hence the high demand," said a forest official. 





Bears were never on priority list of officers in Madhya Pradesh who focused largely on tigers till 2011," said a wildlife activist. In 2012, forest officials recommended state government to allow CBI to inquire into poaching of two 'sloth bears' from Panna Tiger Reserve (PTR) along with investigations into missing tigers. Forest department has shortlisted five cases, which they consider, were suitable for CBI.




http://timesofindia.indiatimes.com/home/environment/flora-fauna/Sloth-bear-poaching-for-aphrodisiacs-Madhya-Pradesh-constitutes-SIT/articleshow/35016734.cms


---
RE: Animal News (Except Bigcats) - Apollo - 05-26-2014



 Endangered Gharials Tagged To Save Species








*This image is copyright of its original author




Read the full report in the link below
http://www.theepochtimes.com/n3/675338-endangered-gharials-tagged-to-save-species/

 


---
RE: Animal News (Except Bigcats) - Apollo - 05-27-2014



158 endangered turtles rescued in Auraiya






Around 158 endangered turtles were rescued while being smuggled to other parts of the country, in Auraiya district on Wednesday. 





A team of Ayana police and forest department officials seized pond turtles, packed in four jute sacks, from a loader at Muradganj area of the district on Wednesday. The breakthrough came after the vehicle in, which smugglers were transporting the turtles met with an accident near Muradganj area on Auraiya-Etawah National highway. 





An officer said the loader was found stationed in an abandoned state by the road side. The district forest department of Etawah was informed and officials travelled to Auraiya to take charge of the reptiles. 





"During search, nearly 158 turtles in four jute sacks were recovered. The spotted pond turtle is a protected species under Schedule I of the Indian Wildlife Protection Act of 1972," said district forest official Manik Chandra Yadav. The vehicle bearing registration number plate of Kanpur Dehat has been impounded and further investigations are underway, added a police official of Ayana police station. This is the first incident when such a huge consignment of spotted pond turtles has been seized in the region. According to wildlife activists, the consignment is worth several lakh in the grey market. 





Officials said all 158 turtles were alive.




http://timesofindia.indiatimes.com/home/environment/flora-fauna/158-endangered-turtles-rescued-in-Auraiya/articleshow/35134456.cms


---
RE: Animal News (Except Bigcats) - Apollo - 05-28-2014

 

Koshi Tappu officials to shoot down stray domestic buffaloes

 




After realising a potential threat to the lineage of Arna (wild buffaloes) through cross breeding, the Koshi Tappu Wildlife Reserve has decided to shoot down stray buffaloes left in the park.



The stray buffaloes belong to locals living in the buffer zones and some Indian nationals living across the border. "We were compelled to resort to such measure after all other attempts failed," said Ganga Ram Singh, a conservation officer who had reached the south-eastern area of the reserve for inspection. "We will try to move them

into Kanji house but if the endeavour fails we have no option but to shoot them down," he said.





Following the decision, 500 and 200 buffaloes were taken out of the reserve by their owners on Sunday and Monday respectively. Though the reserve has been serving notices each year, it has had little impact on people especially those from across the bordering towns of Supol, Arariya and Purnima in India.



According to Kusum Lal Yadav of Jagatpur-1 in Saptari, 90 percent of stray buffaloes in the reserve belong to Indian nationals. "The problem persisted due to the weakness of the concerned authorities," Yadav said, adding that it would serve their interests if they removed the stray buffaloes. Likewise, Bechan Chaudhary of Tapeshwori-1 claimed that the herds that ramble out of the reserve were in fact not wild buffaloes. Apart from a few wild ones, the herds comprised mostly of stray buffaloes, he said. "We are fined if our buffaloes enter the reserve while those leaving their livestock there for years have not paid a penny till date," Chaudhary complained. "It would be best to auction them off." The reserve spread across 175 square kilometres was established in 1975 to conserve wild buffaloes. The wild buffaloes are much darker and have white hair in the knees, and as they are relatively stronger and cleverer than the average domestic buffaloes, their calves fetch a handsome sum. According to a recent count, the number of wild buffaloes in the reserve was 327, including 52 adult males and 98 females, while the number of stray buffaloes exceeded 10,000.



Singh had started a similar campaign a decade ago in which around 90 stray buffaloes were shot down in a day. His efforts was widely criticised then. Retiring in two months, Singh has once again initiated the campaign and requested the help of people living in the buffer zones.




http://www.ekantipur.com/2014/05/16/national/koshi-tappu-officials-to-shoot-down-stray-domestic-buffaloes/389623.html


---
RE: Animal News (Except Bigcats) - Apollo - 05-28-2014



Hundreds of fish dying in Himachal wetlands






 Hundreds of fish have died in Rewalsar wetlands near here in the past three days due to water toxicity, posing a serious threat to other aquatic fauna too, say wildlife experts. 





Located about 24km from Mandi, the Rewalsar wetlands, which were included in the list of wetlands of national importance by the ministry of environment and forests in 2005, have religious and ecological importance. 





"The main cause of the fish mortality is water contamination. Last year also a large number of fish died," director of the fisheries department Gurcharan Singh told IANS on Thursday. 





He said over-feeding of the fish by the people due to religious sentiments was also responsible for the deaths. 





A monastery, a gurdwara and a temple are located on the banks of the wetlands. Devotees, especially Buddhists, feed the aquatic creatures. 





Locals say hundreds of dead fish have been spotted floating on the waters. 





Studies conducted by the Himachal State Council for Science, Technology and Environment reveal the Rewalsar wetlands are under strain due to pollution, siltation, encroachment and overgrowth of weeds. 





Over the years, the depth of the wetlands has reduced drastically. Weeds also cover a major portion of the water body. 





Experts say pollution depletes dissolved oxygen in water, suffocating the aquatic organisms. 





They say the government should impose a ban on feeding the aquatic creatures as most of the starchy items are not eaten by the fish, which often results in pollution and growth of harmful micro-organism in the water body. 





"Rapid urbanisation and development activities near the wetlands have also put tremendous pressure on the water body," said a biologist. 





He said most of the septic tanks, constructed around the water body, don't adhere to specific standards resulting in the seepage of pollutants into the wetlands. 





Officials of the fisheries department said the water body was "overcrowded" with aquatic creatures. They said selective harvesting of the fish was the only solution. 





The harvesting is not carried out due to religious sentiments, said an official. 




http://timesofindia.indiatimes.com/home/environment/flora-fauna/Hundreds-of-fish-dying-in-Himachal-wetlands/articleshow/35165490.cms


---
RE: Animal News (Except Bigcats) - Apollo - 05-28-2014

 



Plight of Africa's vulture








*This image is copyright of its original author




Read the full article in the link below

http://www.iol.co.za/scitech/science/environment/plight-of-africa-s-vulture-1.1689652#.U4UkWvmSw0s

 


---
RE: Animal News (Except Bigcats) - Apollo - 05-30-2014



22 spotted deer poisoned at Chhattisgarh Zoo





At least 22 spotted deer died after being poisoned in Kanan Pendari Zoo, about 12 km from Bilaspur city in Chhattisgarh on Wednesday. 





"Preliminary investigations led to the suspicion that poachers had poisoned the spotted deer in the park as the deer died one by one," district forest officer Hemant Pandey told TOI. 





"At least 22 female deer were killed. The animals were in the age group of 3 months to 5 years. It has been found that few male deer were also affected. They were administered medicines and are now under observation," he added. 





Pander said doctors from Veterinary Institute in Durg district and veterinary doctors from Bilaspur have reached the zoo where post-mortem is being carried out. Microbiologists and pathology experts will be among the team visiting the zoo. 





"We are also examining why poachers targeted only female spotted deer," he added. 





Wildlife officials present at the zoo said they noticed injuries on neck of the dead animals lending rise to suspicion about the motive of the poachers. It is being speculated that the poachers might have targeted these animals suspecting them to be musk deer.




http://timesofindia.indiatimes.com/home/environment/flora-fauna/22-spotted-deer-poisoned-at-Chhattisgarh-Zoo/articleshow/28865191.cms


---
RE: Animal News (Except Bigcats) - sanjay - 05-30-2014

Again Disturbing News. [img]images/smilies/sad.gif[/img]


---
RE: Animal News (Except Bigcats) - Apollo - 05-30-2014


(05-30-2014, 12:30 AM)

'sanjay' Wrote: Again Disturbing News. [img]images/smilies/sad.gif[/img]

 


Yup very disturbing and sad.

 


---